What It's Like At America's Most Polarized Dairy Breakfast
June is Dairy Month in Wisconsin. The recall election is Tuesday.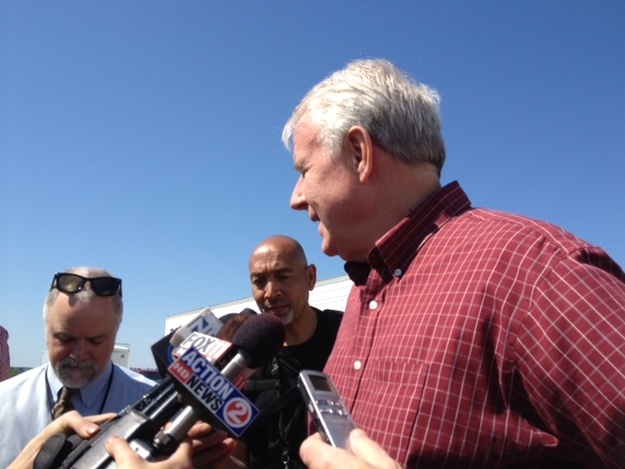 DE PERE, Wisc. — Governor Scott Walker and his Democratic challenger, Milwaukee mayor Tom Barrett, stood thirty feet away from each other at the biggest political event of the day: Sunday morning's Brown County Dairy Breakfast. But the two candidates didn't interact, and some breakfast attendees gave Barrett a chilly reception. Even the dairy breakfast, a homey Wisconsin tradition for Dairy Month, has been colored by the recall.
According to an event organizer, the breakfast drew between eight and ten thousand people over the course of the morning, including a few Green Bay Packers, both gubernatorial candidates, former governor Tommy Thompson, and Senator Herb Kohl, appearing to campaign with Barrett.
Walker arrived first, before 9 a.m. He served eggs to the families waiting for their breakfasts, which consisted of eggs, several different types of cheese, yogurt, milk, cheese curds, and sausage.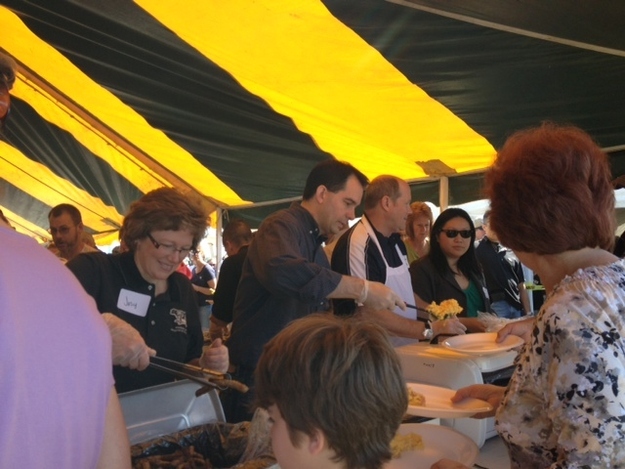 Walker had a larger support base at the breakfast than Barrett; rural Brown County is more conservative than Barrett's strongholds, urban areas like Milwaukee and Madison.
This couple, Mary Anne and John Hager of Denmark, Wisconsin, showed up to support Walker. Mary Anne broke into tears when she met Walker, saying "I'm just so happy. You've got to keep it up."
She told Walker that she turned the TV off when Barrett appeared on the screen: "I just can't look at him. He lies." Walker didn't respond to her comment.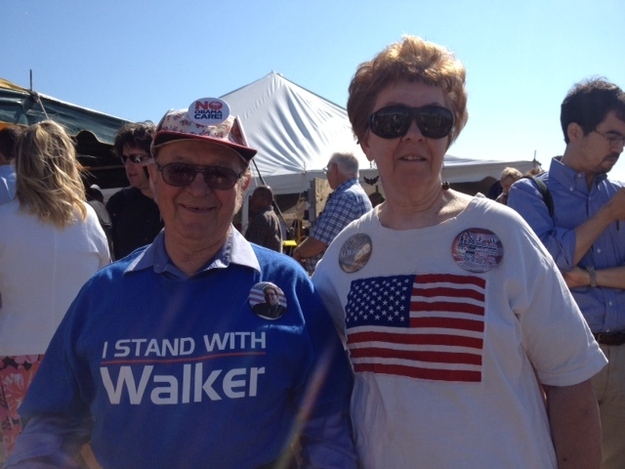 Asked if he planned to greet Barrett when he arrived, Walker said "We've got a schedule to keep. Our schedule's dependent on where we have to be next."
"I've known the mayor for years, and that's fine," Walker said, adding that he and the mayor have a "very different views of the world."
Barrett arrived while Walker was still on the premises, and Walker lingered a few yards away talking to attendees while Barrett got in position to serve Dairy Breakfast food, a ritual of Wisconsin politics. The candidates were both on the scene for about 20 minutes.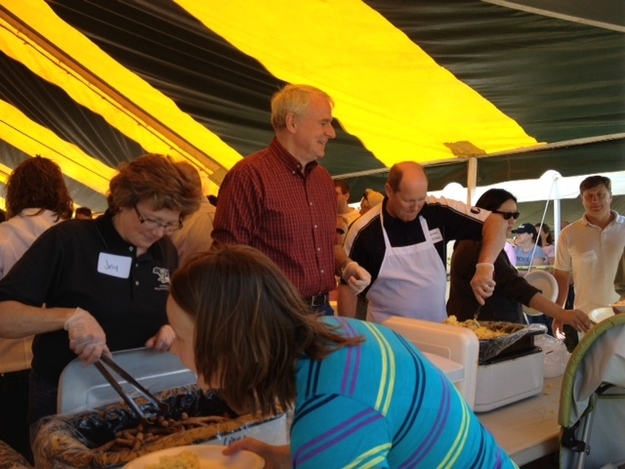 Barrett was greeted warmly by some of the breakfast-goers — at least one man told him Barrett he was voting for him, prompting Barrett to joke, "Give him a lot of really good food" — but others reacted differently, telling Barrett they were voting for Walker and not shaking his hand when he extended it.
Asked if he got this kind of reaction when he ran against Walker in 2010, Barrett said, "No no, this is a newer occurrence."
"My reaction whenever that happens is I keep my hand out and say, this is America," Barrett said.
Barrett told BuzzFeed he was aware that Walker would be at the breakfast at the same time as him.
The charged nature of Barrett and Walker's appearances at the breakfast seemed a natural, if unpleasant, result of the current mood of the state.
"Wisconsin has become a polarized state," Herb Kohl, the Democratic senator from Wisconsin, said. "It's unfortunate. That's not where good public policy is made."