Venezuela Hires New Washington Lobbyists As Obama O.K.'s Sanctions
Hogan Lovells will lobby for a Venezuela that has been boxed out by coming sanctions and new U.S.-Cuba relations.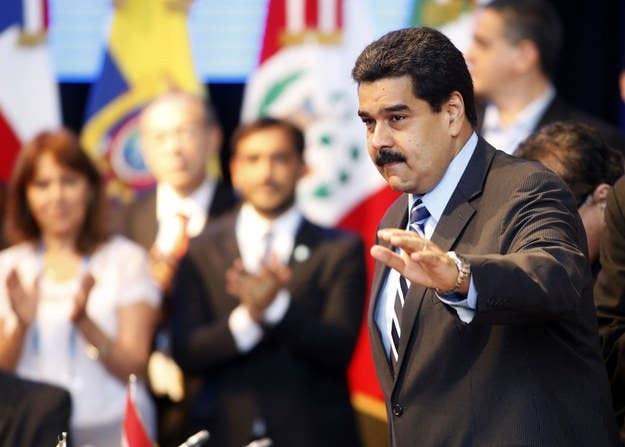 WASHINGTON — The government of Venezuela has hired new Washington lobbyists just as a bill levying sanctions against Venezuelan officials was signed into law by the president.
According to documents filed on Wednesday with the Department of Justice, the Venezuelan embassy has hired the firm Hogan Lovells LLP to represent it in the U.S. Venezuela, which has frosty relations with Washington and which terminated most of its U.S. lobbying contracts in 2009, also recently retained Rasky Bauerlein Strategic Communications to represent its state oil company.
The filing, required by law under the Foreign Agent Registration Act (FARA), does not specifically mention sanctions but say that Hogan Lovells will "will render advice on matters involving bilateral relations between the United States and Venezuela, including legal analysis, counsel and strategy development, as well as policy advocacy before officials and staff of the legislative and executive branches of the U.S. Government regarding any legislative, regulatory and public policy activities affecting the interests of the Government of the Bolivarian Republic of Venezuela."
According to the FARA filing, Hogan Lovells will reach out to people in the legislative and executive branches on issues "relating to any matters involving bilateral relations between the United States and Venezuela contained in federal legislation or executive or regulatory action—and related actions by the U.S. or Venezuelan government—that could impact, directly or indirectly, the foreign principal." It is unclear when exactly the contract starts or ends from the information available online provided under FARA, or how much the firm will be paid.
President Obama signed into law on Thursday a bill that imposes sanctions on officials who were involved in the violent crackdown on protesters that occurred earlier this year after Venezuelans took to the streets protesting rampant crime and a sinking economy. This week, the Obama administration also announced plans to normalize relations with Venezuela's longtime ally Cuba.
Venezuelan president Nicolas Maduro condemned the sanctions in a series of tweets on Thursday, saying "These are the contradictions of an empire that seeks to impose its domination by any means, underestimating the strength and conscience of the nation." The sanctions, once enacted, will result in asset freezes and visa bans for the officials targeted.
The sanctions, the rapprochement between the U.S. and Cuba, to whom Venezuela sends large amounts of oil and aid, and the nosedive in the price of oil look set to make Venezuela more isolated than ever.
Representatives for Hogan Lovells did not immediately return requests for comment about the arrangement with Venezuela, when the contract starts and ends, and how much money it is worth.