U.S. Officials Blame Russian Espionage For Leaked Nuland Call
"A new low in Russian tradecraft." Meanwhile, Nuland apologizes to the EU.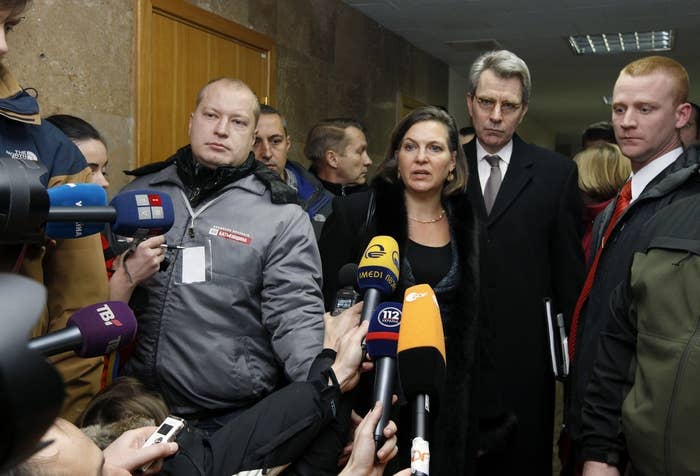 WASHINGTON — Top U.S. officials are strongly suggesting that Russia is responsible for recording and releasing the tape of a phone call between the top U.S. diplomat for Europe and the ambassador to Ukraine.
"Certainly we think this is a new low in Russian tradecraft in terms of publicizing and posting this," said State Department spokeswoman Jen Psaki in the daily press briefing. "I don't have any other independent details about the origin of the YouTube video."
A woman who sounds like Assistant Secretary of State for European and Eurasian Affairs Victoria Nuland was caught on tape talking to U.S. Ambassador to Ukraine Geoff Pyatt about cutting deals in internal Ukrainian politics, with Nuland appearing to favor one opposition leader over another. Nuland is also heard to say "fuck the EU" on the call. News of the tape, which has not been independently verified, was first reported in the Kyiv Post.
Psaki said that a senior Russian official had been the first to tweet about the call, and that "this is something they've been actively promoting, posting about, tweeting about." The official that tweeted the call was an aide to Russian deputy prime minister Dmitry Rogozin, the Associated Press reported.
Asked if she was saying that the Russians had spied on the call, Psaki said, "Certainly if it was recorded and broadcast that would be that. It would be violating a private conversation."
Psaki refused to confirm the conversation, saying that she was "not going to confirm private diplomatic conversations."
But without confirming the tape, Psaki said that Nuland had apologized to her EU counterparts for "the content of the reports."
The candid conversation heard on the call "shouldn't be a surprise," Psaki said. "Of course these things are being discussed. It doesn't change the fact that it's up to the people of Ukraine to determine what the path forward is."
"We have opinions about a range of issues, that shouldn't be a surprise," Psaki said.
In the White House daily briefing, White House Press Secretary Jay Carney also strongly implied that the Russians were behind the tape.
"You know, I would say, since the video was first noted and tweeted out by the Russian government, I think it says something about Russia's role. But the content of the conversation is not something I'm going to comment on," Carney said.
Carney said he was not directly saying that Russians had taped the call, but was "just noting that they tweeted it out."