U.S. Embassy In Cairo Twitter Account Deleted
After a Twitter fight with the Egyptian presidency account. Seems rash. [Update: The account is back online.]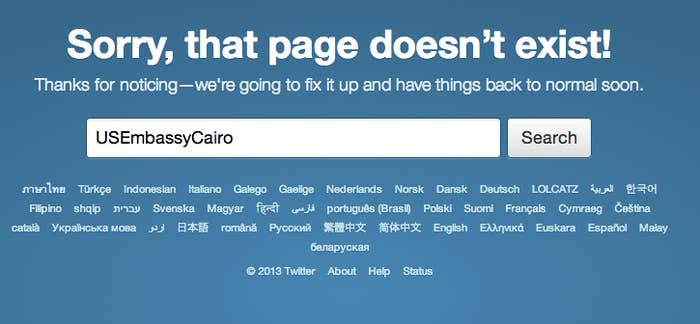 WASHINGTON — The Twitter account for the U.S. Embassy in Cairo appears to have been deleted following a spat with the official Egyptian presidency account on Tuesday.
The embassy, which has a reputation for being unusually informal and active on Twitter, yesterday criticized the Egyptian presidency for the investigation into comedian Bassem Youssef by linking to a Jon Stewart segment about it.
The @EgyPresidency account responded, saying, "It's inappropriate for a diplomatic mission to engage in such negative political propaganda."
On Wednesday, the @USEmbassyCairo account was offline. Spokespeople for the embassy and for the State Department didn't immediately return a request for comment.
Update: Foreign Policy reports that the decision to take the account down was made by the U.S. ambassador to Egypt, and that the State Department did not sign off. The account is back online as of Wednesday afternoon, but the controversial tweet has been removed. (12:50 pm)
Update: Speaking to reporters on Wednesday, State Department spokeswoman Victoria Nuland said that the State Department hadn't instructed the embassy to delete their feed.
"We've had some glitches with the way the twitter feed has been managed," Nuland said. "This is regrettably not the first time."
Nuland said there had been "no instructions from this building" to remove the tweet and the account, but that the State Department had told the embassy to reinstate their Twitter feed. (2:24 pm)