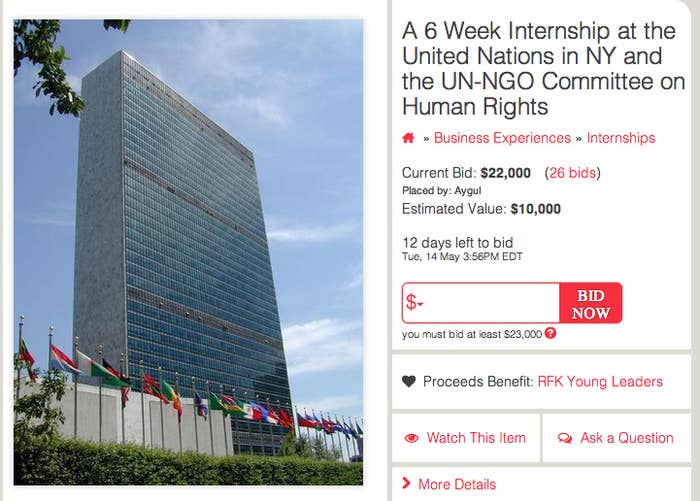 WASHINGTON — An internship at the United Nation's UN-NGO Committee on Human Rights being auctioned online for $22,000 isn't legitimate and officials have launched an investigation into the advertisement, a spokesman told BuzzFeed on Thursday.
"Internships at the United Nations are not for sale and cannot be put up for auction," said Eduardo Del Bey, deputy spokesperson for the Secretary General. "We do not believe that the internship in question is a UN internship. We are trying to establish the details of this case and have contacted 'charitybuzz.com'."
The internship promises "inside knowledge of just how the UN really operates and have tremendous opportunities to make invaluable connections. This truly is the ultimate internship opportunity for any college or graduate student looking to get their foot in the door!" It is for six weeks in New York, according to the listing. Twenty-six bids have been placed on it, the highest for $22,000.
The auction proceeds for the internship go to the RFK Young Leaders, according to the listing on CharityBuzz, a site that raises funds for non-profits through auctions. A spokesperson for the Robert F. Kennedy Center, the non-profit that runs the Young Leaders program, declined to comment, referring all inquiries to CharityBuzz.
"We didn't arrange the auction item," said spokesperson Meaghan Baron. "We're just not speaking on the record about it because it's a CharityBuzz issue."
Asked for comment, a CharityBuzz spokeswoman walked back the listing.
"As you can see in the description, this charity auction is an internship with the UN-NGO Committee on Human Rights," said Glenda Felden in an email. "The location is at the UN in New York City, however, the internship is not with the UN. Funds raised from the charity auction will benefit a widely respected nonprofit organization. The UN-NGO Committee will not receive any of the funds raised."
Later on Thursday, Felden emailed to say that "I think this is a simple syntax issue.... The UN is both a place and an entity. This internship is "at" the UN in NYC but not "with" them. Any confusion was unintentional. We've tried to clear this up in the auction description and the legal terms. Our bidders are aware of the details of the experience and are looking forward to supporting a great cause."
The UN-NGO Committee on Human Rights is listed as one of the non-governmental organizations with a consultative relationship with the United Nations. But the listing on CharityBuzz still says the internship is at the UN as of this writing.
This post has been updated with additional comment from Felden.