Underdog Democrat Makes Odd Speech At Hawkish Foreign Policy Forum
Lincoln Chafee, meet Bill Kristol.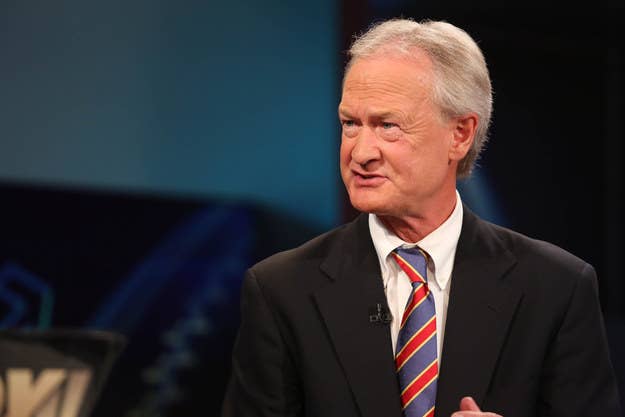 WASHINGTON — There aren't many more incongruous places for an antiwar Democratic presidential candidate who supports leaving Bashar al-Assad in power and developing closer ties with Venezuela to appear than the annual forum for the Foreign Policy Initiative, a hawkish right-leaning Washington think tank.
But this is precisely where Lincoln Chafee, the former Rhode Island senator and governor who is currently polling at 0.2% in the most recent Real Clear Politics average, spent his Thursday afternoon.
Chafee, who arrived at the conference a couple hours in advance of his onstage conversation with FPI policy director David Adesnik, treated the crowd to a full look at his foreign policy positions which are to the left of likely every single other person running for president. Chafee used to be a Republican and switched parties in 2007.
Chafee supports lifting sanctions against Russia in response to its hostilities in Ukraine. He openly states that Syrian president Bashar al-Assad should be allowed to stay in power if it will mean a peaceful end to the Syrian conflict (the Obama administration says Assad must go). He thinks the U.S. can learn from Cuba's health care system and laments the idea of American chain businesses setting up shop there. He believes the U.S. disrespected former Venezuelan president Hugo Chavez, who he says "wanted good relations with the United States."
And all this, at the annual forum for a group whose board of directors are prominent neoconservatives Bill Kristol, Robert Kagan, Dan Senor, and Eric Edelman. Chafee received a polite reception, but the room was only half full on a rainy day in Washington, and some at the event seemed a little confused about what the soft-spoken liberal was doing there.
Asked after his appearance how this appearance had come about, Chafee replied, "They invited me. I was as surprised as you are. When I looked them up — FPI? What? What am I doing here?"
Chafee said it was "to their credit" that they didn't have "all the same people saying the same thing."
Chafee had just come from telling the audience that though he supports re-opening relations with Cuba, "for those that have been [to Cuba] it's going to be sad in a way to have globalization descend on Havana, and the Kentucky Fried Chickens and the Gaps, because it's so different now."
He described meeting with Chavez years ago, who he says told him "it took me a while to get elected president but I was. And all I wanted was to sit in the Oval Office like the other world leaders get to do in front of the fireplace."
"A little disrespect and things go off the rails, and he's making friends with people we don't want him to make friends with, and saying things we don't want him to say," Chafee said.
Asked after his speech about whether the recent sentencing of Venezuelan opposition leader Leopoldo Lopez to 14 years in prison in what rights groups have characterized as a sham judicial process merits a bit of "disrespect" toward the Venezuelan government, Chafee told BuzzFeed News, "They probably have some criticism of whatever our oil companies are doing in Venezuela, whatever it might be, I'm sure they have some arguments against us, and we should go back and forth and resolve them, those areas of disagreement, but stress the areas of commonality."
Chafee did come close to something of a campaign attack line against frontrunner Hillary Clinton at one point, telling BuzzFeed News that "The main thing is respect for democratically elected leaders. That's what we haven't done in the last number of years, the Bush-Cheney years, and even continuing unfortunately under Secretary Clinton and those early Obama years" — a reminder that he is, in fact, running for president.