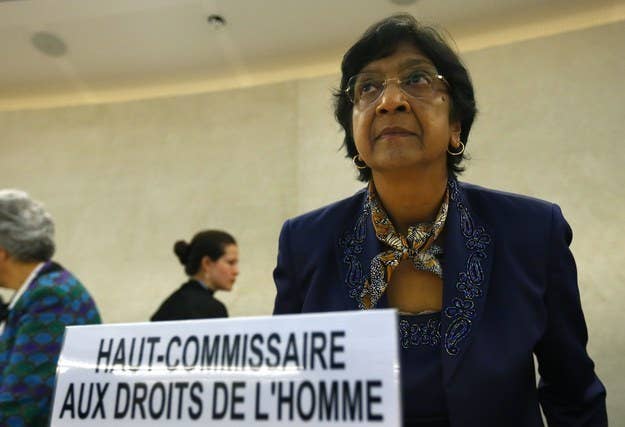 WASHINGTON — The United Nations High Commissioner for Human Rights criticized Congress in a letter sent to members on Wednesday, denying that the U.N.'s Human Rights Council is "biased" against Israel.
The letter was sent in response to a July 25 letter signed by over 100 members of Congress that slammed the U.N. Human Rights Council for launching an inquiry into whether Israel committed war crimes during the conflict in Gaza, which is currently paused due to a ceasefire. The UNHCR "simply cannot be taken seriously as a human rights organization" because of its inquiry into Israel's actions in the war as opposed to Hamas', the members of Congress, led by Reps. Ted Deutch, Steve Israel, Ileana Ros-Lehtinen, and Tom Cole wrote. Congress also passed two resolutions, one in each chamber, condemning the U.N. for the inquiry.
On Wednesday, U.N. rights chief Navanethem (Navi) Pillay responded with a letter of her own that offers a rare, direct rebuke of the U.S. Congress from the international body. The letter, which was obtained by BuzzFeed on Thursday, rejects Congress' complaints about the U.N.'s plan to investigate Israel and doubles down on her criticisms of Israeli actions in the war.
"I regret to note that resolution 107 passed by the United States House of Representatives on 30 July, and resolution 526 passed by the United States Senate on 29 July condemn the establishment by the Human Rights Council of a commission of inquiry on the basis that it is 'biased,' and 'calls for yet another prejudged investigation of Israel,'" Pillay wrote in the letter.
"In fact, resolution S-21/1 of the Human Rights Council mandates the independent, international commission of inquiry to investigate all violations of international humanitarian law and international human rights law in the Occupied Palestinian Territory, including in the Gaza Strip," Pillay wrote. "I have reiterated, on a number of occasions, the need for real accountability considering the increasing evidence of incidents that may constitute war crimes on both sides. The establishment of an independent commission of inquiry should be welcomed by all of us who cherish the rule of law."
"Let us not forget that the current conflict and destruction comes at a time when the people of Gaza have already been suffering from prolonged occupation and seven years of an air, land and sea blockade imposed by the Israeli authorities," Pillay wrote.
Full text of Pillay letter to Congress: