Uber Denies Paying Conservative Writers
RedState's Erickson prints an allegation against himself, and denies it.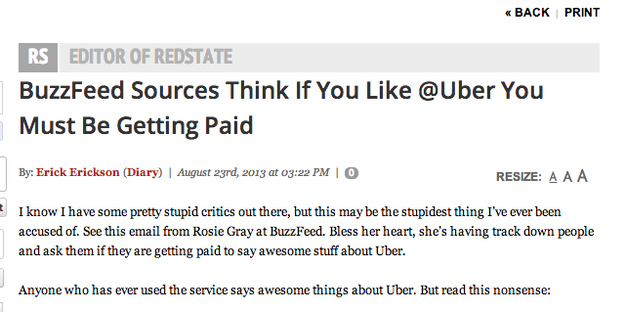 WASHINGTON — The booming taxi service Uber denied paying bloggers for favorable coverage after a post at RedState brought allegations of such activity to light on Friday. The company acknowledged giving favored bloggers free promotional codes.
"We have not paid bloggers," said Andrew Noyes, a spokesperson for Uber, in an email to BuzzFeed. "We've distributed new rider promo codes widely to all sorts of audiences including bloggers, atcommunity events, etc. We have advertising relationships as well. We have never stipulated that credits = endorsements."
RedState's Erick Erickson published a post on Friday based around an email I had sent to him following up on a tip I received about a possible pay-for-play scheme involving him, some other conservative writers, and Uber, the popular taxi service application which has been struggling with the Washington, D.C. taxi commission for over a year. (BuzzFeed asked the question in a private email, and would not have published the allegation without more evidence, had Erickson not chosen to air it himself.)
"I know I have some pretty stupid critics out there, but this may be the stupidest thing I've ever been accused of," Erickson wrote. "See this email from Rosie Gray at BuzzFeed. Bless her heart, she's having track down people and ask them if they are getting paid to say awesome stuff about Uber."
"But as I told Rosie, no I've never gotten a penny from Uber directly or indirectly," Erickson said. "Hell, I never even used the Uber promo code I tweeted out for people to use. I use Uber in Washington, New York, Atlanta, and even used them in Chicago on a recent trip. Uber is routinely attacked by taxi monopolies and regulators who hate creative capitalist endeavors. Of course I'm going to say nice things about such an awesome service."
In an email to me, Erickson reiterated what he said in the blog post, saying "I've never gotten a penny from Uber and neither has Eagle. I just use the service in DC, Atlanta, Chicago, NYC, etc and it is awesome."
Uber, whose libertarian founder Travis Kalanick sees the company as a model for disrupting government-created inefficiencies, has made efforts to reach out to the conservative movement recently, including a bloggers' lunch held with the Heritage Foundation last year, an official there confirmed.
"We see no record that he or his company have given us a single penny," Heritage spokesman Michael Gonzalez said. "We're still looking but I really don't think they have."
RedState has been the site of undisclosed paid content in the past, including pieces financed by the Malaysian government, and has taken part in a PR campaign in which some bloggers were paid by a proxy group for the Ukrainian government.