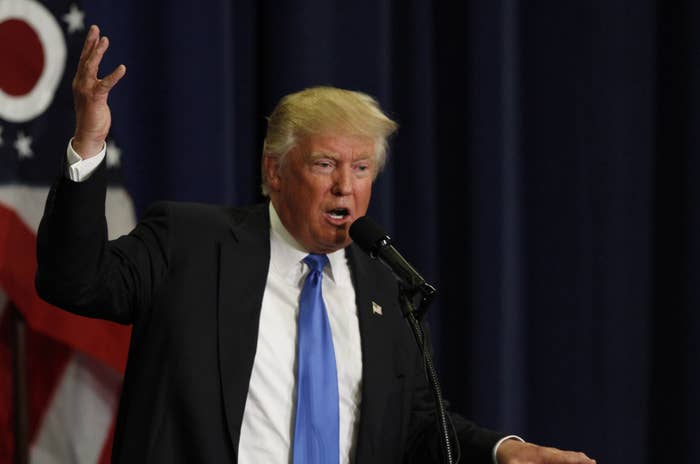 WASHINGTON — Donald Trump repeatedly defended on Wednesday his four-day-old, now-deleted tweet of what appeared to be the Star of David superimposed over a pile of money next to Hillary Clinton.
First, he defended the tweet at a rally in Cincinnati, saying that it should not have been deleted. Then later, he tweeted a photo of a book based on the children's movie Frozen that includes a six-pointed star on the cover:
The image was circulating online since earlier in the day, most notably on the subreddit devoted to Trump and on the Twitter account of "Pizza Party Ben," a user associated with the alt-right who has written for Breitbart News.
Anti-Defamation League CEO Jonathan Greenblatt told BuzzFeed News in a phone interview that there was no valid comparison between the image in Trump's tweet from Saturday and the cover of the Frozen book. "The intent was different and the outcome was certainly different," Greenblatt said. "Connecting the Star of David to money and politicians is intended to invoke anti-Semitic stereotypes."
"I wish he would bring the same firmness to his rejection of anti-Semites and racists as he brings to members of the media and other candidates," Greenblatt said. "I don't understand why he's courting the white nationalist vote, I'm not in politics."
Greenblatt, whose group is nonpartisan, said he couldn't think of a parallel in contemporary presidential politics and that one would have to go back to segregationist candidate George Wallace in the 1960s "to find anything resembling the kind of rhetoric we're seeing" this election season.
Greenblatt said it was "perplexing" that Trump's campaign appears to be sourcing images from white nationalist sources. The original image featuring a Star of David next to Clinton's face has been traced back to an 8chan board frequented by the alt-right. Trump's social media director Dan Scavino said in a statement that he had picked up the image from the Twitter feed of an anti-Clinton account. (This is not the first time that Trump, inadvertently or not, has interacted on Twitter with white nationalists; he has, for example, retweeted a @WhiteGenocideTM account more than once.)
Trump's tweet from the past weekend has led to days of fallout, including an article by a New York Observer staffer asking the paper's owner, Trump's son-in-law Jared Kushner, to do something about the situation. Kushner, who is Jewish, responded in an op-ed saying that "my father-in-law is not an anti-Semite."
The situation has also become a headache for Republicans who were hoping to be able to focus this week on the Clinton email scandal, particularly after FBI Director James Comey made a public statement on Tuesday calling the former secretary of state "extremely careless" for her use of a private email server while at the State Department. Instead of honing in on that issue, Trump has repeatedly brought up the Star of David tweet and praised Saddam Hussein.