Trump Takes L.A. With A '70s Game Show Host And Free Hats
And a big old ship. It was supposed to be a foreign policy speech, but Trump was light on details and even subdued the night before the second debate.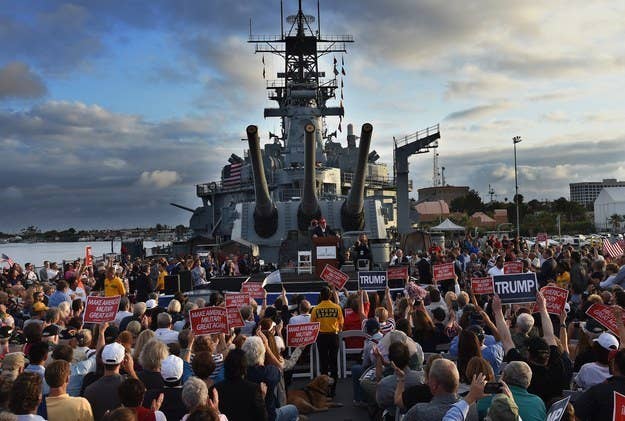 LOS ANGELES — Promising reforms for veterans and a strong military, Donald Trump handed out free hats and shared the stage with radio DJ and TV game show host of yesteryear Wink Martindale in what proved to be a relatively subdued version of the Trump show the night before Wednesday's Republican primary debate.
A super PAC called Veterans for a Strong America hosted the event, which took place on the U.S.S. Iowa, a de-comissioned World War II battleship. The speech was billed as a national security policy speech, but like with many Trump events, policy specifics were difficult to pin down. Trump promised reforms to the Veterans Affairs system and vowed to tackle long wait times for veterans to get medical care, saying he will send them to private doctors and hospitals instead. He promised that he would cause the military to become so powerful that "I don't think we're ever going to have to use it. Nobody's gonna mess with us." As for how to do this, Trump said he would "come out with some plans in a very short time" to bolster the military. And he repeated his familiar points about immigration.
Trump has faced questions over his own draft deferment in Vietnam, a fact that juxtaposes awkwardly with his accusations that other politicians are weak on military matters. But no one in the audience seemed to mind that Trump has never served, least of all Joel Arends, who endorsed Trump after saying that his organization has never endorsed a candidate before but that this election is "too important." According to the most recent Federal Election Commission filings, Veterans for a Strong America Action Fund has neither raised nor spent any money this year as of the end of the second quarter. This event was, in fact, also a fundraiser for the group; tickets ranged from $1,000 to free for actual veterans.
"I doesn't bother me that he didn't serve," said Jorge Herrera, 30, who was holding a "Latinos for Trump" sign ("I'm not alone, but I am a minority" among Latinos, Herrera said). "He's a self-made guy, he's very — sometimes he speaks too strong, but I think he's got the energy, he's got the desire, he's a true patriot, I honestly think he's a true patriot and he wants to help our veterans."
"It doesn't bother me at all," said Ray Bernasconi, 54, of Chino Hills. "Not at all."
"To me it's our principles, it's our moral, your characters. Everybody says he was left-leaning prior, questioning his conservatism. You know what, we all get a second chance," said Bernasconi, who is of Mexican-Italian heritage. Bernasconi, who was telling people around him "Latinos for Trump" and wearing a Make America Great Again hat signed by Trump that he'd caught when Trump distributed them, said he had never been excited about a presidential election before this one.
Trump didn't say anything particularly striking, and spoke for less than 15 minutes, wrapping up by tossing signed "Make America Great Again" hats into the crowd. He shook hands for another 10 minutes or so, then left. It was a low-key performance, or as low-key as someone like Trump can be.
Still, the adoration typical of Trump's crowds was on display. Debra Oresko, 55, of Orange County, said she had taken her husband, son, and mother to dinner at the Trump National Golf Club in Los Angeles to celebrate both Trump's announcement and Father's Day earlier this year — her own father "would love Donald Trump," she said, and she wanted to "do something momentous for Father's day."
As for Martindale, the first speaker at the event and former host of Tic-Tac-Dough told BuzzFeed News after the event that he hadn't met Trump before today.
"Very rarely, this is the first time certainly in this election cycle I've done it," Martindale said when asked whether he often participates in these kinds of events. He said he'd done it as a favor for a fellow member of Friends of Abe, a group for Hollywood conservatives, who had asked him to emcee the event. Trump appeared at a Friends of Abe dinner last month.
"Never met [Trump] until tonight," Martindale said. "Don't know him, just appreciate what he's saying, and in large regard, many points I agree with, some of course I don't."