Trump Fans Came Out In The Snow — But They Hadn't Heard Too Much From The Campaign
Maybe the biggest question in New Hampshire is if Donald Trump's less committed supporters will actually come out to vote on Tuesday. People at the final Trump rally seemed to have heard the most from Jeb Bush's campaign.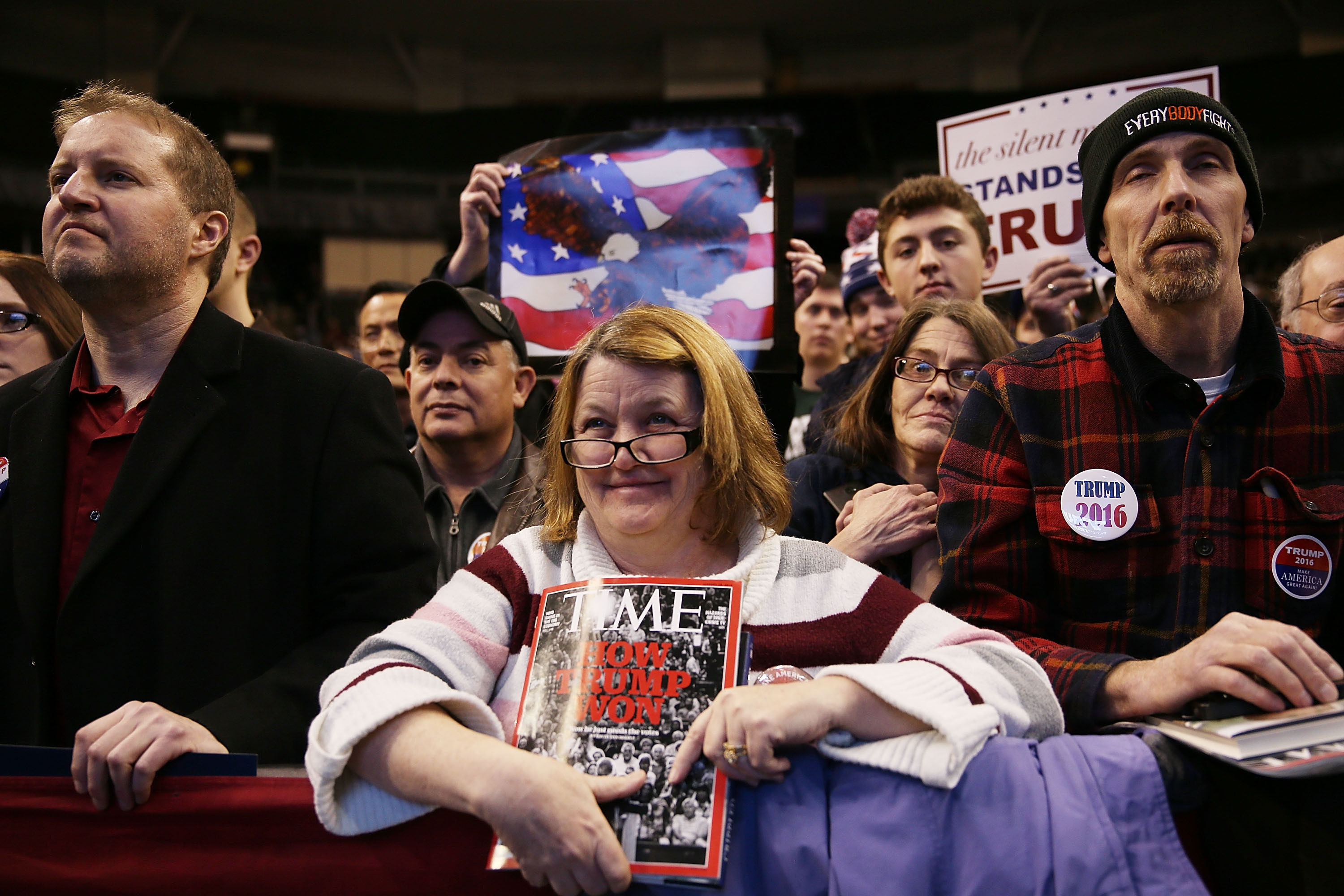 MANCHESTER, New Hampshire — Though Donald Trump has squeezed in a couple retail stops in the final days before the New Hampshire primary, his final rally was a quintessential Trump event: a big, grand speech from behind a podium, where Trump could just play the hits ("Who's going to pay for the wall?" "Mexico!"), talk about polls, and tweak his rivals (including in a most profane manner).
It's the polls, though, that people have scrutinized in final days of the New Hampshire primary. Can Trump bring out the voters the polls say he has?
Though the campaign recently started opening up to the media about its redoubling its efforts to reach voters and get them to vote in New Hampshire, it remains to be seen whether it will be enough. Voters here to witness Trump's closing argument on Monday said they came despite, in some cases, a lack of contact from the campaign. These were not famously waffling New Hampshire voters, though; when state party vice chairman Matt Mayberry asked the crowd how many were still undecided, very few people raised their hands.
Mike Kaczanowski, 42, a teacher from Bedford, said he had been supporting Trump for "a couple months," and said the biggest draw for him had been Trump's disdain for political correctness and his outsider status. Monday was his first time going to a Trump rally.
Kaczanowski said he had been getting "not as much" political mail and phone calls from Trump as from other candidates.
Doug Wilson, 49, a Trump supporter who had been wavering between Trump and Ted Cruz but settled on Trump just last week, said he was "inundated" with calls from different campaigns and that his phone had been "ringing off the hook." But he said he didn't think he had received any from the Trump campaign.
"They have a very different strategy," Wilson said.
In Iowa, where Ted Cruz won with a large-scale effort to bring supporters out, a good field organization is essential. In New Hampshire, or so the conventional wisdom holds, a good ground game isn't as important — which benefits Trump and his TV and social media-heavy style of campaigning. "Trump has no ground game in NH- thank God momentum and buzz is its own ground game #NotIowa" Trump ally Roger Stone tweeted on Monday.
This is something Trump himself has been blithe about; "I've done my job. I'm the product, the product is me in a sense," he told CNN on Monday.
Still, Trump does very little retail politics, a mainstay of New Hampshire campaigning, where voters expect to meet the candidates — often several times. And even if he's dominated television and social, most campaigns are machines by this point, reaching voters in targeted ways, again and again, to get them to vote.
"We haven't had a ton of contact, just email," said Debbie Blair, a retired teacher from nearby Bedford. "Some calls, but no one at the door."
Instead it was "television, radio, Twitter, Facebook" which had convinced her and her husband to vote Trump and start attending his rallies.
By comparison she expressed exasperation with the high level of contact from the Bush, Cruz and Rubio campaigns which had done little to convince her not to vote Trump.
Donna, a registered nurse from Manchester who declined to give her last name, said she was still making up her mind but "leaning heavily" towards Trump and definitely planned to vote on Tuesday.
Donna said the Kasich and Bush campaigns had contacted her the most. The Trump campaign had contacted her once: They sent a Christmas card.
"That's all I really got from Trump," she said. "In fact I didn't even know about this [rally], I heard about it from some kid" who works with her husband.
Madeleine Guertin, 78, of Hooksett, said Bush had been contacting her and her husband the most. She said "we haven't seen too much" Trump mail or received phone calls.
Guertin's husband has been a committed Trump supporter for some time, she said, but she said he had come around only recently.
"I told him, 'Well, [Trump] should watch his mouth sometimes,' but other than that, I said well, sometimes I don't watch mine either," she said.
"I came here with Bernie Sanders in mind," said Lee Vincent, 51, of Manchester. The rally had not helped her make a final decision between Trump and Sanders, with only hours to go before voting began: "I have to sleep on it."
Vincent also said Bush had contacted her the most.
Jim Waterson contributed to this report.