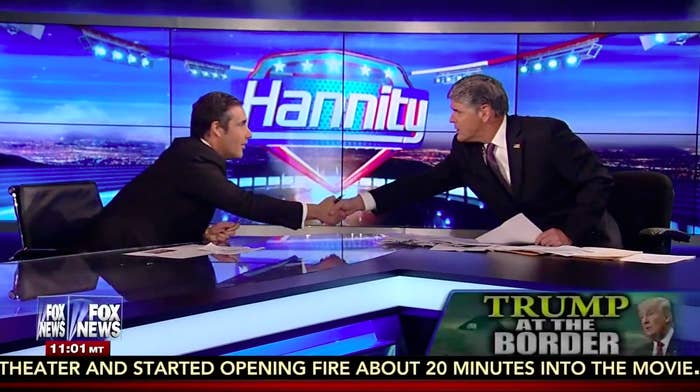 WASHINGTON — The dustup over a top Donald Trump aide's comments about rape highlights the ambiguous role of the aide, Michael Cohen, with Trump's political efforts.
Cohen, Trump's lawyer, is also an executive vice president at the Trump Organization. He has no official role with the campaign and, per Federal Election Commission documents, isn't being paid by the campaign.
Despite this, Cohen frequently appears on television talking about Trump's campaign and often fields reporters' campaign-related questions. Though he told CNN on July 16 that "I'm not part of the campaign," his high-profile role as a surrogate for the campaign, brought into sharp relief by Monday night's controversy after he said that spouses cannot rape one another and threatened a Daily Beast reporter, raises questions about his exact role within the organization and as it pertains to the campaign.
After this story was published, the Daily Beast reported that the reporter who wrote the story that prompted the controversy, Tim Mak, had reached out to Hope Hicks, a campaign spokesperson, with the question about the Ivana Trump allegation. Cohen had been the one to respond, and had "repeatedly read from the e-mail that we had sent the Trump campaign, suggesting that it had been forwarded between the Trump campaign and his corporate organization," Mak reported.

A source who knows both Cohen and Trump said that Cohen is not deeply involved with the campaign and that his involvement mostly consists of his string of media appearances. "The only thing that I know that he's doing is the media stuff," the source said. Trump has only a small group of campaign staffers.
According to campaign finance laws, there are two potential issues if Cohen is taking on campaign-related duties. Campaign finance and lobbying regulations expert Joseph Sandler, a lawyer for Sandler Reiff Lamb Rosenstein & Birkenstock, explained to BuzzFeed News that it would be a violation of the law if Cohen were to reduce his hours devoted to Trump Organization work in favor of the campaign without having reduced his pay from the Trump Organization, constituting an illegal corporate in-kind contribution to the campaign.
Also, the time spent working on campaign-related affairs could be a factor. "If Cohen is working out of the Trump Organization's offices and doing campaign work during working hours, if that work exceeds four hours a month, that would constitute an unlawful use of corporate resources for a federal campaign," Sandler said.
Paul S. Ryan, senior counsel at the Campaign Legal Center, echoed Sandler in an email to BuzzFeed News. He said that anyone can volunteer for a campaign legally, but "if Mr. Cohen is actually being paid by the Trump Organization for the campaign work he's doing—i.e., he's 'on the clock'—then the Trump Organization is making an illegal in-kind corporate contribution to the Trump campaign. In all likelihood, Mr. Cohen is a salaried individual who can simply say/decide when his is on and off the clock for the Trump Organization. By contrast, it would be clearly illegal for the Trump Organization to pay hourly workers to do campaign work on the clock."
Cohen did not immediately respond to requests for comment about what work he does or does not do for the campaign. A spokesperson for Trump's campaign did not return a request for comment.

Cohen has been the most recognizable spokesman for Trump's presidential efforts so far. He has recently been a guest on Sean Hannity's Fox News show, talking about Trump's campaign trip to the border and Trump's expected participation in the upcoming debate.

On July 23 on Hannity, Cohen explained the way Trump comes up with his campaign speeches.
"Mr. Trump doesn't come in with stump speeches," Cohen said. "He's not reading off of a teleprompter. He speaks from the heart. And when you speak from the heart, you say things the way you say it."
In that same appearance, Cohen told Hannity of the chances of Trump being shut out of the debate ("zero"), and commented on the possibility of a third-party run ("I can't assure you of anything"). Cohen was on Hannity the next day, defending Trump's remarks accusing Mexicans crossing the border of being rapists.
Cohen has appeared frequently on CNN and Fox News for several weeks talking about Trump's campaign, sometimes more than once in a day.
He has touted his appearances acting as a surrogate for Trump's campaign, tweeting on Monday that he would be discussing #Trump2016 on Anderson Cooper's show. The day before that, he tweeted about going on Hannity's and Cooper's shows.
On July 24, he told his Twitter followers that he was "guaranteed to be talking #Trump2016" on Chris Cuomo's CNN show.
Cohen also spoke for Trump on Monday morning, telling CNN that Trump didn't disagree with rival Republican presidential candidate Mike Huckabee's assertion that President Obama was marching Israelis "to the door of the oven" by singing the Iran nuclear deal.
Cohen's Twitter feed, in fact, was far less active before Trump formally entered the race in June. Since the beginning of the campaign, he's tweeted and retweeted many times per day, with nearly all of the content pertaining to the campaign.
During the 2012 cycle, Cohen set up a pre-campaign organization called Should Trump Run? that quickly raised questions about whether it had broken campaign finance laws. Cohen took a trip on Trump's jet to Iowa to "test the waters" for a potential Trump campaign which had been funded by a business supporter of Trump's, which campaign finance experts said had violated fundraising requirements about "testing the waters" efforts.
Cohen has worked for Trump since 2006, according to his Eric Trump Foundation bio. A lawyer, Cohen is a graduate of the Thomas M. Cooley law school at Western Michigan University and had previously been a partner at law firm Phillips Nizer before working for Trump. He had also bought several units in Trump properties. "Trump properties are solid investments," he told the New York Post in 2007.
Cohen had previously been involved in politics himself. He ran for New York City Council against Eva Moskowitz in 2003, and lost. He also had a brief flirtation with running for New York State Senate in 2009.
Like many of the people who surround Trump, Cohen shares some of his boss' bombast. He sued a NYU psychiatrist from whom he rented a vacation home last summer, alleging that the house's beds were too small and the air conditioning faulty, and that he had been promised a "wow" factor that wasn't there.
On Monday, Cohen told a reporter for the Daily Beast inquiring about rape allegations that Trump's ex-wife had made against him that "You cannot rape your spouse" and then threatened the reporter, saying "I'm warning you, tread very fucking lightly, because what I'm going to do to you is going to be fucking disgusting."
The source who knows both Cohen and Trump said that in Trump world right now, Cohen's "biggest problem is his insensitive comment about 'you can't rape your wife'" and not the threat against the reporter.
Cohen apologized for the comment on Tuesday.