Top U.S. Official Warns That Deal Between Russia And Iran Could Threaten Nuclear Talks
U.S. officials have previously insisted that tension between the U.S. and Russia would not affect the effort to curb Iran's nuclear program.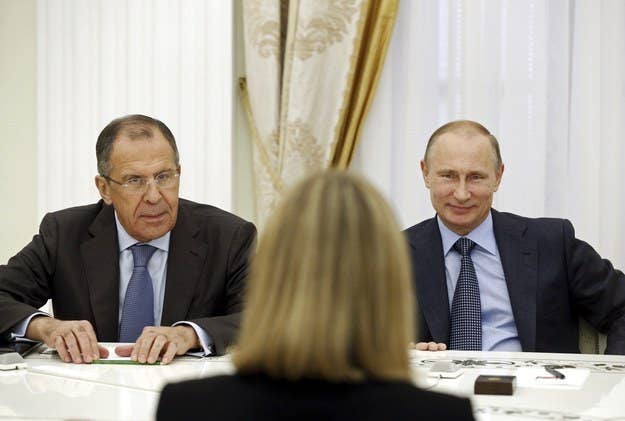 WASHINGTON — A top U.S. official in charge of sanctions policy warned on Thursday that if reports of a multi-billion dollar energy deal between Russia and Iran were proved true it could threaten negotiations over Iran's nuclear program.
David S. Cohen, the Treasury Department's Under Secretary for Terrorism and Financial Intelligence, said on a call with reporters that although it is "still unclear whether there is any such deal or whether any deal has progressed in any way beyond what we've heard previously," the existence of the reported deal would threaten the P5+1 negotiating process.
Reports that Russia and Iran were negotiating an oil-for-goods deal first began surfacing in January, and Russia announced that the deal had been struck on Tuesday before mysteriously withdrawing the statement and then re-announcing it, though in vague terms about the specifics. Both countries have been subject to heavy U.S. sanctions — Iran for its nuclear program, Russia more recently for its involvement in the Ukraine crisis — and U.S. officials have threatened to further punish Russia with sanctions if it continues to violate Ukraine's sovereignty.
"We have been absolutely clear for the better part of now six months since this issue first cropped up that if the Russians and the Iranians were to move forward with such a deal that it would raise some very serious concerns," Cohen said. "It's almost certain that any entity involved in such a deal would be exposing itself to U.S. sanctions" as well as potentially sanctions from other countries, Cohen said.
"I think it would have an impact on the P5+1 process," Cohen said. "I can't predict what impact it would have, but it would have an impact. We have been very clear with the Russians at the highest level that they ought not move forward with such a deal."
The tension between the U.S. and Russia comes at a delicate moment in the P5+1 nuclear negotiations, as the parties failed to reach a final deal by the July 20 deadline and have extended the deadline to November 24. U.S. officials have up until now mostly rejected the idea that Russia could retaliate against sanctions by sabotaging the nuclear negotiations, arguing that Russia has its own interests in the P5+1 process and that it is a separate issue from the targeted sanctions.