Top Santorum Advisor Doesn't Believe In Operation Hilarity
Says the Democrats who turned out for Santorum are all blue-collar Reagan Democrats who honestly like him.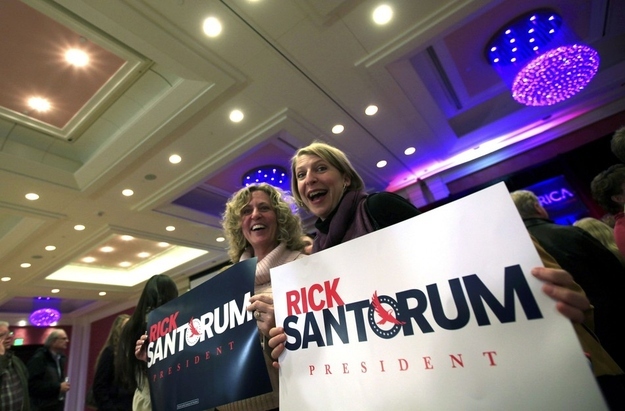 One of Rick Santorum's top campaign advisers said today that he doesn't think liberal Democrats showed up to the polls to sabotage with the Republican primary in Michigan, as they had been prompted to do by the liberal blog The Daily Kos.
"I have no knowledge of them doing that," said John Brabender on a call with reporters. "I also know that Mitt Romney got significant Democratic votes as well. Is it possible that there are liberal Democrats who just don't like Mitt Romney? Absolutely, that wouldn't surprise me in the least."
Brabender took more than one question about his campaign's appeals to Democratic voters in the state, and maintained that the Democrats who came out to vote Santorum were blue-collar conservative Democrats who legitimately wanted Santorum to win.
"It's a good day for the Republicans when we can get conservative Democrats to vote for the conservative candidate," Brabender said.
"One of the reasons we are best suited to beat Barack Obama is our appeal to Reagan Democrats, to get them to cross over. The hypocrisy here is, this is the same Mitt Romney who crossed over and voted in the presidential primary in 92 and voted for the Democrat instead of choosing the Republican."
This, according to Brabender, is the full story. "I am not aware of any anecdotal evidence of the Democrats, the labor unions or anybody else" voting in the primary to subvert it, he said, "but they're not exactly going to pick up the phone and call me, now are they."
The scale of Operation Hilarity remains very much in doubt, but there is certainly anecdotal evidence that some Democrats participated.