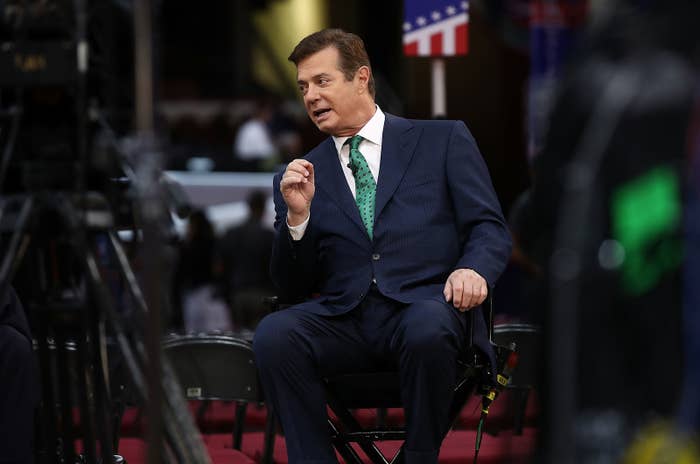 WASHINGTON — Two powerful Washington lobbying firms are engaging outside counsel after becoming embroiled in a controversy over undisclosed foreign lobbying by former Trump campaign chairman Paul Manafort and his deputy.
The situation concerns a period between 2012 and 2014, when the Podesta Group and Mercury Public Affairs worked on behalf the European Centre for a Modern Ukraine. The Brussels-based nonprofit is closely linked to the Party of Regions, the political party of Ukraine's pro-Russian ex-president Viktor Yanukovych.
Manafort and his associate Rick Gates connected the European Centre with the two firms, according to the AP, which also reported that Gates personally gave instructions to Mercury and Podesta Group employees in a lobbying effort on behalf of Ukrainian officials. At the time, Manafort and Gates were consulting for Yanukovych in Ukraine. The AP's story showed that Manafort and Gates had acted as unregistered foreign agents, never disclosing their work for the Ukrainians to the Department of Justice, as is required under the Foreign Agents Registration Act (FARA).

Now, the Podesta Group is acknowledging that the European Centre may have been directed by the Party of Regions and has hired outside lawyers to advise on the situation.
"The firm has retained Caplin & Drysdale as independent, outside legal counsel to determine if we were misled by the Centre for a Modern Ukraine or any other individuals with regard to the Centre's potential ties to foreign governments or political parties," Podesta Group CEO Kimberly Fritts said in a statement to BuzzFeed News. "When the Centre became a client, it certified in writing that 'none of the activities of the Centre are directly or indirectly supervised, directed, controlled, financed or subsidized in whole or in part by a government of a foreign country or a foreign political party.' We relied on that certification and advice from counsel in registering and reporting under the Lobbying Disclosure Act rather than the Foreign Agents Registration Act. We will take whatever measures are necessary to address this situation based on Caplin & Drysdale's review, including possible legal action against the Centre."

After Podesta Group gave the above statement to BuzzFeed News, lawyer Ken Gross, a partner at Skadden, Arps, Slate, Meagher & Flom, told BuzzFeed News that "Mercury has engaged Skadden to look into the matter."
The situation has led to direct consequences for Manafort, who resigned from the Trump campaign on Friday. Experts say the revelations could spell trouble for Mercury and for Podesta Group, which have both previously said they were unaware of Manafort's work for Ukraine at the time, and that the nonprofit they lobbied on behalf of assured them it was not being directed by Ukraine's Party of Regions. But they are currently in a gray area.
The situation shines a spotlight on the murky world of foreign lobbying in Washington, where firms and foreign principals often prefer to avoid FARA because of the detailed level of disclosure it requires. Mercury and the Podesta Group, which is run by Hillary Clinton's campaign chair's brother, are both powerful DC firms.
"It's hard to say that they weren't aware that the real principal here for whom Gates was acting was the political party," said Joseph Sandler, a FARA expert and partner at the firm Sandler Reiff Lamb Rosenstein & Birkenstock.
Gross, the Skadden lawyer whose legal opinion formed the basis for the firms to file less transparent Lobbying Disclosure Act documents with the Senate instead of more stringent FARA filings, told BuzzFeed News yesterday that his decision had been based on the European Centre's written promise that it was not being funded, controlled, or directed by a foreign government or political party.
Sandler said the lobbyists should "absolutely" file FARA documents retroactively, and that if he were advising them he would tell them to "get all the reports filed based on this and then cooperate with the FARA unit."
The Department of Justice has a small unit that focuses on enforcing FARA, and any investigation into the Manafort-linked lobbying scheme would likely begin with that unit sending a letter to the people involved to determine whether there is cause to investigate. If the FARA unit had already decided there was, it could skip that step and ask a judge for a subpoena, kicking off an investigation.
"I think they have to" launch an investigation into Manafort's activities, said former DOJ spokesman Matthew Miller. "They have said publicly before that they monitor FARA compliance by scanning the press for possible violations, and the latest AP story showed about as clear-cut a violation as you will ever see."
"There is an argument for waiting until after the election to start an investigation so they don't appear to be tipping the scale, but they have to balance that with the possibility of people destroying evidence now that details have become public," Miller said. "With Manafort leaving the campaign, that calculation probably shifts a little. So I think the only question is when they start an investigation, not whether they do."
A spokesperson for the Department of Justice declined to comment on whether there is an investigation into Manafort and Gates' activities, or whether the department has contacted Mercury or Podesta Group. But CNN reported on Friday afternoon that Manafort's firm is under federal investigation for potential links to corruption in Ukraine under Yanukovych, and that the investigation is also looking at the Podesta Group.
For Mercury and Podesta Group, "I think the big question is going to be did they know that the money came from a Ukrainian political party," Miller said. "And if in fact they didn't know that, they'll have a pretty good defense." But "I would advise them to consult with a good FARA lawyer," Miller said.
But there are two schools of thought on this. Some lawyers, like Sandler, recommend filing retroactively to cover all bases. Others advocate not filing, since filing could be construed as an admission of previous wrongdoing.
"Of course they should have filed," said one former Podesta Group employee. "There is zero chance they will do it retroactively. I can't even imagine how awful it would be to file three years of reporting at the same time for a huge firm, many of whose principals have left." The former employee said there was "no question" that the Podesta Group knew about the Ukraine connections.
One Republican operative who has dealt with the firms on FARA work in the past said they wouldn't advise either firm to register their work for the European Centre for a Modern Ukraine with the Department of Justice at this point.
"I'd be keeping my head down," the operative said. "If I was them I'd be retaining FARA counsel now. I suspect that that FARA counsel's advice would be to not retroactively file."
"Federal law requires domestic lobbyists to register with the Justice Department when they represent foreign powers before the United States Congress or American people," said Craig Engle, the founder of Arent Fox's Political Law practice. "But if the client is a foreign-based foundation, then Podesta and Mercury would be fine by registering with Congress. DOJ investigations are rare, but if there is one it would be on the true identity of the foreign client and the role the Manafort firm played in being paid to direct and control the lobbying."
After days of revelations about his work in Ukraine, including allegations that he helped foment anti-NATO protests in Crimea and new details about his ties to a man thought to be linked to Russian intelligence, Manafort resigned from the Trump campaign on Friday morning. Gates, whom the AP specifically names as having given directions to Mercury and Podesta Group, is staying on and taking the position of campaign liaison to the Republican National Committee.
Mercury partner Vin Weber, a former congressman, told Yahoo News earlier this week that Manafort had personally recruited him to lobby for the nonprofit and that he had asked Manafort who was behind the group, but Manafort had not told him.
Podesta Group CEO Kimberly Fritts said in a statement on Thursday that "we were not aware that Rick Gates was a Party of Regions consultant at the time he introduced us to the Centre. We believed he was working for the Centre, as we were hired to do."
Weber did not return requests for comment on Friday about whether Mercury will retroactively file FARA documents.