Tom Barrett: One President's Good Enough For Me
The Milwaukee mayor says he's satisfied with Clinton's appearance. Obama is in Minnesota with no plans to go to Wisconsin.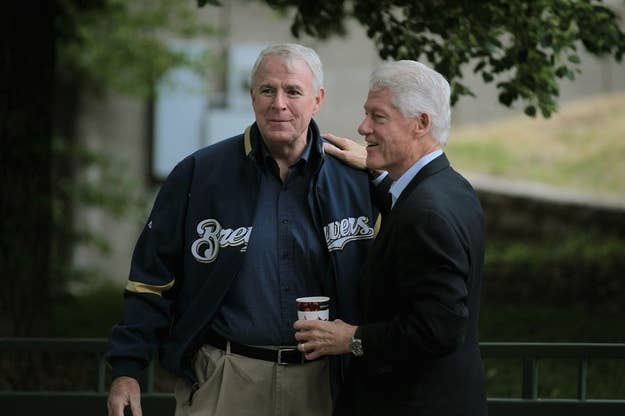 MILWAUKEE, Wisconsin — Milwaukee mayor Tom Barrett said he's not disappointed that President Obama, over in neighboring Minnesota, isn't coming to campaign for him in Wisconsin.
Asked if he was disappointed to not have the president, Barrett told BuzzFeed, "I'm happy to have President Clinton here."
"He brings an enthusiastic voice to what we're trying to do," Barrett said in response to another reporter's question. "And as he said, he's a person who governed by pragmatism. And that's the way I intend to govern. You have to bring people together."
Clinton's rally with Barrett drew several hundred to Pere Marquette Park in downtown Milwaukee, where the former president rallied supporters in a show of support for the recall effort from the Democrats, who have been criticized for not sending the money and manpower that the Wisconsin Democrats wanted.
Clinton told the crowd that he is "ordinarily against recall elections" (he did not support the recall of California governor Gray Davis in 2003) but that "sometimes it is the only way to avoid a disastrous course."
"This divide and conquer, no-compromise crowd, if they had been in control, there never would have been a U.S. Constitution," Clinton said.
"Constant conflict is a dead-bang loser," he said.
After Clinton finished speaking, the enthusiastic crowd mobbed the rope line, where he lingered after the event and spoke with fans.
Asked by reporters what he brought to the table in the recall, Clinton said "I have no idea."
"But I hope I bring some credibility on what the most effective way to create jobs and bring America back is," he said.
According to the Milwaukee Journal-Sentinel, Clinton will make appearances at two fundraisers for Barrett while he's in Wisconsin.