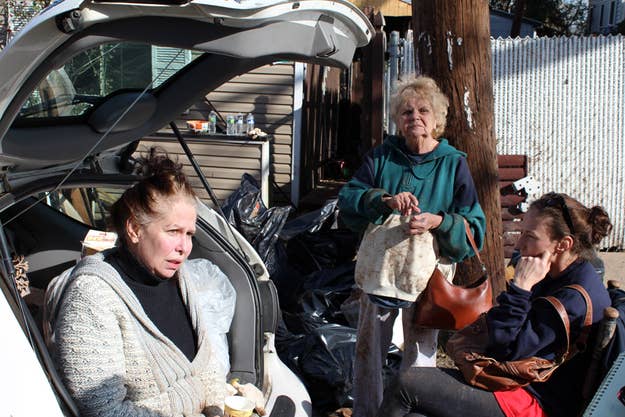 STATEN ISLAND, N.Y. — Kathy Trifeletti and Alicia Martinez sat in the back of a car outside their neighbor Kay Colt's house on Friday, since they couldn't sit inside. The house, like many others in this neighborhood in Staten Island's Midland Beach, is a small bungalow, and it was ravaged by the storm, which flooded the whole first floor up to the ceiling and destroyed most of their belongings.
"It was like a tidal wave," said Trifeletti. She said her brother, who also lives in the neighborhood, had spent ten hours clinging to wooden boards in his attic, waiting for the floodwaters to subside in his house.
Hardly anyone had evacuated. "A lot of the families live close together, so where are you gonna go? Next door?" said Martinez. "We're all in the same boat anyway." Plus, "People who live here they live paycheck to paycheck," said Trifeletti, "and they didn't want anybody stealing their stuff."
"There's a lot of tragedy around here," Colt said, her clothes covered in the mud that now coats every inch of her house.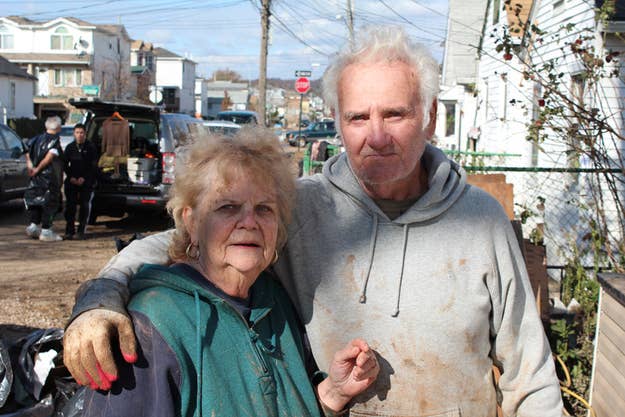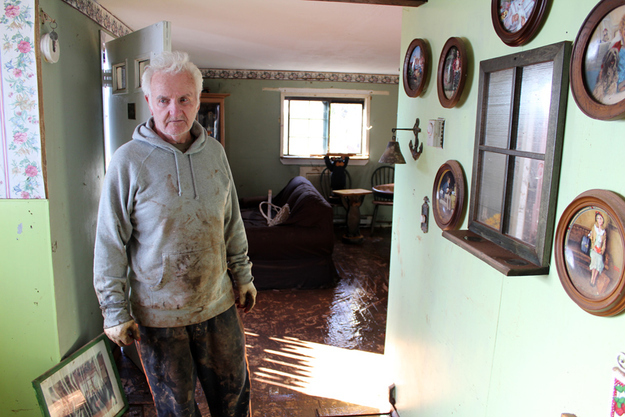 The southeastern shore of Staten Island didn't burn to the ground like Breezy Point or face the same kind of epic devastation as Sea Gate. But it was damaged as badly as any part of the city that is still standing. And residents here were particularly unprepared for a hurricane. Many don't have flood insurance. Many didn't take Sandy seriously because they had weathered Hurricane Irene. And many had nowhere to go in a tight-knit neighborhood where extended families — Polish and Italian-American, mostly — live down the block from each other.
They're now digging out from under a disaster that the area was ill-equipped to handle in the first place, and boiling with rage at the city and federal agencies they believe have forgotten about them as more glamorous parts of New York City — and many places in New York are more glamorous than the South Shore — recover.
"Staten Island is being forgotten, I feel like," said Tracy Lotz, 38, through tears. "As usual."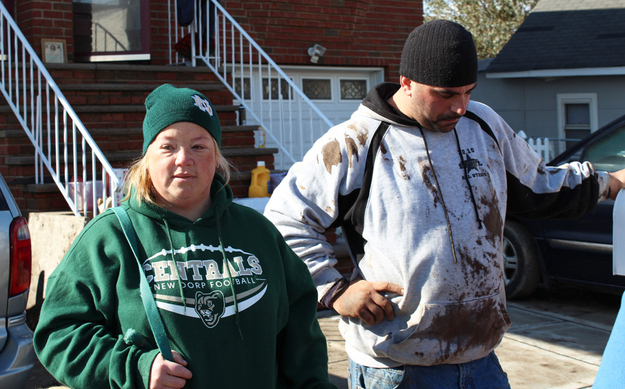 Lotz, wearing a New Dorp High School sweatshirt and hat, stood on the front lawn of the duplex where she lives next to her parents. Her brother lives the next street over. All the possessions from the downstairs of the house were sitting on the lawn as the Lotzes tried to salvage their house, a scenario that repeated itself all over Midland and New Dorp Beach on Friday.
"Nobody realizes the damage," Lotz said, "New Dorp Beach is gone. We're lucky, we still have a house to live in."
Comparatively, though they lost most of their possessions, the Lotzes are lucky. At
east they haven't been robbed, like the family next door, whose jewelry was taken.
Looting is becoming an issue, with rumors of people dressing up like firefighters in order to get inside people's houses and rob them. Down the block, a house had come unmoored from its foundation and had tilted on its side.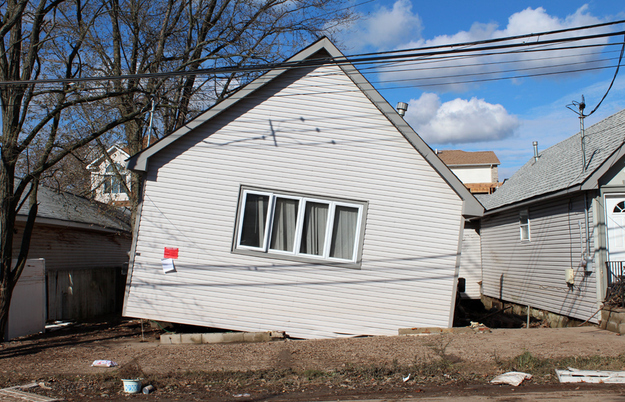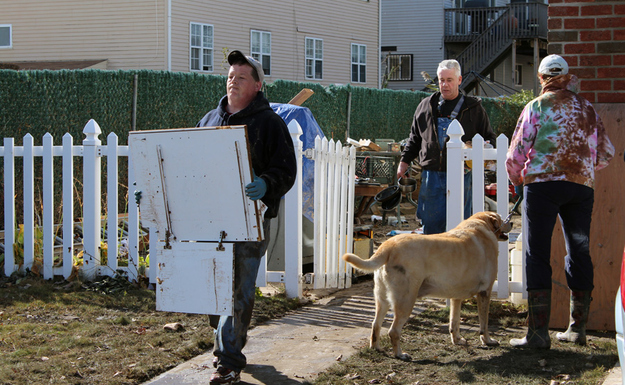 "I'm just very upset about the generators going over there to help the marathon people," Lotz said, echoing a common complaint among Staten Islanders about the upcoming New York City Marathon, which the city finally moved to cancel hours later. "How could they do that to us?"
Assemblywoman Nicole Malliotakis, who represents the area, was making the rounds of the neighborhood, telling residents that she was setting up a clothing distribution truck at 12:30.
"To take away one resource away from the people of Staten Island and this devastation, to oversee a stupid marathon is — quite frankly that's it," Malliotakis said. "I have no respect for our mayor anymore."
"Every elected official in Staten Island has asked the mayor to not conduct this marathon," Malliotakis said.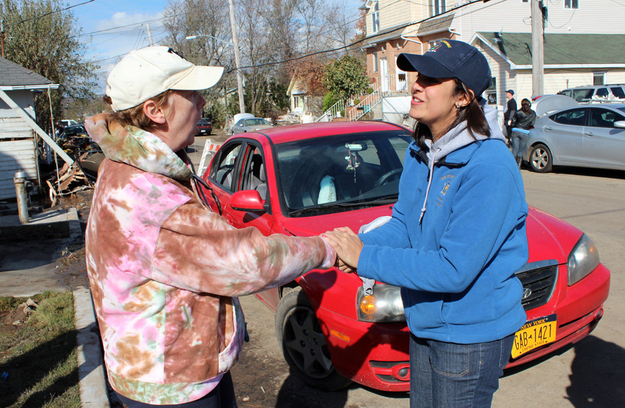 Bloomberg had insisted that the marathon will go on, saying in a Friday press conference that "New York has to show that we are here and we're going to recover, and that we can, while we help people, still help companies that need the business, still generate a tax base so we have the resources to help people."
The city and race organizers finally reversed themselves and canceled the event Friday afternoon, in the face of the rage of everyone from News Corp. chieftan Rupert Murdoch to Staten Islanders like Toni Russo, who spoke for many of her neighbors while driving through the neighborhood looking for water with her daughter Geri Flynn and Flynn's 2-year-old daughter Olivia: "Mayor Mike should get his head out of his ass."
But it's not just about the marathon. It's a long-held feeling in the borough of being forgotten, excluded, and that it's gotten worse in Bloomberg's New York.
"I'm angry that the mayor isn't here feeling our pain," said Russo.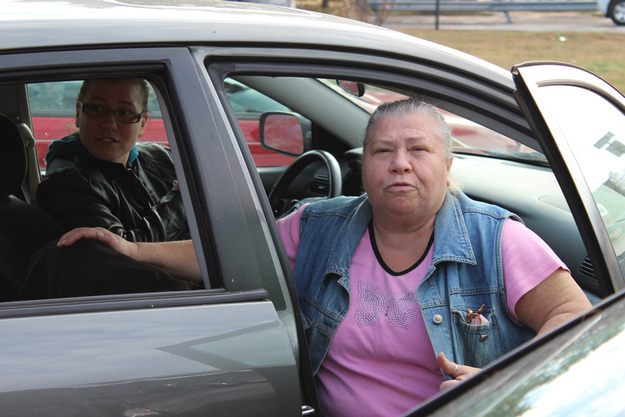 The pain includes a lack of running water, electricity, gas, and cell service. The city, along with the National Guard and FEMA, had set up a distribution station where people could charge their cell phones and pick up food and water, but most people in the neighborhood didn't seem to know about it.
"There's been no communication," said Flynn. She and her mother had waited two hours for their FEMA appointment and had finally left because no one showed.
FEMA's presence is crucial to the people here who don't have flood insurance, who are many. Joe Ambroso, a CPA, and his wife Janet, for example, have found that their condo association isn't covering flood damage.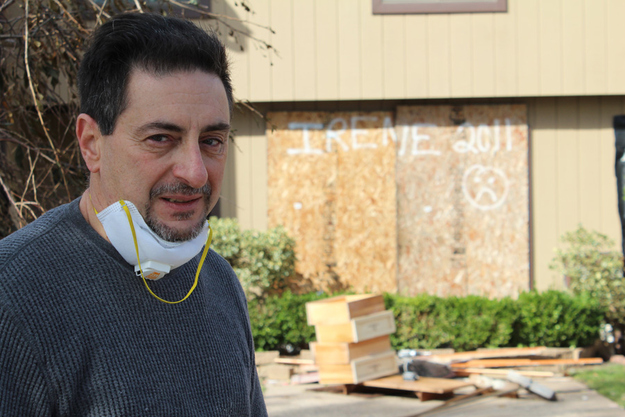 "If a car drove into my house I'd be covered, but not a flood," Joe said. He fought back tears.
"I feel like we're living in a third-world country," said Janet.
Zoya Koreleva and her husband Louie, from the Ukraine but residents of Staten Island for 12 years, didn't have flood insurance either.
"FEMA should come in, we have an appointment, but they're not here yet," Koreleva said. "We don't have insurance though — the bank didn't require us to have flood insurance. The bank didn't require it before 2007."
Since their house is all but destroyed and their family lives with them, the Korelevas have been sleeping on the floor of their babysitter's house in Brooklyn. Zoya's medical office in Far Rockaway — she is a family practicioner — was also destroyed.
"We lost everything," Louie said.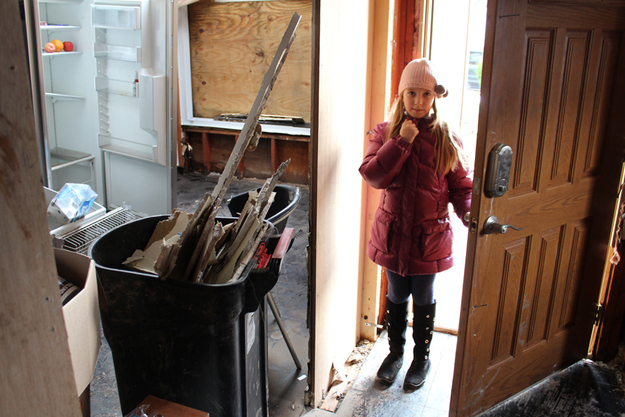 Over the course of a few hours, the National Guard could be seen going up and down the streets handing out food and water, and two Red Cross trucks drove around. A few FEMA representatives seemed to be on hand.
But most of all, neighbors were depending on each other for help. Regular people from other towns were driving through with supplies, like two women from Annendale who had a huge bag of clothes and packages of water in the back of their car, and were handing it out to people in need.
"People have been coming around with food, coming around with cars asking if we need hot meals and sandwiches," said Kay Colt. "Not no Red Cross, no Salvation Army."
"We're just lucky to be alive."