The Quiet, Uneventful, Somewhat Tearful Nomination Of Donald Trump
It really happened.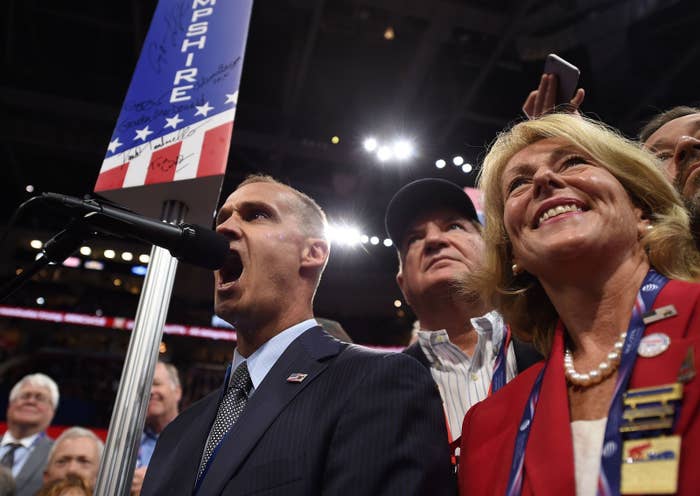 CLEVELAND — The final — no, really — floor challenge to Donald Trump's nomination went down with barely a whimper on Tuesday night.
But this was not a happy arena nominating a consensus choice. The divisions tearing the party apart were obvious even as Trump's nomination vote proceeded, and some anti-Trump delegates worked up until the last minute to at least throw a wrench into a process that the RNC wanted to go according to plan. Delegates from Washington, DC, and Alaska made an effort to make their votes for candidates other than Trump count, but failed in the process.
There were boos and even some crying from the floor. "We may be small in number but our votes matter," said Kristie Babcock, a Trump delegate from Alaska who wanted votes for other candidates to also count.
"Every vote has to count," she insisted with tears in her eyes.
Rumors also swirled ahead of the vote that Ted Cruz allies were preparing to enter Cruz's name into nomination. The Virginia delegation left the convention floor minutes before the roll call vote for a meeting, but their meeting did not result in a decision to rebel on the convention floor.
Former Virginia Attorney General Ken Cuccinelli, a top Cruz ally who had led an effort to change the party's rules to benefit grassroots conservatives like Cruz in the future, was noticeably absent as the roll call began despite being the chairman of his delegation. Virginia state party chair John Whitbeck took his place. Whitbeck said there had been no talk of rebellion in the delegation's meeting. But Beau Correll, a Virginia delegate who successfully sued to get rid of his state's delegate binding law and who has been a leading voice in the Free the Delegates movement, claimed that he had asked for a poll of the delegation to measure its Trump vs. non-Trump votes, for the purpose of forcing an accurate count on the floor, but had been rebuffed by Whitbeck.
Morton Blackwell, another Cruz supporter from Virginia, rejected the idea that the Texas senator's allies had made any effort to enter his name into nomination, saying he was "90% sure it's a calumny against Ted Cruz." Cruz's team was against the proposed move. And in the end, only Trump's name was entered into nomination.
Although delegations didn't end up walking out during the roll call vote on Tuesday evening, as some had predicted could happen, Kendal Unruh, a Colorado delegate who has been leading the Free the Delegates movement, said she's heard some states discussing doing that on Thursday, when Trump is expected to address the convention.
As the voting continued state by state, Utah senator Mike Lee — the most prominent of the Never Trump delegates — watched the proceedings with his delegation, which voted for Cruz. Asked if it was over, he nodded.
Lee, who emerged in recent days as one of the most diehard supporters of unbinding delegates and who has not endorsed Trump, cracked jokes with reporters and talked about how much he dislikes Pokémon Go ("I can't for the life of me figure out what is fun about Pokémon Go").
Elsewhere, amid the thrilled New York delegation, Dan Senor, a former Paul Ryan adviser and state delegate, stood apart, shaking his head as votes were cast for Trump.

Senor said he had come to the convention floor just so he could walk out after the vote.
McKay Coppins contributed reporting.