The Pauls Build A Libertarian Machine
From Kentucky to Texas, libertarian acolytes are poised to win primaries and take over their party. "We need reinforcements," says Rand.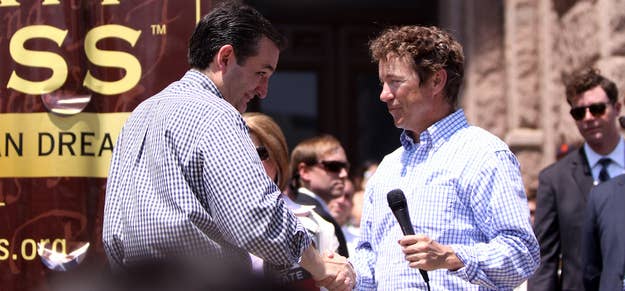 Ron Paul, still, if barely, a presidential candidate, suffered another landslide defeat in the Kentucky primary last week. But the Pauls won anyway: Their hand-picked candidate Thomas Massie, backed by Kentucky senator Rand Paul and funded by a wealthy 21-year-old Texan Paul acolyte with a super PAC, won his hotly-contested House primary by a decisive margin.
Quietly, from the remnants of two failed presidential campaigns and the formidable online Paul organizations, a political machine is being born. The Paul agenda of extremely limited government, suspicion of economic elites, and their true outsider street cred have broad appeal in their party's politics that go well beyond the sometimes-eccentric standard-bearer. The Republican Senate nominees in Wisconsin and Minnesota this cycle owe their nomination in part to the Paul influence. A Paul acolyte, Ted Cruz, is on the cusp of an upset victory over the establishment favorite in Texas Republican Senate primary. And Paul's son Rand, the junior senator from Kentucky, is now mentioned seriously as a prospect for the 2016 Republican nomination should Mitt Romney fall short in November.
This new attention to state races is, a Paul advisor said, a matter of strategy.
"As Ron Paul moves on to a different phase, there will be other leaders who are in a position to emerge," said the Republican strategist close to the Paul campaign. "Obviously the more people who are sympathetic to their issues, a host of those is a positive thing for the bigger movement. That's part of the objectives."
Of the major strategic goals that Paul's camp is focusing on now — picking up delegates, getting issues onto the platform at the convention, and getting libertarians included in the mainstream Republican party — the last is "critical," the strategist said:"You've got a bunch of other people who can go and lead and build off our infrastructures."
And while much of the coverage of Paul's twilight campaign has centered on the role his delegates could play at the Republican National Convention, where they may have a voice on the party's platform, Paul's aides say the family's focus is elsewhere.
Getting libertarians elected "easily transcends having that influence on the platform, which is basically a document and nothing else," said Doug Wead, a Paul senior adviser.
The Pauls' individualistic dogma and their solitary character make them unlikely bosses, even of their own de facto libertarian party.
"I don't like anyone telling me how to vote," Rand Paul said in his video endorsing Massie, the the Lewis County, Kentucky, Judge-Executive and victorious congressional candidate. "I make up my own mind and vote for the candidate who best supports term limits, balanced budgets and the constitution."
"Kentuckians sent me to fight the Washington machine and I've done that," Paul says into the camera. "But the mess is even worse than I thought…That's why we need reinforcements."
Along with being an ideological twin of Paul's, Massie was benefitting from a more traditional form of politics. He was a rare Kentucky official to endorse Paul's 2010 Senate bid, and was reaping the reward.
Indeed, unlike many political figures, the Pauls have demonstrated a capacity to lead their armies to other politicians — and by doing so, into the Republican coalition. This is how the Ron Paul movement is staving off a bleak period after Paul's imminent retirement: handing over the reins to a set of younger politicians with similarly libertarian views. The Pauls have thrown their lot in with many candidates around the country, some by directly contributing resources or helping to fundraise, some by a simple endorsement.
"Congressman and Senator Paul are both deeply dedicated to helping elect principled Constitutionalists to office and are both working directly and indirectly with dozens of candidates across the country," said Paul campaign manager Jesse Benton.
A few high-profile candidates, like Ted Cruz in Texas, have been particularly successful at profiting from the Paul anointment. Father and son appeared with him at a rally in Texas and conducted a moneybomb for him. And recent polling suggests Cruz will make it into a runoff with Lieutenant Governor David Dewhurst in July, a scenario many believes favors the outsider.
Kurt Bills, a Minnesota congressman who recently won his primary to face off against Sen. Amy Klobuchar, also benefited from an unusually strong Paulite apparatus in that state, one that also took over the states convention. Bills benefited, too, from Paul himself campaigning and fundraising with him, and sending out fundraising emails on his behalf.
An email on Paul's Bills endorsement from the end of March: "If elected to the U.S. Senate, Kurt will join my son, Rand, in leading the fight for fiscal responsibility, individual liberty, and constitutional principles in Washington, D.C."
The Pauls have done even more for other candidates, like Mark Neumann, a Senate candidate in Wisconsin. Neumann is looking strong on the way to an August 14 primary, in no small part because of a little help from Rand, who did a tele-town hall with Neumann and has "written letters, sent e-mails, and urged conservatives to unite behind Mark," according to Neumann's campaign manager Chip Englander. Englander added that Neumann and Paul met in person pre-endorsement.
The endorsement "certainly energizes a large part of the party," Englander said. And the effects have been "fantastic."
"Mark's raised the most money of all the candidates," Englander said. "He's out-raised the establishment in this race and gotten the biggest and best endorsements: Rand Paul, Jim DeMint, the Club for Growth, Erick Erickson." (Paul did a nearly five-minute-long video with Jim DeMint explaining his endorsement of Neumann).
Some of the Paul protégés have been careful to try and not look too much like carbon copies of the Pauls, like Bills, who told Minnesota Public Radio he wasn't a Ronald Reagan or a Ron Paul Republican, but a "Kurt Bills Republican." Or like Cruz, whose Rick Santorum endorsement receives higher billing on his website than Rand Paul's.
But regardless of whether or not they want to share the Paul image, these candidates are happy to plug into the networks that the Paul movement has built since 2008.
"These congressmen and state officials and new federal officials are lining up with us because we have the soldiers," said Paul adviser Doug Wead. "If you want to run for office, you have to have them. They are the activist base of the Republican Party now."
Indeed, the influx of conservative-libertarian candidates who parrot classic Paul positions — ending the Federal Reserve or the EPA, staying out of foreign affairs — looks something like the Tea Party bumper crop two years ago, albeit quieter.
The Tea Party has "lost its meaning, lost its significance," said Wead. Instead, the mini-Pauls are "riding the wave," he said. "This is a genuine movement and many people have been downplaying it and underestimating it, and it can be seen for what it is now with the election of some of these candidates."