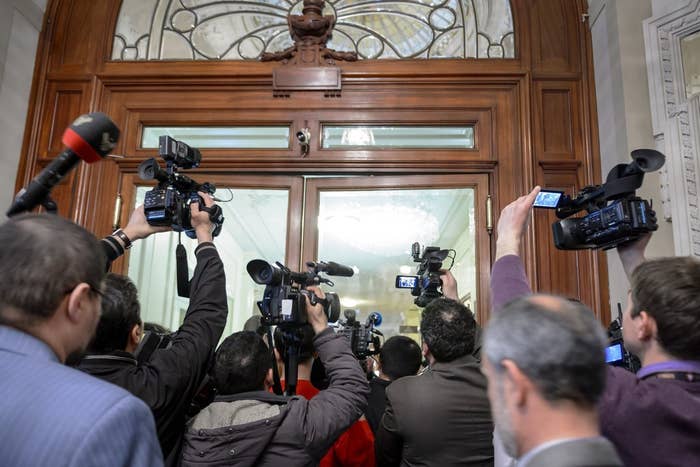 LAUSANNE, Switzerland — The negotiations over Iran's nuclear program have been going on long enough that a familiar scene has emerged.
Journalists, analysts, and operatives aren't allowed into the negotiating room where the real action is — the rounds of bilateral and multilateral discussions between members of the P5+1 negotiating bloc and Iranian negotiators that are this week aimed at finalizing a political framework for the deal. So the sidelines have become a hub of activity of their own, where reporters meet for drinks, scrounge for information, and rely on independent analysts to break down the talks and give quotes during times when little is coming from the negotiators.
And it's in there, in those posh European hotel lobbies and Swiss cafes, that an under-the-radar proxy war has broken out.
This shadow battle for influence started in November. The advocates for a deal, mainly operatives from the National Iranian American Council (NIAC), had been coming to the talks since before the interim deal was signed in Geneva in November 2013. But late last year, activists from The Israel Project, a Washington-based pro-Israel advocacy organization, started showing up, too.
Both groups, twin efforts diametrically opposed in ideology, desperately want to influence the talks and their coverage. Neither is willing to give an inch. It's a microcosm of the real debate on the potential deal: Is the Obama administration negotiating an agreement that will prevent Iran from obtaining a nuclear weapon, or is it negotiating one that will make its path to the bomb easier? Can the world accept Iran, or should it not?
NIAC President Trita Parsi and Research Director Reza Marashi have been a fixture of the talks, often documenting their travels on Twitter. ("Just landed in Geneva. Let's get a historic nuclear deal!" Parsi wrote when he landed in Switzerland this week, tagging several reporters in the tweet. The two also documented eating lunch near U.S. Secretary of Energy Ernest Moniz on Saturday.) The NIAC is a booster of the potential deal taking shape and of increasing engagement with Iran, and Marashi and Parsi are often well-informed on the details from the negotiations and seen as close to the Iranian negotiating team as well as to the American side. Reporters at the talks often turn to them or to other analysts who attend, such as the International Crisis Group's Ali Vaez, for a quick on-the-spot quote, and they're easy to spot circulating in the gathering places where reporters find themselves waiting for scraps of details from the negotiations.
The Israel Project, which is headed by Josh Block, a former American Israel Public Affairs Committee spokesperson, has emerged as a challenger to NIAC's dominance of the sideline spin as negotiations approach the deadline. Block came to the talks in Vienna in November that resulted in an extension, and both Block and The Israel Project Managing Director for Press and Strategy Omri Ceren have attended the current round in Lausanne. They're skeptics of the deal and support contentious legislation that would increase sanctions on Iran, which is currently on hold in Congress. They're aggressive about getting in the ears of reporters: According to a source who was in the room, Block even showed up at an off-the-record drinks session for the traveling press and Secretary of State John Kerry last week.
Both sides cite clear benefits to their physical presence outside the talks.
"I can tell you the reason why we're here is because when we weren't here we were constantly getting calls from reporters with six or, at times, nine hours' time difference," said Parsi, who has been coming to the talks with Marashi for a year and a half. "And it just made more sense for us to be here to be able to do more interviews, but also to be able to get information much much faster on what's going on, and provide on-the-spot analysis.
"I think it was appreciated because every time we're here, every journalist has made a point of reaching out and talking to us, and instead of just having five-minute cell phone conversations we're having the opportunity to actually have lengthier conversations. If others want to do it as well, we have no problem with that."
"We've been doing it for more than a year and a half, and I guess we kind of figured it out sooner than others did."
Ceren, of The Israel Project, said: "What you need are people that have relationships with journalists that trust them to give accurate information plus the information that they actually need. That requires having people on the ground who journalists know they can trust, plus the background infrastructure that anticipated what they needed and made sure they can get it."
"We were the only pro-Israel group that was on the ground in Vienna," Ceren said when asked why they only started attending the talks a few months ago. "It's a resources issue. Josh only took over The Israel Project in September of 2013 [Block took over the group in 2012], and it takes some time to build the things that will provide journalists the information they need to accurately report what's going on."
The juxtaposition of the two groups, so entrenched in their opposing viewpoints on the potential deal, can lead to some awkward moments. They're often within yards of each other and speak to the same reporters, but mostly avoid making contact. There have been a couple of encounters: NIAC's Parsi described running into Block in Lausanne, shaking hands, and chatting briefly. Marashi recalled drinking whiskey with Block and a journalist in Vienna in November and discussing North Korea's nuclear program.
"There's no secret of course that we disagree quite strongly on these issues, but I have not noticed any animosity or anything like that over here," Parsi said.
Block said he didn't recall the encounter in Vienna. "I don't remember the moment Reza Marashi was describing in Vienna, but my concern isn't with Reza himself — it's with the ideas he and his fellow travelers are peddling and how bad they are for America and the future of my kids."
Block described his organization's reason for being at the talks in more pointed terms than Parsi.
It's "important to help people see through the fog of spin being put out by the administration on the ground, in particular their talking points on US nuclear concessions to Iran, which are very similar to what one hears from NIAC, and others who support any deal at any price to America," Block said in an email after he had departed Lausanne before returning ahead of the deadline.
Block said he would "go to the ends of the earth, even to Lausanne" to explain his position, "even if it means having to smile politely at people I think are up to no good."
As the talks inch into their final two days, the advocates on both sides may find their roles supplanted by a rare (for the Iran talks) phenomenon: actual news coming out of the negotiating room.
Block took over TIP in 2012. A previous version of this story stated that Ceren said Block took over in 2013, when he meant 2012.