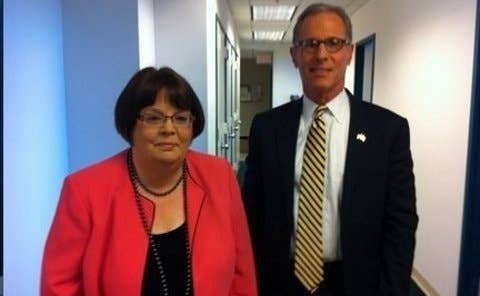 Fred Karger, the gay Republican presidential candidate and former Reagan aide, sent out a press release today speculating that Maggie Gallagher, one of the nation's staunchest opponents of gay marriage, has either divorced her husband of 18 years or was never married to him at all. Gallagher, for her part, denies, but the accusation makes a fight over policy intensely personal.
The charges, per Karger's release:
"I asked Maggie if she was still living in New York, and she told me that she moved to Washington, DC nearly three years ago. What about her husband Raman Srivastav? She allegedly married this East Indian man 19 years ago after living as an unwed mother for 11 years. No one has ever seen Maggie with Raman. Wonder if they really did get married? If so, maybe so he could get a green card?"
Karger also flags the absence of a wedding ring on Gallagher's finger.
Karger told BuzzFeed that the decision to attack Gallagher personally came after the leak of NOM documents that intended to exacerbate a rift between gays and black people.
"I've been very aggressive against NOM, after reading those documents," Karger said. "They're just unbelievable."
"I'm taking the gloves off," he said. "I've been a little reticent to go after [Gallagher] personally, but no more."
Gallagher laughed when asked about Karger's speculation, and said "I think I would know better than Fred."
Gallagher, who was a single mother for years after college, says she married her husband Raman Srivastav in Arizona in 1993: "We are still married and living together. He's a very private person."
"They just make up all kind of stuff about me," she said. "It doesn't really matter. I could be divorced and I still could not be for gay marriage. I don't really see that it's relevant. It is a fact — I am in fact married. I've only been married once. I am not about to get a divorce."