The Iraq Crisis Is A Preview Of The 2016 Fight Among Republicans
"You're seeing skirmishes all over the place, people testing each other."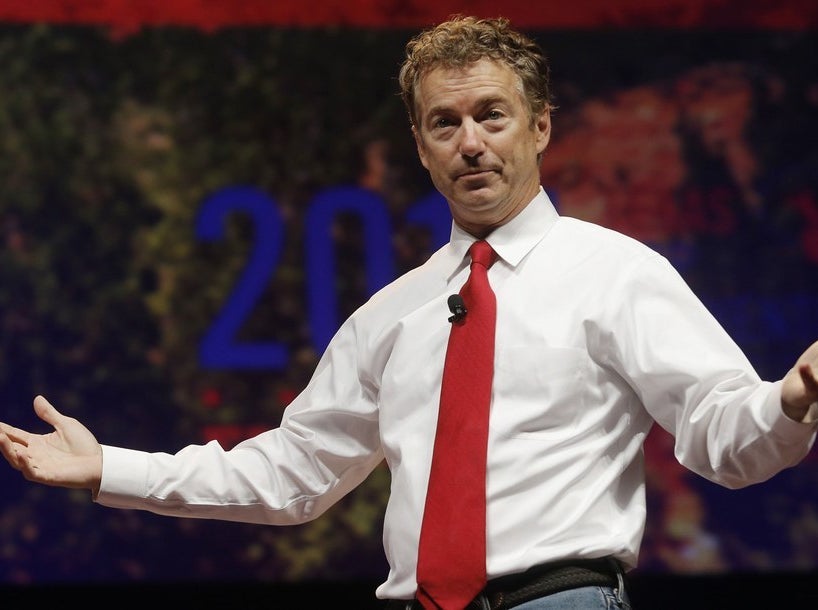 WASHINGTON — Neoconservatives are in the midst of reasserting themselves during the current Iraq crisis, and their message is tailored just as much to the rising libertarian wing of the Republican Party as it is to President Obama.
Several figures from the hawkish wing of the Republican party have made sure over the last few days to name check Kentucky Sen. Rand Paul in their critiques of Obama's policy on Iraq — a strategy of linking Paul to Obama's foreign policy that is bound to be seen again when the next presidential election rolls around.
"I haven't picked a nominee yet, but one of the things that's right at the top of my list is whether or not the individual we nominate believes in a strong America, believes in a situation where the United States is able to provide the leadership in the world, basically, to maintain the peace and to take on the al Qaeda types wherever they show up," former Vice President Dick Cheney said on ABC's This Week on Sunday. "Rand Paul, by my standards as I look at his philosophy, is basically an isolationist. That didn't work in the 1930s and it sure as heck won't work in the aftermath of 9/11 when 19 guys armed with airline tickets and box cutters came all the way from Afghanistan and killed 3,000 of our citizens."
Cheney and his daughter Liz, who ran for Senate last year before dropping out, co-wrote a Wall Street Journal op-ed last week slamming Obama's foreign policy and arguing that the crisis in Iraq, where the terror group ISIS has taken major cities and is threatening to cause the nation to fall apart, is his fault. The op-ed, the Washington Post argued, was part of a PR push for a new Cheney group aimed partially at damaging Paul.
Former U.S. Ambassador to the U.N. John Bolton used similar language on radio host Aaron Klein's show on Sunday, saying he was "very concerned" about "isolationists" within the party.
"Now we see isolationism in the Republican Party for the first time since the 1930s and 1940s," Bolton said. "They don't like to call it that, of course. They are acting in a really quite interesting political fashion to try to disguise what their objectives are."
Bolton said the threat of the "isolationists" was one of the main reasons he decided to set up a political action committee to influence elections.
"I think it's one of the reasons that I've set up a PAC and a super PAC to aid House and Senate candidates this November who believe in a strong national security policy," Bolton said. "We have had good success in fundraising. Some large contributions but over 10,000 contributors overall. So I think it's a good indication, really, that the isolationists in the party, while they have some appeal, do not represent anything like the great base of the party's supporters."
"It's all about Rand Paul because he is the most prominent voice of questioning their primacy and offering a different vision, a less interventionist vision, for the party in terms of foreign policy," said one senior Republican operative of the neoconservatives.
But, the operative argued, it's less about Paul himself and more about his ideology creating a safer space for less hawkish foreign policy ideas on the right:
"It may come to be all about Rand in terms of stopping him from being the nominee, but I think it's all about he's putting out there an edge to the debate that creates a middle ground. He's not way over where his father is, so that middle ground has moved to a place that's more plausible."
The neoconservatives are "in a hard spot. They're inevitably tied to Iraq so it's a very hard thing."
Though Paul has said he wouldn't rule out air strikes against the terror group ISIS in Iraq, he has come out against any serious U.S. military involvement in the situation and has criticized Cheney and other architects of the Iraq War. "Were they right in their predictions? Were there weapons of mass destruction there?" he asked on Meet the Press, where he also said he didn't blame Obama for the current crisis. His stance on the issue is giving hawks a chance to tie him to Obama, who has also seemed hesitant about military action in Iraq.
Neoconservatives, said Michael Goldfarb, the founder of the Washington Free Beacon and the Center for American Freedom, stood with Obama on some of the key issues of the last year or so — they supported military action in Syria when Obama called for it and defended NSA surveillance — and feel burned by it.
"The consequence of it is it always ended up further isolating the hawks on the right," he said. "Now the neocons are on the hawkish side and it's the libertarians who are standing with Obama which makes them very vulnerable. They're in a very tough spot right now because they want to shit all over Obama but they're basically where Obama is on this."
On the right, "You're seeing skirmishes all over the place, people testing each other," Goldfarb said. "I would say it's a big problem for them that their foreign policy looks like Obama's. That's what a lot of these skirmishes are about."
Some neoconservative figures privately dismissed the idea that Paul and his wing of the party pose a real threat to a muscular Republican foreign policy, arguing that Paul has actually tried to move farther to the right on foreign policy (he has reached out to the pro-Israel community and supported cutting off aid to the Palestinian Authority, for example) and that the young candidates in the party are mostly hawkish.
Still, Paul is likely to run for president and neutralizing him, even if not the prime focus of the current neoconservative renaissance surrounding the Iraq crisis, could be an added bonus, said Republican strategist Rick Wilson.
"I do think it's an ancillary benefit to talking about if for folks that have a concern that the isolationist streak in Paul world is dangerous for the country," Wilson said. Hawks are "making the case that the Obama policy on Iraq is not where we need to be but reminding people that Rand Paul has a lot of conflicting messages and a lot of conflicting statements."
The attempts to link Obama and Paul are "a little unfair actually," Wilson said. "Rand Paul just wants to withdraw from the world; Barack Obama wants to fuck it up more."
The current dust-up is a tryout of sorts for the fighting to come in two years.
"Everybody's going to be tuning up their debate gotcha lines on this and hoping that one of them sticks," Wilson said.