The App That's Taking On The New York Police
The ACLU's new "Stop-and-Frisk Watch" app aims to help observers report and quantify stop-and-frisks. But can an app really change the police?

The New York branch of the ACLU has big dreams for the newest piece in its crusade against stop- and-frisk, the New York Police Department's practice of stopping young men — nearly always men, and nearly always minorities — and frisking them on the street in public. The NYCLU's "Stop and Frisk Watch," a smartphone app designed to let observers record and report stop-and- frisks they see on the street, is a "free and innovative smart phone application that will empower New Yorkers to monitor police activity and hold the NYPD accountable," per its description online.
The app is only on Android phones right now — with an iPhone version due later — in an effort to reach those who are regularly stopped-and- frisked. "We chose Android first because the demographic who gets stopped and frisked in New York City is the same demographic as who's on Android — 86 percent of people stopped are black or Latino," NYCLU Communications Director Jen Carnig said.
Stop-and-Frisk Watch works like this: A bystander with the app sees a stop-and-frisk happening on the street and triggers the app, which starts recording video. After the video recording is over, the user fills out a survey about the stop-and-frisk, which is sent to the NYCLU. A "Listen" feature also alerts users if people are being stop-and-frisked nearby.
Can an app, particularly one that depends on bystanders to care enough to download it to their phone and then put themselves in a position to record an incident really reduce stop-and-frisks, or even lead to more people reporting them, when there are hardly any official avenues to do so?
Early user reviews for the app are mostly positive, but a number of them complain about being unable to remove the app from the user's phone. Older Android phones may be unable to run the app, which requires at least Android 2.2.
The developer of the app, Jason Van Anden, is the creator of "I'm Getting Arrested," a smartphone app released last year that was targeted towards Occupy activists.

Van Anden says he can't predict how many people will use the app — and rebuts the idea that it will become the domain of young activist types, not those who truly need it.
"I live in Flatbush and I know that a lot of people have Android smartphones because I've developed Android software," he said. "I know a lot of iPhones disappear after we get past the Park Slope stops. I'm thinking very local in terms of my neighborhood." He added that there will be an iPhone version, but "I wonder what's the difference," he said. "Anybody who downloads it is in a sense aligning themselves with the cause."
Which might be the where the real impact of this app lies — not so much in the hard number of stop-and-frisks that the app ultimately records and reports, but in the number of people that it makes aware of the issue.
"We discussed doing something along the lines of I'm Getting Arrested with the NYCLU," Van Anden said. "We decided that something from the bystander's perspective would be more appropriate."
"I'm Getting Arrested was created for a different purpose. You're protesting with your sign in one hand and your smartphone in the other," Van Anden said.
While using increasingly cheap and broadly available technology to empower people and effect social change in the real world is hardly a new idea, the app's focus on bystanders rather than the affected party is something different: It doesn't simply place those tools in the hands of outside party — in a way, it makes them responsible.
The NYPD thinks differently, citing privacy issues.
"Criminals would find the app useful considering the NYLCU's stated intention of alerting subscribers to where police stops are happening," said NYPD spokesman Paul Browne.
"The privacy issues are legion," Browne said. "Ironically, the NYCLU is compiling a database of videos of individuals stopped by police. It may be troubling to some that the NYCLU is collecting personal identifying information in the process."
Carnig said Browne's response was "spin and nothing more," adding that "The NYCLU will use the videos to show what really happens when an
innocent person is subjected to the humiliating experience of a police street stop, not create a database. "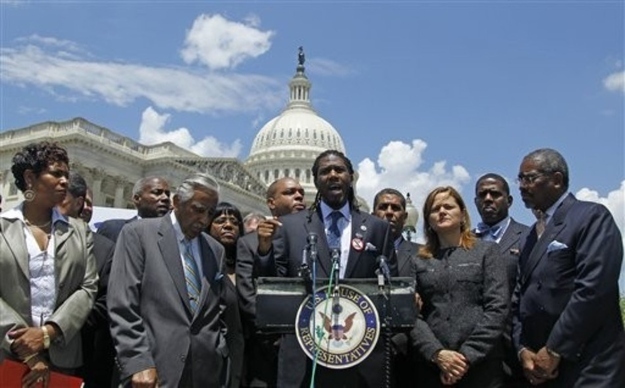 Jumaane Williams, a New York City Councilman also from the Brooklyn neighborhood of Flatbush who has made stop-and-frisk a signature issue, said he's already downloaded the app and thinks that it's "very good."
"People are fed up and don't know how to let out their frustrations and their anger," Williams said. "There's not enough avenues for people to get some kind of redress from the NYPD, period. There just isn't enough and that's one of the major problems."
But Willliams said that ideally, the city would provide more official means of flagging stop-and-frisks.
"I think an app like this is only necessary in the absence of leadership from the commissioner and the mayor," Williams said. "It would be best if we had an official way to report these incidents."
That's not likely to happen soon, since the city's top brass defend stop- and-frisk and show no signs of wanting to end the practice.
Mayor Michael Bloomberg said on Friday during his weekly radio interview that "I wish there was another way," but "another basketball program in the afternoon is just not the answer."
Bloomberg acknowledged, "If it was your kid you'd be upset."