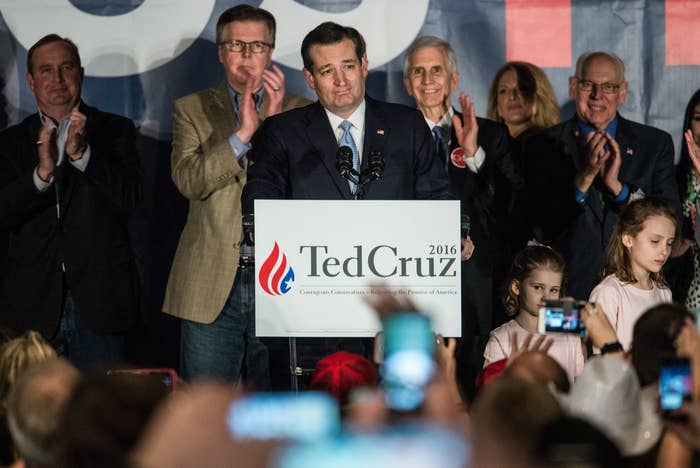 COLUMBIA, S.C. — Ted Cruz's disappointing finish in the South Carolina primary could be a decisive moment in his campaign and raises doubts about his strategy of winning big in the South.
The Cruz campaign has repeatedly signaled that the South would be a bulwark of their strategy for winning the nomination, and South Carolina served as the first test of that. The result here could presage what may happen in the March 1 "SEC primary" that will make or break Cruz's campaign, which is centered around winning evangelical voters in conservative places. But Cruz's team is downplaying the loss, emphasizing Cruz's previous win in Iowa and arguing that the stakes were higher here for Rubio, who appears to have eked out a second place finish over Cruz.
"This breaks open after Nevada, that SEC primary where the real delegates are going to be awarded," said former South Carolina Attorney General Charlie Condon, one of Cruz's endorsers in the state, in an interview with BuzzFeed News earlier on Saturday.
"There's gonna be a ticket out of South Carolina," Condon said. "There's no way there's not gonna be a ticket, regardless of the pecking order tonight."
Cruz made it clear early in the process that the South would be central to his strategy. "I view the SEC primary as a firewall," he told a gathering of Koch network donors in August. He then embarked on a bus tour of the South.
The SEC primary, which includes big states like Texas and Georgia, is a huge delegate-hauling opportunity for any candidate who can do well there, and Cruz's campaign manager said on Saturday night that the campaign still expects to clean up on March 1.
"Super Tuesday, we've been building for this day the entire time," Roe told reporters. "We said this on the first day the campaign started. We walked off the stage at Liberty University and we said look we're going to do well in February, we need to do well in the first four states — I would consider what we've done so far as doing well — and then we're going to have a big night on March 1st in an electoral map that favors us."
But Trump's dominance nationally, and his decisive win in South Carolina, bode ill for Cruz's Southern push. The fact that Trump performs so strongly among evangelicals dents one of the pillars of Cruz's rationale for running: that he can turn out evangelicals and conservative voters who he says have been staying home en masse for years. CNN exit polls showed Trump winning 33% of evangelicals compared with Cruz's 27%.
Texas Lieutenant Governor Dan Patrick, a Cruz surrogate, told reporters at Cruz's election night party on Saturday that it was a mistake to view evangelicals as a bloc that can be won as a whole.
"Evangelicals are not monolithic," Patrick said. "It doesn't mean just because you're an evangelical everybody votes the same way. They have different things important to them as well."
Potentially even more troubling to Cruz's path is the fact that he doesn't appear to have as much crossover appeal as hoped outside his base, indicating that his ultraconservative message has a limited ceiling of support among less conservative voters, and doesn't seem to be winning over non-ideological Trump voters. The same CNN exit poll showed him only winning 13% of non-evangelicals. Cruz often talks about bringing back together a "Reagan coalition" of evangelicals, libertarians, conservatives, and Reagan Democrats, and the campaign has touted his third-place finish in New Hampshire as evidence that the candidate can compete nationally.
Roe told reporters that all the candidates were stealing from each other's lanes, including Cruz. "People are renting each other's voters for a little while. This will all shake out," Roe said.
At Cruz's election night party on Saturday, surrogates continued to cast the primary as a two-man race between Trump and Cruz and emphasized their line that the state had been a must-win for Rubio, who had locked up basically all of the establishment support with endorsements from Gov. Nikki Haley, Sen. Tim Scott, and Rep. Trey Gowdy.
"If I'm Rubio, I'm really disappointed tonight because I had all these endorsements," Patrick said.
Speaking to BuzzFeed News a few days before the South Carolina primary, Cruz's senior communications adviser Jason Miller had downplayed the importance of not winning South Carolina and cast the state as a must-win not for Cruz but for Rubio.
"We've won an early primary state," Miller said at the time. "We've already shown that we can beat Donald Trump in an actual early state contest. The pressure on Saturday is on Rubio."
But there's no question that a barely-in-second or especially a third-place finish here is disappointing. Cruz himself has spoken fondly of South Carolina, and emphasized his being a natural fit for the state in a late-night chat with reporters aboard his campaign plane the day after the Iowa caucuses earlier this month.
"The parallel between Texas and South Carolina is striking, it really is," Cruz said at the time. "I remember really thinking about it back in the Bush 2000 campaign." Cruz said then that "it was amazing how similar Texans and South Carolinians are… they're southerners, they're evangelicals, they're military veterans, they're gun owners. There's just a feel that is similar, and they feel like Texans."
In his speech, Cruz called his finish in South Carolina a "remarkable result" and emphasized the fact that he has already bested Trump in an early state, echoing Miller's comments to BuzzFeed News.
"We are the only campaign that has beaten and can beat Donald Trump," Cruz said. "That's why Donald relentlessly attacks us and ignores all the other candidates."