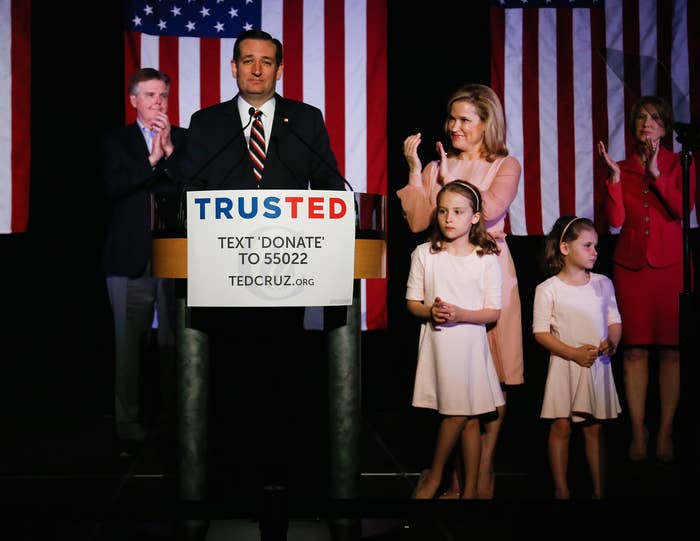 HOUSTON — Ted Cruz continued to cast himself as the last remaining viable alternative to Donald Trump on Tuesday, inviting Marco Rubio supporters to join his campaign and casting himself as the sole authentic conservative left.
It's a sign of the up-is-down nature of the Republican presidential race that Cruz is able to make this argument despite not having won a state on Tuesday night (as of this writing, the Missouri primary had still not been called).
It's true that Cruz has won more states than any other non-Trump candidate. But the fact remains that Trump still has by far the best shot of winning the nomination outright, and while tonight's John Kasich win in Ohio increased the chances of a contested convention, it did not help to clear the path for Cruz.
"Tonight was a good night. Tonight we continued to gain delegates to continue our march to 1,237," Cruz said on Tuesday, speaking to a small crowd of supporters gathered in a Houston hotel ballroom with a cash bar.
Cruz extended an olive branch to Rubio, who dropped out of the race after a crushing defeat in his home state of Florida, and his supporters, saying "Marco's story, his passion, inspires me."
"To those who supported Marco, who worked so hard, we welcome you with open arms," Cruz said.
And he drew contrasts with Trump, asking the crowd, "Do you want a candidate who shares your values or a candidate who has spent decades opposing your values?"
The Cruz campaign still say that they can get to 1,237 delegates and win the nomination outright, but there is growing acknowledgement that a contested convention could be in the works.
"We believe there's a path for two candidates after tonight who can solve this where it should be, which is among the voters," Cruz campaign manager Jeff Roe told reporters before results started coming in on Tuesday. "And if we're not able to get those numbers, then we're prepared for a convention. I think that's less than a 50% chance, but there is a chance that we end up there."
The continued presence of Kasich in the race makes the entire process more complicated — and Cruz's path to a one-on-one battle with Trump further away.
Kasich is "going to be very helpful to Donald," Roe said. "He does not help us."
The Cruz campaign will likely have to start dealing with Kasich, someone who hasn't much attracted their attention before this beyond Cruz encouraging voters who were considering voting for Rubio or Kasich to vote for him. Cruz campaign chief strategist Jason Johnson hinted at this when speaking with reporters after Cruz's event on Tuesday.
"He has an interesting record that's gone without examination," Johnson said of Kasich. "We'll see. "
"To the extent that he earns a single delegate, it's a wasted earning of a delegate because he can't get there," Johnson said. "It's like my dream of making the senior tour on the PGA or my dream of being a NASCAR driver, it ain't gonna happen."
Johnson even called Kasich a "spoiler," saying "there are only two people who actually have a viable path" to the nomination.
Cruz, who often says that conservatives are "coalescing" around his campaign, did start seeing some coalescing in the past two weeks. The campaign rolled out a surprise endorsement from Carly Fiorina, and also snagged the endorsement of Sen. Mike Lee — Cruz's first Senate endorsement — and National Review, the august conservative publication.
Kasich staying in could dilute some of that coalescing, just as Cruz was starting to build tentative bridges with Republican establishment figures — Neil Bush, for example, has endorsed Cruz. And tensions with the establishment remain high. CNN reported on Tuesday that some Republican senators want Cruz to apologize to Senate Majority Leader Mitch McConnell before they will consider supporting his candidacy.
The Cruz team continues to project confidence going forward into the next contests, sticking to the two-man-race narrative.
A fundraising email with the subject line "one-on-one" went out later in the evening. "Tonight, there is no ambiguity," the email read. "I'm the only candidate that has defeated Trump outside my home state, that can unify all conservatives, and who has a pathway to win the delegates necessary to earn the nomination. I've been telling you: this is a ONE-ON-ONE race between me and Donald Trump."
And the campaign circulated a memo on Tuesday written by director of research and analytics Chris Wilson that projects that Cruz has a "clear and realistic path" to winning 1,262 delegates, arguing that "It will soon prove accurate that Trump in fact simply does not have a large enough lead built up to survive a head-to-head contest with Senator Cruz going forward."
The memo posits that the map going forward favors Cruz because most of the upcoming states are closed primaries, where he does well compared to Trump's dominating open primaries. And it predicts strong Cruz performances in Utah, Wisconsin, and the June 7 primaries.