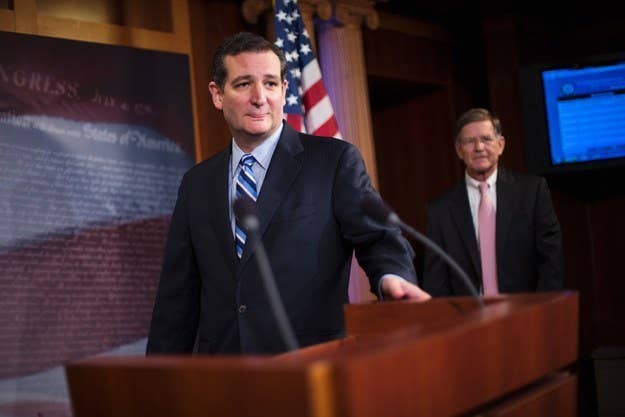 WASHINGTON — Aides to Sen. Ted Cruz knew that speakers at a Christian conference — where he gave a much-publicized speech defending Israel — had alleged ties to Hezbollah the night before the conference, sources told BuzzFeed News.
Cruz keynoted the yearly summit of In Defense of Christians, a group that focuses on Middle Eastern Christians, and used his time to blast those who "will not stand with Israel," producing an angry reaction in the room. Since video of the audience booing Cruz offstage on Wednesday night emerged, the speech — and whether his pro-Israel remarks were a planned stunt — has become a significant source of controversy on the right.
On Wednesday, hours before the event, a story came out that detailed the issues with the conference in the Washington Free Beacon.
But according to a conservative political operative who is close to the incident, Cruz's team found about the alleged links between the Lebanese Shia terrorist group Hezbollah and some of the event's speakers on Tuesday evening, the night before he was scheduled to speak.
Other members of Congress — Sen. Mark Kirk, Rep. Ileana Ros-Lehtinen, and Rep. Ted Deutch — were also scheduled to appear at the summit, but pulled out when they learned the information beforehand.
Joseph Cella, a spokesperson for In Defense of Christians, confirmed that Kirk, Ros-Lehtinen, and Deutch all ended up not appearing at the conference as scheduled.
"We did have a total of five speakers who were unable to participate as originally scheduled," Cella said in an email. "Patriarch John X Yazigi (one of his villages was caught between ISIS and Syrian government forces and he remained behind to tend to their spiritual needs), Canon Andrew White (a condition involving a blood condition he has reactivated and he had to be hospitalized and treated in London), as well as these members. We had a total of 30 members of the House and Senate on both sides of the aisle, who did appear, including several who were not scheduled to appear, and not invited, but just showed up and addressed the gathering. Considering the number of speakers we had, 54, this sort of thing happens. All in all a great success which we are very happy with."
The Free Beacon reported that the Syriac Orthodox Church patriarch had posted photos of a meeting with Hezbollah officials on his Facebook page, and that Maronite Patriarch Cardinal Bechara Raï had defended Hezbollah and attacked Israel in an interview. The story described how other conference participants had defended the regime of Bashar al-Assad in Syria.
The timeline of when Cruz learned that some of the speakers reportedly had ties to Hezbollah raises questions of to what extent Cruz planned for the type of crowd reaction that he received. A spokesperson for Cruz confirmed that the senator's office knew about the issues with the speakers in advance.
"As I've told others, we were aware as of late the night before, that some people at the conference may not agree with him," said Catherine Frazier, Cruz's press secretary. "But Cruz is unafraid to talk to those who disagree. Unlike other politicians, he does not only speak at events where the crowd is guaranteed to agree with him. That said, there was no anticipation, and no way to anticipate, such a hostile reaction."
On Wednesday night, Cruz, the keynote speaker, was shouted at by the crowd after telling the conference that "Christians have no greater ally than Israel."
"I will say this, I am saddened to see that some here, not everyone, but some here are so consumed with hate," Cruz said as the crowd reacted. "If you will not stand with Israel and the Jews, I will not stand with you." He then walked off the stage.
Cruz gave his first interview post facto to the Free Beacon, which had broken the story about connections between some of the speakers and Hezbollah, and expressed astonishment at the crowd's reaction.
"I've certainly encountered audiences that disagreed with a particular point of view. But this virulent display of hatred and bigotry was remarkable, and considerably different from anything I've previously encountered," he said.