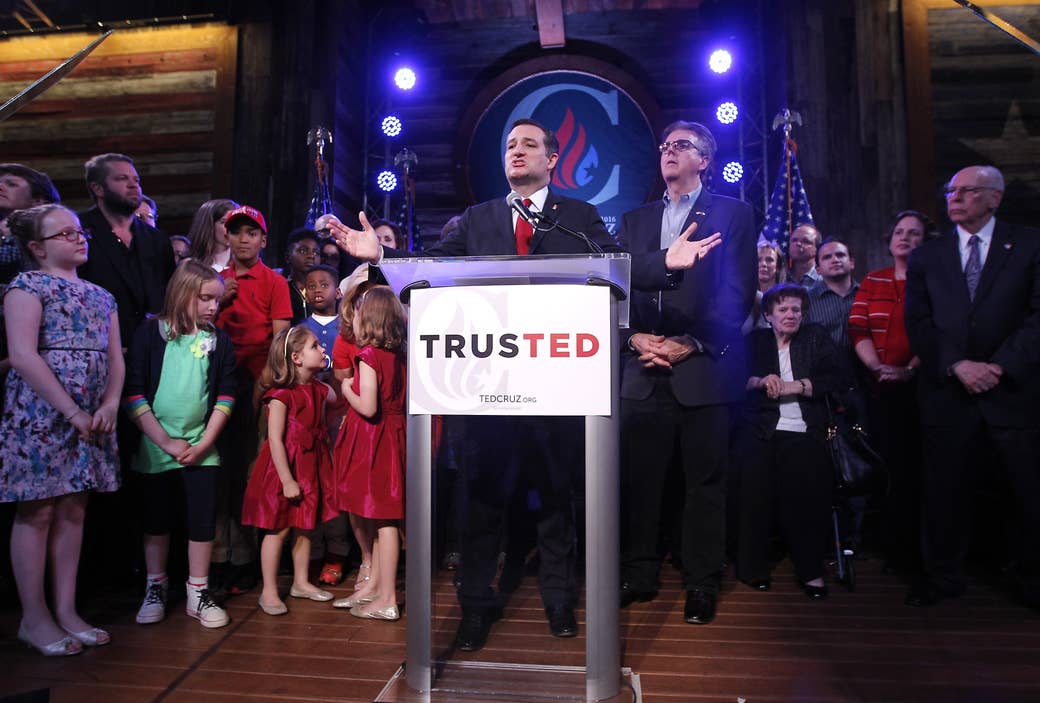 STAFFORD, Texas — Super Tuesday could have been a disaster for Ted Cruz, and it wasn't.
Cruz's wins in Texas and Oklahoma on Tuesday will keep him alive in the race and fortify his argument that he is the most viable alternative to Donald Trump.
But it's still a far cry from the outcome his campaign expected when Cruz was referring to the SEC primary as his "firewall" to a gathering of Koch network donors last summer. The most realistic outcome of Tuesday is a continuation of the increasingly bitter three-man race between the top three candidates, as Trump continues to dominate.
A loss in his home state especially would have hurt Cruz's rationale for staying in the race in every way, by his own logic. Cruz himself, earlier on Tuesday, told reporters outside his polling place in Houston that anyone who fails to win their home state has "real problems" — clearly a message to Rubio, who is behind in the polls in his home state of Florida ahead of its primary on March 15. But Cruz's message could have come back to bite him if he had not pulled out a win in Texas.
Cruz's campaign schedule in the days leading up to March 1 was an indicator of where his team thought they could win: Arkansas, Oklahoma, Texas. Even privately, the Cruz campaign was confident about Texas and argued that he would rack up more delegates on Tuesday than any other non-Trump candidate. In the last few weeks, Cruz locked down some of the biggest endorsements in the state, including former governor Rick Perry and current governor Greg Abbott.
Cruz's team made it clear early and often that Super Tuesday would be the linchpin of their strategy; the candidate, with his anti-establishment appeal and strong messaging to evangelical Christians, seemed a natural fit to clean up on March 1. Cruz repeatedly in recent weeks referred to Super Tuesday as the most important day of his campaign, and to Texas as the "crown jewel" of Super Tuesday.
But Trump changed everything. Trump has dominated among working-class white voters in the South and even beat Cruz among evangelicals in South Carolina, where he won decisively overall. As of this writing, Trump had won six of the states up for grabs on Super Tuesday — including southern states that had been a key part of the "firewall." Despite polling indicating that Super Tuesday would largely belong to Trump, Cruz's team ratcheted up expectations ahead of March 1, making it clear they expected to win Texas and considered it essential. "He's going to win Texas," said Texas Lt. Gov. Dan Patrick, a Cruz surrogate, at Cruz's election night party the night of the Nevada caucuses, where Cruz came in third after a disappointing third-place finish in South Carolina.
Meanwhile, Cruz disappeared from the central media narrative for most of the last week after Marco Rubio finally took on Trump in a debate — and then attacked him repeatedly in Trumpian style, mocking his fingers and suggesting he had wet himself. The attacks hit home and Trump's responses to Rubio grew yet more heated, and for days the central narrative became the flame war between the two, with cable news flipping back and forth between competing Rubio and Trump rallies. Another blow came when Sen. Jeff Sessions, the pre-eminent immigration hardliner in the Senate, endorsed Trump over Cruz. Meanwhile, Cruz stuck to his now-familiar lines of attack on Trump, casting him as a covert liberal, insincere on immigration, and a "Washington dealmaker" who would sell out conservative principles.
A senior Cruz aide said on Monday there were no plans to try a similar line of attack on Trump as Rubio has done.
"That's no way to run a railroad. It's not really a way to pick a president," the aide said. "It's beneath Ted, that whole scene. Can you imagine him doing that?" The aide said there was "no evidence that it works."
Cruz is back in the spotlight now. But the problem is that the process doesn't get any more favorable to him going forward than it was on March 1. The most realistic outcome of tonight will be the race continuing to be split among several candidates divvying up delegates but failing to knock out Trump — an outcome that Cruz urged his rivals to prevent during his speech here on Tuesday.
Speaking to supporters gathered at the Redneck Country Club, Cruz did not refer to Rubio by name but called on his rivals to clear his path.
"So long as the field remains divided, Donald Trump's path to the nomination remains more likely," Cruz said. "That would be a disaster for Republicans, for conservatives, and for the nation. After tonight we have seen that our campaign is the only campaign that has beaten, that can beat, and that will beat Donald Trump."
"For the candidates who have not yet won a state, who have not racked up significant delegates, I ask you to prayerfully consider uniting," Cruz said.
Going forward, Cruz's team plans to make a play for Florida, Rubio's must-win state, hoping to benefit from a cage match there between Trump and Rubio.
"We will actively campaign in Florida," said a senior Cruz aide. "A food fight between those two in Florida, that's a good opportunity. We're gonna make a strong play in Florida." They also think they could do well in Ohio, where Rick Santorum came within two points of Mitt Romney in 2012.
Speaking to reporters after Cruz's party, Patrick argued that "the momentum has changed tonight" and that "After today everything changes because people will now coalesce around Ted."
"The media should ask Marco Rubio, why are you staying in the race after tonight?" Patrick said. But he was vague about where else Cruz could win during the rest of the month.
Some evidence of rallying behind Cruz did come from an unlikely corner: Lindsey Graham, who said on CBS that "we may be in a position where we have to rally around Ted Cruz as the only way to stop Trump."
But Rubio, who has mostly consolidated establishment support and who did end up winning Minnesota on Tuesday, is showing no signs of planning to leave the race anytime soon.