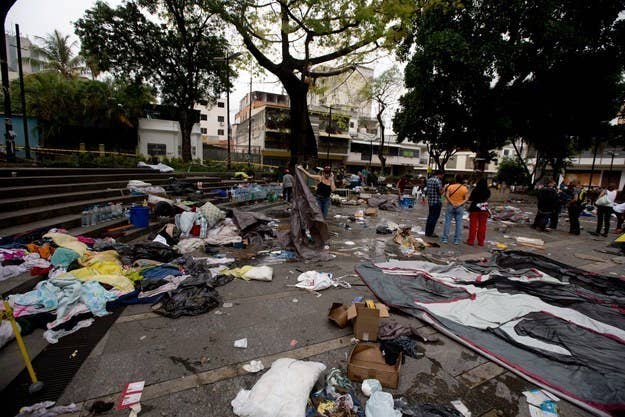 Updated with comment from a State Department spokesperson.
WASHINGTON — The State Department has backed off of its pressure against a Venezuela sanctions bill coming to the House of Representatives floor on Wednesday, the bill's author said.
"I'm not saying that the State Department loves it," Rep. Ileana Ros-Lehtinen, the Miami congresswoman who introduced the bill, said on Tuesday. "But this time they're not actively against it. I have not heard of anybody being called to say 'do not support it.' Last time we did get folks telling us the State Department called them to say 'don't vote for it.'"
Ros-Lehtinen's bill, which would freeze assets and ban entry to the U.S. for people found guilty of human rights abuses against Venezuelan protesters, passed the House Foreign Affairs Committee earlier this month despite a campaign by the State Department to pause the bill and its counterpart in the Senate. Ros-Lehtinen hopes to pass it by a voice vote on Wednesday.
Roberta Jacobson, the State Department's assistant secretary of state for western hemisphere affairs, had argued that the Venezuelan opposition had said they were against the bill — something Venezuela's opposition coalition, known as MUD, later denied. The opposition has engaged in talks with the government aimed at resolving months of political unrest that have resulted in the deaths of more than 40 people.
Ros-Lehtinen chided Jacobson for the apparent error, saying she had "stepped in it."
"I think it's because she made such a terrible mistake by mischaracterizing the Venezuelans' opposition to the bill that now the State Department's a little gun-shy about further getting involved in our bill," she said.
Ros-Lehtinen said she wished the bill included harsher penalties, including provisions that prevented the U.S. from purchasing oil from Venezuela, but that she had ended up deciding not to include that.
"I don't think we should keep buying Venezuelan oil because that's money that's going to [President Nicolas] Maduro," Ros-Lehtinen said. "That's a positive action we could take. We had it a little bit in the bill and then we scrapped it altogether because it's controversial."
"I don't think that issue is going anywhere," she said. "We can't get Congress to do it, so we can't get the Obama administration to do it."
She declined to discuss the names of officials she would want the administration to put on the sanctions list, saying, "I don't want to raise Venezuelan expat expectations." The Venezuelan expatriate community in South Florida has been instrumental in pushing for sanctions.
A Congressional aide familiar with the bill said the State Department's position on Venezuela sanctions remains that "they have the authority to do this and they'd like to control the timing of this," whether or not they are still making calls on the bill.
"I do anticipate it'll pass with an overwhelming bipartisan vote" in the House, the aide said. But "I think it still has a real uphill battle in the Senate... I would predict this passes in the House and doesn't move in the Senate." The Senate version of the bill, introduced by Sens. Robert Menendez and Marco Rubio, passed the Senate Foreign Relations Committee by a 13-2 vote.
The aide pointed out that the administration can move ahead with sanctions on its own without legislation, and may do so. Venezuela's government's talks with the opposition have broken down; Secretary of State John Kerry said last week that "there has just been a total failure by the government of Venezuela to demonstrate good-faith actions" in the dialogue.
"The State Department and White House definitely do not want this," said David Smilde, a professor of sociology at Tulane University and Senior Fellow at the Washington Office on Latin America who has researched Venezuela for 20 years. "But the unanimous support in the House Foreign Relations Committee and the 13-2 vote in the Senate Foreign Relations Committee, including support from Democrats means this is not a battle they are going to put a lot of energy into."
"This issue is really only important to a handful of lawmakers and their Florida constituents," Smilde said. "However, they happen to be the leading voices in the FRCs of both houses of Congress and they support sanctions. Other congressmen are not likely to spend their political capital opposing this since it is not important to people in their district."
"We have made clear that when it comes to sanctions, no options are off the table," a State Department spokesperson said. "We share the concern of those in Congress regarding the human rights violations that have been committed as well as the lack of respect for democratic norms being exhibited by the Venezuelan government. We also believe it is important that those who order or commit human rights violations face the consequences of their actions."
"However, we also believe the long-term solution in Venezuela will require meaningful dialogue among Venezuelans about that country's serious and worsening economic and social problems," the State Department spokesperson said. "That is the sort of dialogue the Union of South American States (UNASUR) and the Vatican have been trying to mediate. This will not be an easy or a quick process, and the dialogue needs to yield concrete results, but getting Venezuela back on a democratic course will require a concerted international effort. We need to ensure that whatever we do in terms of sanctions, both in timing and in substance, is calculated to support our larger objectives of seeing that Venezuela returns to full respect for democratic practice and human rights."