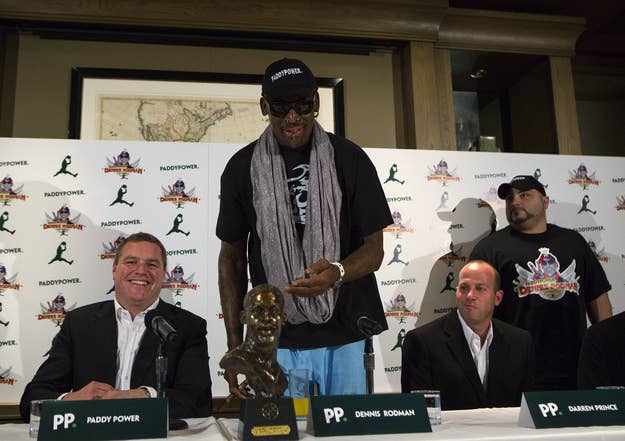 WASHINGTON — Dennis Rodman won't actually be coaching North Korea's basketball team in advance of the 2016 Olympics, according to a source close to the former NBA star who is familiar with the arrangement.
"He's not going to be coaching the team," the source said. "He's going to work for them for a week. He's going to be training them and so forth for a week."
Rodman announced during a press conference in New York on Monday that he had agreed to train the North Korean Olympic basketball team for the next three years as well as bring a team of 12 former NBA players to play against North Korean players in an exhibition tournament this winter.
"They said, 'Dennis, we'd love you to do one thing for us: For the next Olympics, can you train our Olympic team to be in the Olympics, for the next three years,'" Rodman said on Monday. "I'm like, 'OK. OK, I will.'"
According to the source familiar with the actual arrangement, Rodman will not be coaching the team for the next three years, though he was offered the job. But he will be working with North Korean players for a week in December in preparation for an exhibition game scheduled for January sponsored by Paddy Power, the Irish online betting company. (In the press conference, Rodman said that Paddy Power would be putting up $3 million to $5 million for the tournament).
"There's the one-week training camp in December, then they're going to see how the games go in January," the source said. "Then it's subject to negotiation. The sides will discuss and maybe negotiate a second tournament in Europe in June 2014."
Rodman will not be paid directly by the North Koreans, the source said, though it had been announced during the press conference on Monday by a Paddy Power representative that "The Ministry of Sports of DPR Korea will cover lodging and meals for Mr. Rodman and his colleagues including former NBA players for the duration of their stay in DPR Korea." Rodman's trips will include other activities, the source said, like visiting "schools and colleges and stuff like that" with the other NBA players.
A spokesperson for Rodman refused to comment on anything related to the North Korea deal and said that Rodman wasn't doing any interviews. Asked specifically about whether or not Rodman will be actually coaching the North Korean basketball team for the Olympics, the spokesperson hung up on BuzzFeed. A spokesperson for Paddy Power didn't return a request for comment.
Rodman has been to North Korea twice this year, once with a team from Vice and once last week. He enjoys a rare amount of access to North Korean dictator Kim Jong-un. Despite promising to do so earlier this summer, Rodman has reversed course and refused to ask Kim Jong-un to free imprisoned American Kenneth Bae.
"Guess what, though — that's not my job," Rodman said during the press conference. "My job is to go there and try to break grounds, that's it, and I think I'm doing that right now, and not to rescue somebody."