Senators Criticize Visiting Ecuadorian President Over Human Rights
"We remain concerned about the trajectory of bilateral relations."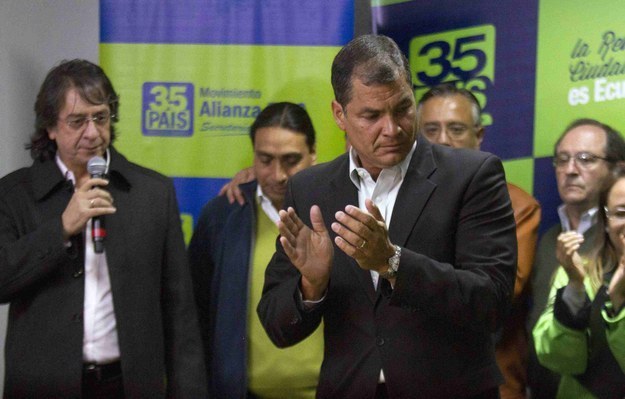 WASHINGTON — A group of senators are calling upon the president of Ecuador to account for human rights abuses and mend his relationship with the United States on the occasion of his visit to the country this week, according to a letter obtained by BuzzFeed.
Senators Robert Menendez, Marco Rubio, Richard Durbin, Mark Kirk, Tim Kaine, Jim Inhofe, Patrick Leahy, and John Cornyn all signed a letter addressed to Ecuadorian President Rafael Correa on Tuesday calling on him to "take meaningful steps to strengthen your government's respect for democratic principles and rebuild our bilateral relations in a manner that prioritizes our people's shared aspirations for freedom, security, and economic opportunities."
The senators criticized Correa for ending the USAID mission in Ecuador and for the convictions of a trio of men — politician Clever Jimenez, journalist Fernando Villavicencio, and Dr. Carlos Figueroa — on charges of defaming Correa's government. Villavicencio described the raid on his family's home carried about by the Ecuadorian authorities in an interview with BuzzFeed last year. Ecuador passed a repressive communications law in 2013 that outlaws "media lynching," or the "dissemination of information in a coordinated and reiterative manner ... with the purpose of discrediting or harming the reputation of a natural or legal person."
"These convictions are incompatible with the principles enshrined in the Inter-American Democratic Charter and the American Declaration of the Rights and Duties of Man that the Republic of Ecuador has signed and ratified," the senators wrote.
They also took Correa to task for describing victorious opposition candidates in recent municipal elections as fascists.
Correa is in the U.S. this week to speak at Harvard, Yale, and MIT. He will also visit the Ecuadorian community in New York, he announced on Twitter. Correa's government houses WikiLeaks founder Julian Assange in its London embassy, and Ecuador for a time considered giving asylum to Edward Snowden last year. The letter does not mention either of them.
Ecuador recently hired the PR firm Ketchum to provide media relations work on its behalf in the U.S.