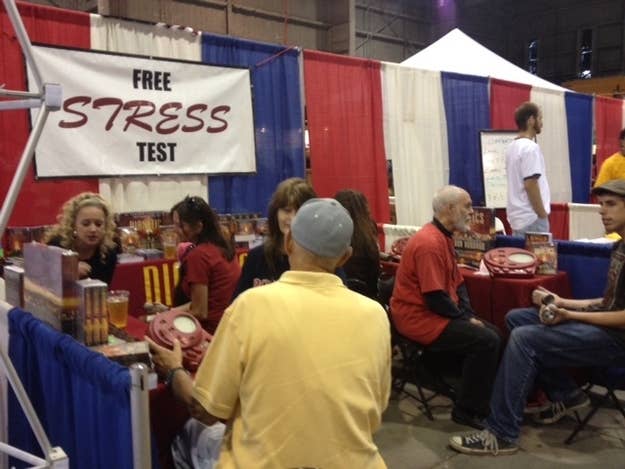 TAMPA, Fla. — The Church of Scientology's spiritual headquarters is just half an hour West of here, in Clearwater, and Scientologists said that Saturday's gathering of Ron Paul supporters offers a rich opportunity to converts to the controversial faith.
Missionaries could be found here at the Paul Festival, a gathering of libertarians in advance of the Republican National Convention. (Rep. Ron Paul himself is not in attendance). According to the Scientologists on hand, their "Free Stress Tests" booths are popular with this audience.
"We're an educated group and they're educated as well," said a young member of Scientology's Sea Org religious order named Darius in a crisp white shirt, Sea Org-logoed belt ("I'm not going to answer any questions about the Sea Org," a unit of the church's core members), and black pants. He stressed that "we don't support any political party," and "usually we do flea markets and stuff."
The booth was busy, filled with Paul supporters getting their thetans checked by Tampa-based Scientologists with e-meters. Copies of "Dianetics" in English and Spanish were laid out around the booth; Darius said sales were strong and the books cost $20 each.
Aaron Doerges, a jeans-clad Scientologist, who does promotion and marketing for the church, spoke with reporters as Darius hovered nearby. He himself has a favorable view of Ron Paul, he said. ("These are obviously Aaron's personal views," Darius pointed out).
"He's not going to get elected in the present time," Doerges said. "But there's enough rightness and more it closely approximates my ideal scene than anyone else who's in the election."
"I think he's the most sane candidate," he said later.
Scientology itself doesn't openly support political candidates or parties. But the Paul supporters and the Scientologists seemed a natural fit with each other; both groups seek higher knowledge; both face a degree of hostility and scorn from the mainstream.
Asked if Scientology ever donates to political causes, the two Scientologists scoffed.
"You will find a $500 donation to Liberty Unleashed because we paid 500 bucks to get into the show," Doerges said.
Both men said they hardly ever bring their booth to political events, but that Paul Fest was a perfect opportunity due to its proximity and what they thought to be a receptive audience. They don't plan to set anything up at the Republican National Convention. ("Ron Paul can't even get into that particular convention, let alone our booth.")
"It happens to be here in Tampa, it happens to be a crowd we're interested in being in front of," Darius said.
"We're looking for the able," Doerges added. He said he's been a Scientologist since the late 1990s. "Scientology helps the able become more able."
"I have my own political viewpoints on it, but I don't want to tie that too closely to Scientology," Doerges said. Darius chimed in: "Political viewpoints are not any part of Scientology."
Darius finished by reminding the reporters that he needed to get back to filling the booth with people, asking us for our website URLs, and quizzing us on our purpose at the Paul Festival.
"So you're just doing a story on everything that's happening here?"