Santorum Unlikely To Make Indiana Ballot
Santorum fails to pass a low bar, coming some thirty votes short in Marion County. Campaign waiting on a recount.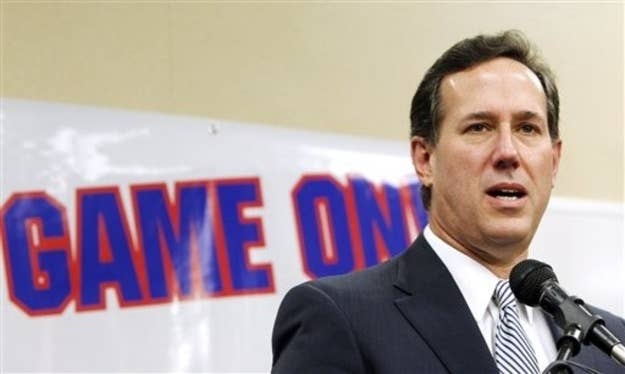 Rick Santorum is on the verge of being left off the ballot in the the Indiana primary, three sources told BuzzFeed Friday.
The former Pennsylvania senator is more than 30 signatures short of the 500 needed in the 7th Congressional district, which includes Marion County, where Indianapolis is located, a source close to the Santorum campaign said.
The Marion County chief deputy of voter registration on the Democratic side, Scott Carr, confirmed that Santorum had not submitted 500 valid signatures. An Indiana Republican source said Santorum is "a couple dozen" signatures short, but that Newt Gingrich will be on the ballot.
Santorum advisor Hogan Gidley said the campaign believes it has submitted enough valid signatures, and expects to pass the bar after a recount.
"We fully expect to be on the ballot in Indiana," he said.
Gidley said that the campaign had actually submitted a thousand signatures for Marion County, and that "we are working with officials in Indiana to make sure that our signatures are counted."
The Indiana Primary won't be held until May 8, and is unlikely to be decisive in any event, but Santorum's shortfall cuts against some of his supporters hopes that he will rise as Newt Gingrich falls to provide a final challenger to Mitt Romney. This is the second ballot Santorum, who has been left off the Virginia ballot as well, has missed, and a failure to reach a minimum bar for a national candidate.
Though Santorum raised over $4 million in January, he appears unlikely to be able to compete in key, delegate rich states.
The deadline has passed for filing signatures to appear on the ballot in the May 8 primary. The current figures, though, aren't final: the county board of elections will double-check the number of signatures.