Russian Report Says U.S. Ambassador Will Leave His Post
No specific denial from McFaul. His family is already back in the U.S.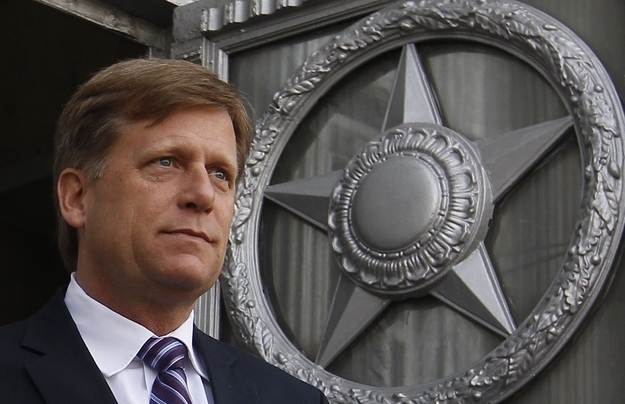 WASHINGTON — U.S. Ambassador to Russia Michael McFaul appears set to end his tenure in Moscow and return to his former teaching position at Stanford University, with his family already back in California and a Russian news report claiming he will join them by the end of the year.
Gazeta.ru, a news website whose editor Svetlana Babayeva has close links to presidential administration chief and Putin confidant Sergei Ivanov, ran a story citing "Russian sources" as saying McFaul was returning to the U.S. The story ran under a byline widely believed to be Babayeva's pseudonym.
The piece cites several possible reasons for McFaul's alleged departure, such as that he "grew tired of struggling with situations he can't control. For example, he has difficulties expressing his position on Russian television."
"On the other hand, there's been no sign of any activity from him recently outside TV, and, as they say, it's because [American] diplomats in Russia are having their public energy frozen in Washington," the report states. "The word is, it's better to keep quiet than anger Russia yet again."
The report also speculates that National Security Adviser Susan Rice has offered McFaul a job back in Washington, or that he wants to return to the United States to go into academic work.
Two sources familiar with the situation tell BuzzFeed that McFaul's family has already moved back to California.
Spokespeople for the State Department did not immediately comment. McFaul and a spokesperson for the U.S. Embassy in Moscow did not respond to requests for comment.
"I don't have any personnel announcements for you," said National Security Council spokesperson Caitlin Hayden when asked if McFaul had been offered a job with Rice. Hayden said the Russian reports "give at least three different motives that I've seen for his alleged departure."
A Senate staffer who follows Russia closely says that it's long been common knowledge in Russia circles in Washington that McFaul is on his way out, and McFaul is rumored to miss the U.S.
McFaul addressed the report on his Twitter feed but did not specifically deny the report's allegation that he is leaving.
"I just came to Stanford on VACATION," McFaul tweeted. "I'm going back to Moscow next week."
Seddon reported from Kiev, Ukraine.
Max Seddon is a correspondent for BuzzFeed World based in Berlin. He has reported from Russia, Ukraine, Azerbaijan and across the ex-Soviet Union and Europe. His secure PGP fingerprint is 6642 80FB 4059 E3F7 BEBE 94A5 242A E424 92E0 7B71

Contact Max Seddon at max.seddon@buzzfeed.com.