Russia Says It Has Deported Four Americans
For "propagandizing American values."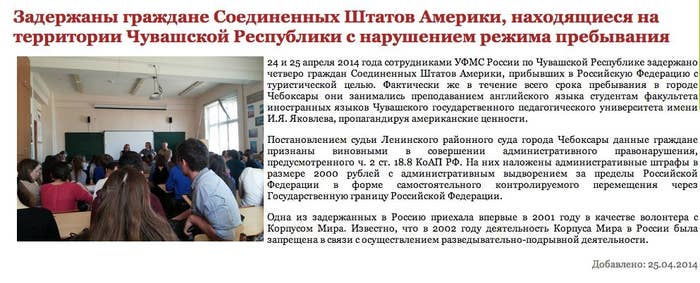 Updated 6:38 p.m. with comment from a State Department official.
WASHINGTON — Four Americans have been fined and deported from Russia and accused of "propagandizing American values," according to a statement from the federal migration service of the Russian Republic of Chuvashia.
The Americans were all teaching English in the city of Cheboksary while on tourist visas, the statement said. Their deportation comes at a time of heightened tensions with Russia, as the U.S. has declared that Moscow broke the terms of an agreement over Ukraine reached in Geneva last week and is said to be preparing new sanctions.
"On April 24 and 25, employees of the Russian Federal Migration Service in the Chuvashia Republic detained 4 citizens of the United States of America, who arrived in the Russian Federation with the goal of tourism," the statement reads. "During practically their whole time being in the city of Cheboksary they taught English to students of the foreign language faculty at the Chuvashsky government Yakovlev pedagogical university, propagandizing American values."
"The decision of the judge of the Lenin District Court of the city of Cheboksary found these citizens guilty of committing an administrative offense under part 2, article 18.8 of the Russian Administrative Code," the statement continues. "An administrative fine of 2,000 rubles was imposed on them with administrative expulsion from the borders of the Russian Federation in the form of independent controlled movement across the border of the Russian Federation."
One of the Americans is singled out in the statement as a former Peace Corps volunteer: "One of the detained first came to Russia in 2001 as a Peace Corps volunteer. It is known that in 2002 Peace Corps activity was banned in connection with the carrying out of intelligence-subversive activities."
"We are aware of reports that four U.S. citizens have been detained on work visa violations," a State Department official said. "The Department of State takes its obligation to assist U.S. citizens abroad seriously, and stands ready to provide all appropriate consular services to U.S. citizens in need. Due to privacy considerations, we are unable to comment further."