Rubio Wooed Pro-Israel Crowd At Paul Singer's House
"People who walked out of the room were totally in love." When it comes to hawkish donors, the money race is still alive.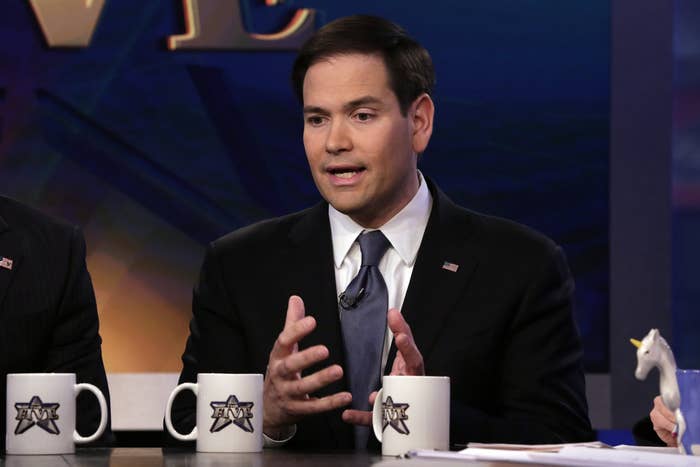 WASHINGTON — Sen. Marco Rubio was the featured guest at an event at Republican donor Paul Singer's place in New York last Monday attended by influential Republican foreign policy hawks.
According to sources who attended the dinner, Rubio was well-received among attendees— one said that "people who walked out of the room were totally in love" — a sign that he could be coming into favor among people influential with the New York Jewish Republican donor class, among whom Singer is the most sought-after. Singer is holding a series of dinners with potential candidates such as the one that featured Rubio, the New York Times reported over the weekend. Singer has not committed to a candidate.
"There is clearly been at the very least a real surge of interest in Rubio — Who is this guy and can he win and can he be a real player? — in a way that even two or three months ago there wasn't," said one Republican operative who attended the dinner.
"What I think is attracting these types of Republicans to Rubio is not simply his policy positions, although there is strong agreement here and a feeling that he is truly one of us," said another Republican operative who was in attendance. "It's a judgment that he may be the most naturally gifted politician in the party, a sunny, likable figure with an inspiring personal story and a way of talking about conservative ideas that could attract a great many mainstream voters."
"The attendees, a pretty sophisticated group, were impressed by his ability to speak about a range of issues in detail and also with empathy," the operative said. "This was a meet-and-greet, and my impression was that Rubio helped himself with an audience that is already inclined to support him."
Meanwhile, Jeb Bush, the presumptive frontrunner in the money race, has suffered a bit in the estimation of Jewish Republicans, who were offended by his choice to bring on former Secretary of State James Baker as a foreign policy adviser. Baker gave a speech last month to the liberal pro-Israel advocacy group J Street, which advocates pressuring the Israeli government to change settlement policy and negotiate a two-state solution with the Palestinians, which attracted the ire of hawks in the party. "If Bush can't stand up to an 84-year-old Texas lawyer who became secretary of State the year Taylor Swift was born, how on earth is he going to stand up to Putin, Baghdadi, Khamenei, Kim, Maduro, Xi, and all the other monsters in the world?" wrote Matthew Continetti in the neoconservative Washington Free Beacon.