RT Chief Sneers At Congressional Push To Overhaul Voice Of America
They are struggling "because their message does not resonate," says Russian TV boss.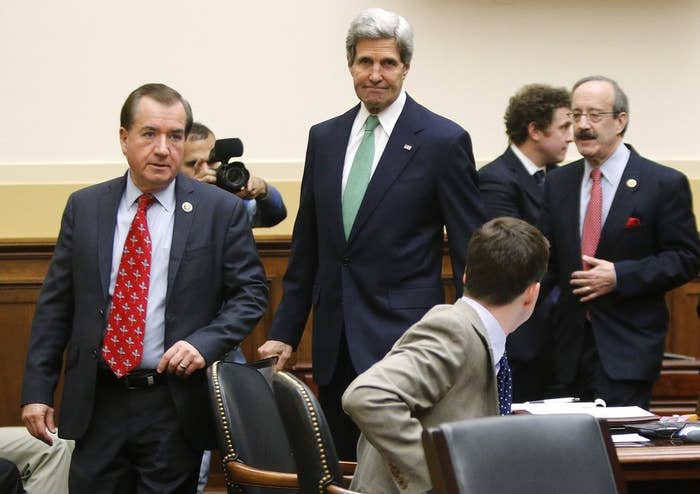 WASHINGTON — The editor-in-chief of Kremlin-funded outlet RT has mocked a new bill in Congress intended to fortify Voice of America and other U.S. government-backed news outlets against Russian propaganda.
In a statement to BuzzFeed, RT's top editor Margarita Simonyan dismissed the new legislation as a weak attempt to get audiences to buy the U.S. line on international affairs.
"This legislation brings nothing new," Simonyan said. "The fact is, Voice of America has been promoting the US foreign policy agenda around the world since 1942. If VOA et al. have been struggling with winning the hearts and minds of people in Ukraine and other countries, maybe it's because their message does not resonate with their target audience, and not because the Broadcasting Board of Governors meets once a month instead of every day."
A bipartisan bill that passed the House Foreign Affairs Committee on Wednesday would result in a broad overhaul of U.S. government-funded news outlets, including a reorganization of the Broadcasting Board of Governors, the board that oversees those outlets. The bill would consolidate Radio Free Europe, Radio Free Asia and the Middle East Broadcasting Network. Most controversially, the bill would "make clear that the Voice of America mission is to support U.S. public diplomacy efforts," according to a description of the new bill. The move would return VOA to its World War II-era mission of countering foreign propaganda and make it more explicitly a tool of U.S. diplomacy, as opposed to its current brief of covering news in repressive media environments around the world.
The bill comes as the media war between the West and Russia intensifies. Criticism of RT, which has heavily spun the Ukraine conflict in favor of Russia on both its international and American channels, has come from the highest levels of the U.S. government; Secretary of State John Kerry called the network a "propaganda bullhorn" last week and said: "They almost spend full time devoted to this effort to propagandize and to distort what is happening or not happening in Ukraine." Kerry's words prompted RT to demand an official apology from the State Department.
Language used by the sponsors of the bill makes it clear that it is at least partially intended to combat RT's influence.
"Last week's visit to Ukraine underscored the need to reform U.S. international broadcasting," Rep. Ed Royce, the chairman of the House Foreign Affairs Committee said in a statement. He and the committee's top Democrat Rep. Eliot Engel introduced the legislation. "The Russian propaganda machine is now in overdrive in its attempts to undermine regional stability. U.S. broadcasters are competing with a hand tied behind their back. That's because the bureaucratic structure over the top of these radios – the Broadcasting Board of Governors, or BBG – is broken. So while our enemies are working 24/7 on their public information campaigns, the organization at the helm of ours meets once a month. That's a recipe for failure. This legislation makes dramatic reforms to the current organization to be more effective and efficiently use our finite resources."
The Senate is also reportedly working on a similar bill.