Romney Supporters Start "Unravel The Sweater" Campaign
Santorum's sweater vest is the easiest point of entry for his detractors, as well as his supporters.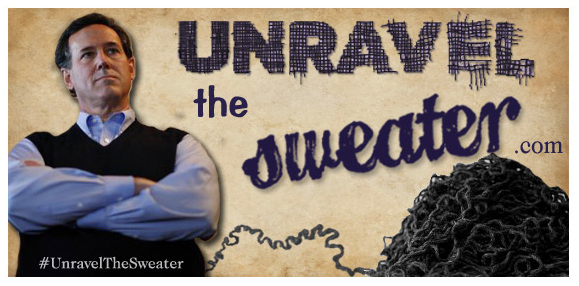 A new anti-Rick Santorum website in the tradition of SpreadingSantorum.com debuted today: UnraveltheSweater.com. But this one isn't a project by gay rights activists, but by the Mitt Romney grassroots support group Mitt Romney Central.
Click on UnraveltheSweater.com and Weezer's "Sweater Song" plays. Clicking through redirects visitors to the Mitt Romney Central website, where a blog post kicks things off:
Yes, of each of the I-want-to-be-the-challenger-to-Romney candidates Santorum is the luckiest – lucky to be last. You see, his surge has come when it matters most – when delegates are being awarded. Following a 3-state sweep, including a Colorado upset, for Rick Santorum he is now flying high in the polls… and is just now starting pressure as he attempts to run the "vetting gauntlet".
Yes, it is time to vet the vest.
It's the equivalent of the Romney campaign's series of conference calls hitting Santorum on his record as he gains in the polls. Mitt Romney Central plans to post 20 or more articles on Santorum's flaws just this week. They're aware that it's a lot.
I know before we even post our first #UnravelTheSweater article that some will complain that we should focus on Romney's positive record instead of focusing on the flaws of another. Let me first remind you that we have on this site posted over 4,000 articles during the last 5 years dedicated to promoting Romney's positive record. Most things that can be said have been said many times. The time for contrast is now.