Republicans Loved Jim Lehrer
"The mark of a good moderator here is to not be a part of the story."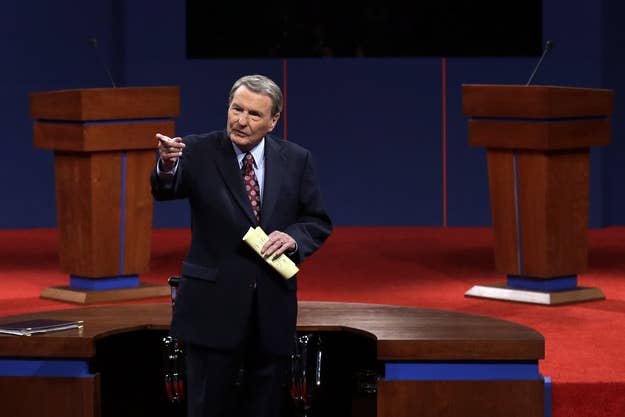 DENVER, Colo. — While PBS' Jim Lehrer's performance as moderator on Wednesday has become a sore subject among supporters of President Barack Obama — Andrew Sullivan called him "one of the lamest moderators ever" — Republicans, whose guy was the winner of the night, are more than satisfied with the moderator.
"I think it was a very substantive, solid debate," said Stuart Stevens, a senior adviser to the Romney campaign, commending the lack of "gotcha questions."
"The mark of a good moderator here is to not be part of the story," Stevens said. "Everyone says that they'd like Lincoln Douglas debates — well, no-one knows what that is — but I think they let them exchange, talk back and forth. I think he did a great job."
"I thought Jim Lehrer did a nice job tonight," said Reince Priebus, chairman of the Republican National Committee. Priebus compared Romney's performance at the debate to "an Acela with a thousand Porsche engines strapped to it."
"I mean, this is the format that the candidates agreed to," Priebus said. "I think [Lehrer] kept things interesting."
"But listen, this was an unbelievably bad performance by the president."
Eric Ferhnstrom, another senior adviser to Romney, said "I don't think people tuning into the debate were really focused on the moderator's performance."
"We have no complaints about Jim Lehrer," he said. "I heard that he Obama campaign was blaming him for the president's poor performance, that's not surprising. But we don't have any complaints about Jim Lehrer."