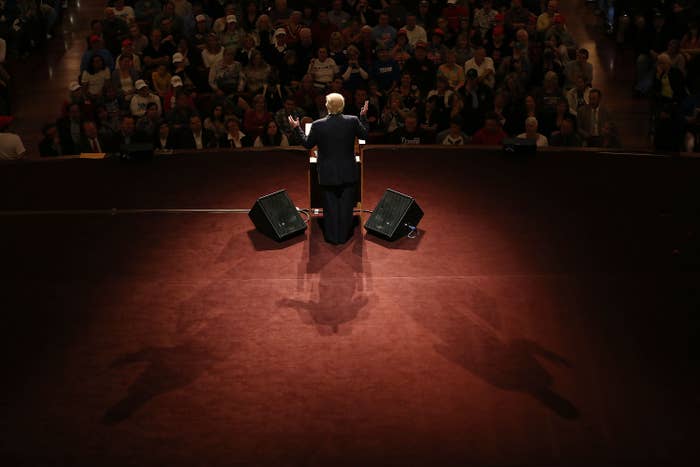 INDIANAPOLIS — Donald Trump's status as the presumptive Republican nominee presents a quandary for Republicans who oppose him.

Is it time to finally admit defeat and roll over? Make a last-ditch effort to recruit a third-party candidate? Focus on preventing down-ballot bloodletting? Or even support Hillary Clinton over Trump? The reckoning has arrived. For those who view Trump as an existential threat to the Republican Party, there are no easy answers — but the reality of the situation has set in as Ted Cruz, the last viable alternative to trump, dropped out on Tuesday after losing Indiana. And different plans are already in the works.
Publicly, anti-Trump groups say they'll fight on.
"We will continue to educate voters about Trump until he, or another candidate, wins the support of a majority of delegates to the Convention," Katie Packer, chair of the anti-Trump Our Principles PAC, said in a statement sent out before Ted Cruz officially dropped out of the race on Tuesday night.
"We will continue to seek opportunities to oppose his nomination and to draw a clear line between him and the values of the conservative cause," Rory Cooper of the Never Trump PAC said in a statement.
But already, some are acknowledging that the fight is all but lost and the priority has shifted to protecting the larger party.
"We're gonna look at the down-ballot races, we're gonna look at what states might need a strong never Trump movement in order to protect congressional races," said one anti-Trump Republican strategist.
The strategist said anti-Trump Republicans are exploring ways to protect the party at the convention, looking at ways they can exploit the Rules Committee and the platform.
"We're gonna see if there are things we could support at the convention that would protect the party from Donald Trump causing so much damage," the strategist said. "We have to make sure that Donald Trump, in his fleeting six months left as a Republican, that he can't permanently damage the party's credibility."
Cruz's exiting the race on Tuesday spelled the end of the stop-Trump movement's electoral hopes. Cruz was never the perfect messenger for the movement; even until the end when he was unloading on Trump, he refused to say whether or not he will support Trump as the nominee, even though his recent harsh rhetoric on the frontrunner makes it difficult to imagine how he'll reconcile supporting him.
Now, Republicans who don't want Trump face a stark choice as there are no remaining viable candidates left in the Republican primary who pose a threat to Trump. The choice: Trump or Clinton? The third-party option is very unlikely, and on Tuesday, donors were already saying as much. For a brief moment, Gen. James Mattis was floated — only to bow out of the speculation before it could really get going. No one else has come forward, and donors say this isn't going to happen. "Third-party conservative candidate is the killer app right now," said Republican strategist Rick Wilson. But "it's unlikely" to happen. And as it seems increasingly clear that Trump will clinch the nomination before the convention, the idea of nominating a Republican who hasn't already been running on the floor in Cleveland is moot.
Thus, the stark choice. And some Republicans are exploring voting outside their party altogether — and even voting for Clinton.
Ben Howe, a conservative writer, tweeted "#ImWithHer" on Tuesday, a pro-Hillary Clinton slogan.
Reached for comment, Howe said, "I would never imagine that Hillary Clinton would nominate a pro-choice SCOTUS justice, pass tax increases, and institute a carbon tax while simultaneously claiming to represent the views of conservatives." But "Donald Trump, in my opinion, would do exactly that. Which means not only would he help destroy what the party stands for, he would irreparably damage the cause of conservatism itself."
"If I must survive a liberal in office, let it be the one that admits they are a liberal," Howe said, though he said he wasn't sure if "I can actually pull the lever for her."
Former John McCain aide Mark Salter also tweeted that he'll be supporting Clinton, writing "the GOP is going to nominate for president a guy who reads the National Enquirer and thinks it's on the level. I'm with her."
Conservative writer and radio host Erick Erickson tweeted on Tuesday asking for information about the Libertarian Party's candidate and wrote, "I oppose Hillary Clinton and her donor Donald Trump." Other Republicans are publicly breaking up with the party, burning their voter cards.
But the naked truth is that many Republicans are getting on board. Ari Fleischer, the former Bush White House press secretary, tweeted that despite Trump's flaws he will support him over Hillary. A cascade of establishment Republicans have warmed to Trump over the past few months, including Newt Gingrich and Chris Christie.
The coming days will begin to show who in the conservative movement gets on board with Trump and who doesn't. But the fight has shifted away from blocking Trump's path to the nomination.
Instead, the anti-Trump strategist said, Republicans are trying to "see what can be salvaged."