Reid Still Won't Say When Iran Sanctions Could Come To A Vote As Democrats Lay Low
"We're going to wait and see how this plays out," Reid says. Many Democrats aren't saying how they'd vote.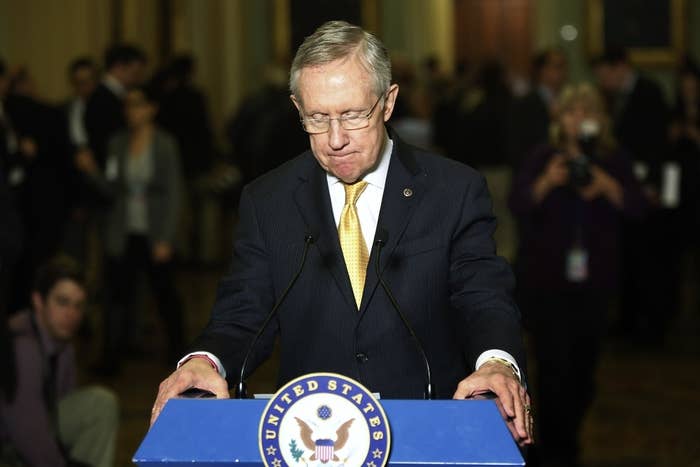 WASHINGTON — Senate Majority Leader Harry Reid is showing no signs of bringing the Iran sanctions bill closer to a vote as Democrats in the Senate continue to stay mum on the issue.
"The one message that the Iranians should have if they don't have it by now is that we are not going to allow them to have nuclear weapons," Reid told reporters on Tuesday. "While this process is playing out, that as the negotiations are going on in Switzerland or wherever they're going on — I don't know, they keep changing the place — while they're going on and while the legislative process is working forward here, I'm going to sit and be as fair an umpire as I can be."
"I think at this stage, I think we're where we should be," Reid said. "There's 10 senators who, chairmen of committees here, have said they don't want anything done. We have now, I don't know how many senators, but more than 55 are co-sponsoring this. So this — we're going to wait and see how this plays out."
Democrats in particular have found themselves in a tough position as the White House has applied enormous pressure on them not to support the bill. While 16 Democrats are cosponsoring the Kirk-Menendez sanctions bill, which would apply new sanctions if Iran fails to meet certain conditions, others stayed quiet on Tuesday on whether they'll support the bill.
"At this point I'm eager to see what's going to happen with the diplomacy, and I think we're in a delicate moment — sanctions have worked well in getting the Iranians to the table and not — I'm going to mistrust but verify," said Sen. Mark Udall.
Sen. Patty Murray shook her head when asked if she'd made a decision on her vote. Sen. Tammy Baldwin wouldn't say whether she had made a decision, saying that she didn't believe the bill would be voted on in the near future.
"I'm looking at the bill and will continue to do that," Sen. Jeanne Shaheen said. "I have not signed on as a co-sponsor."
"I've already indicated that for me, the bottom line is keeping Iran from getting a bomb," said Sen. Ron Wyden. "So from the earliest possible date, I supported very, very strong sanctions, and the whole point of that was to try to force the Iranians into a negotiation where they would steer clear of making a bomb. Those negotiations are going well."
"I'm going to leave it at that," Wyden said when pressed on whether he would support the bill, and noted that he signed a letter with other committee chairs last month that discouraged Congress from moving ahead with additional sanctions.
"I think we're busy trying to make sure Iran doesn't get nuclear weapons and everybody wants the same thing," said Sen. Claire McCaskill. She said the Democrats had not discussed the issue during their weekly policy lunch.
A handful more Democrats have publicly come out against the bill, including Oregon Senator Jeff Merkley, who sent a letter to constituents saying that he doesn't currently support it.
"My belief is that we need to give diplomacy a chance," said Sen. Tim Kaine, the freshman senator from Virginia. "I'm a strong supporter of the current sanctions, and I'm very willing to vote for additional sanctions if negotiations falter, but right now we're in the midst of the first serious discussion with them in very long time about ending their quest for nuclear weapons and I think we need to give that opportunity a chance."
"I could support [new sanctions] at some point, but I won't support them while the negotiations are still productive," Kaine said.
"I think right now we have to listen to our negotiators who are telling us that it will potentially derail these negotiations if we were to pass this piece of legislation," said Sen. Chris Murphy of Connecticut.
His fellow Connecticut senator, Richard Blumenthal, is a co-sponsor of the bill — but even he seems to be in no hurry to put it to a vote, he told reporters on Monday.
"People focus on how many people have signed onto the bill, but two-thirds of the Democrats have not signed onto the bill and with good reason," said Sen. Carl Levin. "It has nothing to do with Obama, frankly, it has everything to do with not wanting to do anything to jeopardize the possibility of success of the negotiations."
Meanwhile, Republicans are urging Reid to bring the bill to the floor.
"I think they would like the chance to express their vote on the issue prior to the end of this session," said Sen. Mark Kirk of the supporters of his bill. "The great thing, since we represent a nationwide community — the pro-Israel community is going to be heavily present in most states — this is a chance for senators to go back and tell them, 'I'm with you.'"
Kirk didn't specify exactly how many Democrats have expressed their support for his bill beyond the 16 Democratic co-sponsors.
In his press conference, Minority Leader Mitch McConnell told reporters that he would continue to press for a vote on the bill.