Prominent Jewish Democrat Stands By Kerry Sanctions Comment Despite State Department Denials
"I sensed a greater openness than the total lack of openness they had before," Rep. Brad Sherman says.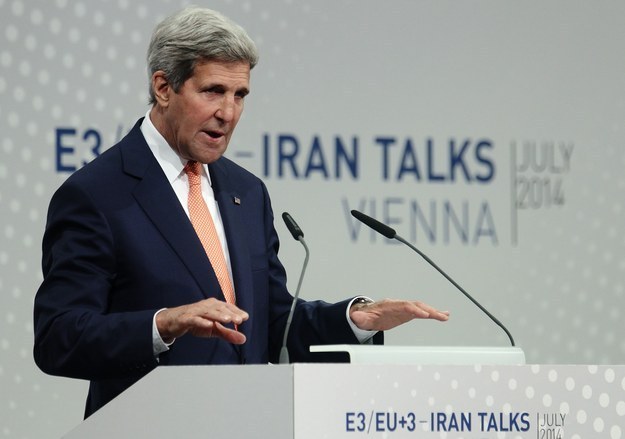 WASHINGTON — Rep. Brad Sherman Thursday insisted Secretary of State John Kerry told Jewish lawmakers that he is open to a package of triggered Iran sanctions, despite strong denials from the State Department.
"There was a discussion of a triggered sanctions bill and by what was said or what was not said I came away thinking that there was a bit more openness toward triggered sanctions," said Sherman, one of the top Democrats on the House Foreign Affairs Committee known for his hawkish stances on Israel and Iran issues. Sherman said the members at the Thursday breakfast meeting were discussing sanctions that would go into effect if negotiations with the Iranians over their nuclear program fell through.
"I sensed an opening toward that approach," Sherman said. "I sensed a greater openness than the total lack of openness they had before. There was a candle in the dark room — one candle, not a big one."
"I stand by what I said and I stand by the sentence that said what I didn't say," Sherman said, referring to a line in an Al-Monitor report about the meeting that identified Sherman as one of the lawmakers that did not say Kerry himself floated the idea of sanctions.
According to a staffer for member of Congress who was in the room, Kerry "didn't object to the idea of legislation with delayed sanctions" when asked about it by a member.
"My boss got the impression that Kerry was open to that kind of legislation," the staffer said. "It was in response to a member's question."
A member of Congress who attended the breakfast said that Kerry had acknowledged that triggered sanctions might be a "useful prod" to the Iranians.
"A member, I think it was Eliot [Engel], put forward the idea of triggered sanctions and in particular triggering the sanctions contained in the Royce-Engel bill," the member said. Kerry clarified that nothing would go into effect during negotiations, but said that such sanctions "might be a useful prod to the Iranians," the member said.
"Congressman Sherman said, 'that's huge,'" the member said. "The Secretary said, hey, I want to discuss with the White House what our administration policy is on this."
The State Department has strongly denied the report, accusing the members in the room of "projecting" and imagining Kerry saying what they wanted him to say.
"Not #breakingnews that sometimes Members hear & project what they want to hear," tweeted deputy State Department spokesperson Marie Harf. "Will keep consulting, but SecKerry opposed to new sanctions."
"It should come as no surprise that members of Congress attending breaksfast this morning raised their own proposals for triggered sanctions," tweeted State Department spokesperson Jen Psaki, who called the Al-Monitor report "inaccurate" in the daily press briefing on Thursday. The administration has been firmly set against new sanctions on Iran during the negotiating process and has successfully beat back legislative attempts to sanction Iran during negotiations, such as the stalled bill authored by Senators Kirk and Menendez.
"No, this was not wishful thinking, but it was a Secretary of State who, when Sherman mentioned 'hey this is huge,' decided to indicate that administration policy would be determined in future discussions," said the member who was in the room. "And apparently by the afternoon the administration had not changed its policy."
Sherman said that he doubted the meeting with Kerry would result in any new sanctions action on the Hill because Congress is almost in recess.
"I do not think that the article and the comments will be decisive in causing a triggered version of Royce-Engel to be adopted," he said. "One could imagine doing something in September, but this is not a fast-moving Congress."
The world powers that negotiated an interim deal with Iran in November are expected to announce an extension of the talks this weekend, as the sides have been unable to come to an agreement by the July 20 deadline.