On Romney's Home Turf, A Warm Welcome For Santorum
Detroit-area Republicans rooting for the Pennsylvanian here in Romney's must-win state.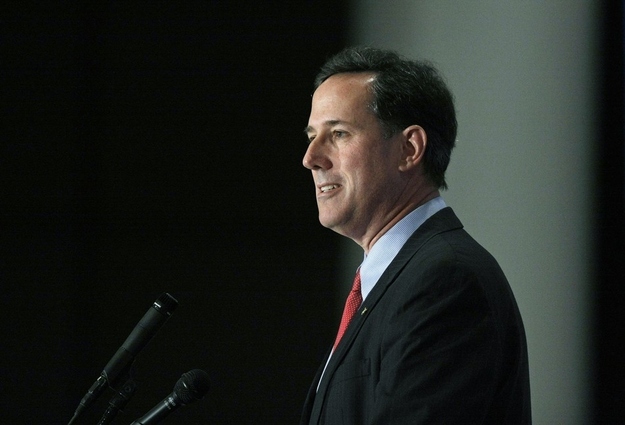 NOVI, Michigan -- Attendees of the Oakland County Republican Party's Lincoln Day Dinner gave Rick Santorum a warm reception tonight, including a number of politicians and delegates who say they're supporting him here in Mitt Romney's home state. Santorum gave the keynote speech; other speakers included Ann Romney and Michigan Governor Rick Snyder, who recently endorsed Mitt Romney.
Local elected official Dan Devine told BuzzFeed that "I was a Romney guy to begin with but I'm strong with the pro-life platform." He'll be supporting Santorum.
Devine said he thinks Oakland County will go to Santorum. "I think it'll happen," he said. "He's peaking. Timing is everything."
Greg Dildillian, a candidate for Michigan's 9th District congressional seat, hasn't decided who to endorse yet. But he doesn't agree with the conventional wisdom that Romney will take the state.
"I think Senator Santorum is gonna put up a good fight," he said.
Precinct delegate Greg Behling, who will be representing the northernmost precinct in the state during the primary on February 28, said that his mind was made up when he ate dinner with Santorum tonight.
"Mitt Romney has flip-flopped too many times for me to be comfortable with him," Behling said.
As for his precinct, "I think we're very pro-Santorum," he said.
More people clutched Santorum signs than any other candidate's banners, and the candidate got the crowd on its feet more than once for his standard stump speech, which bypassed some of the sharper-edged statements he made last night in Fargo.
Leeta Von Buelow, a homemaker from Ann Arbor, told BuzzFeed that "Santorum is consistently one of us."
"I'm not really familiar with Mitt Romney," she said.
Von Buelow's sentiment was echoed by Frank Hedeen, a retiree from Livingston County west of Detroit. Hedeen doesn't care that Michigan is Romney's home state.
"If he's from here, why did he leave and go to Massachusetts? I just like Santorum better."