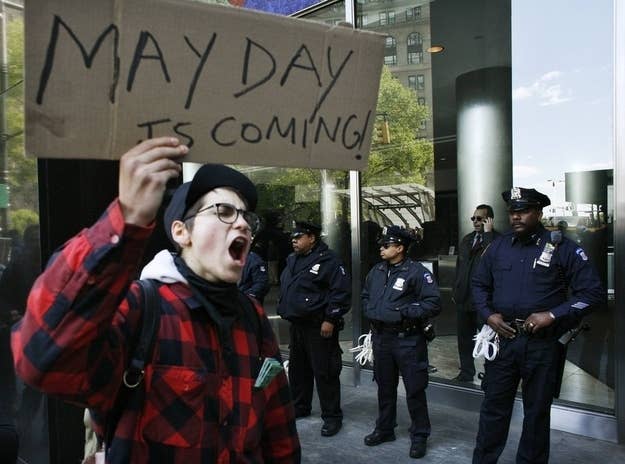 The Occupy Wall Street movement faces a major test Tuesday, when after weeks of planning it hopes to stage its most ambitious action to date, what a top organizer described as a "calculated shutdown" aimed at capturing the attention, if not actually paralyzing, New York City.
For months, the displaced protesters have been plotting a "general strike" on May 1st to inflict a "day without the 99 percent" on the rest of the country. Organizers know that after months of waning attention from the public at large, the scheduled protests are an opportunity for a comeback — what some activists are calling "Phase Two" — while a bust could drive mainstream news organizations and donors away for good.
But occupiers think they've found a way around the expected heavy response by focusing on smaller, targeted protests.
Shawn Carrié, an organizer who has taken an increasingly large role in the movement, described the pickets as a "tactical shift" away from a "mass swarm" model towards "calculated shutdown."
Though May Day protests are planned in over 100 American cities, and some abroad, the ones in New York will be on the largest scale and carry most of the symbolic import. Occupy Wall Street in New York has attracted larger numbers and more media attention than other occupations since its inception, and the demonstrations in that city on Tuesday will determine the success or failure of May Day. The other protest stirring up a similar amount of buzz is a planned Golden Gate bridge shutdown in San Francisco.
And if the New York protest fails, it won't be for lack of planning. At a media-focused planning meeting on Saturday evening, the diehard group of New York occupiers who have stuck with the movement (and arguably are the movement) since the beginning spent nearly four hours talking strategy for May Day. Every minute of the day has been allotted, and the schedule for was recently released online. From the first picket to the last march, the activities will require an intense level of coordination and communication between teams spread out around New York City. Hours were spent talking about how to do this on Saturday, in the basement of Judson Memorial Church in downtown Manhattan.
"On May Day, we are all media people," Carrié, the meeting's facilitator, told the group of about 50 people. Carrié, who has been with the movement since the fall, outlined an array of strategies for different cogs in the wheel to co-ordinate on the day of. There will be dispatchers relaying medics, livestreamers, and National Lawyers Guild observers where they're needed. There are a number of different hashtags for various purposes, as well as numbers participants can text for information and text messaging platforms that will send out mass updates. There is a maps program to orient people around different locations. There are multiple Twitter accounts for different segments of May Day.
The tech-savvy saturation of communications techniques is an Occupy trademark, but seems more suited to May Day than other actions the movement has staged. Operations will be centralized in Manhattan's Bryant Park, where "pop-up occupations," a "sitting meditation," and a musical "Guitarmy," among other events, are scheduled to occur. But Midtown, and not the Financial District, will be the focus during much of the day while the "99 Pickets" are going on. Organizers plan to stage 99 different pickets outside businesses in Midtown on Tuesday; the locations of some of them have been released, but not others. It's the only part of May Day that resembles a strike in the traditional sense.
"It's solidly planned out," Carrié told BuzzFeed when asked about the expected headcount for each picket. "We're going to strategically use the numbers we have to keep the pickets strong but also make sure they all get what they need."
"Each picket actually doesn't need that many people," Carrié said. "Just enough for a presence at each of these targets in the matrix."
The pickets, many of which are expected to include some union workers, will target places like Sotheby's, Target, a number of bank branches, and the St. Giles Hotel.
From Bryant Park, occupiers (plus the "Guitarmy") plan an unpermitted march from Bryant Park to Union Square, where a rally featuring the Rage Against the Machine frontman and hip-hop acts Immortal Technique and Das Racist is scheduled for late afternoon. The rally has been cleared with the city, occupiers say, but the march has not, almost certainly guaranteeing a forceful police response.
The city has had plenty of time to prepare for May Day. The New York Daily News reported that the New York Police Department conducted a "major exercise" preparing for the day last week at Floyd Bennett Field in Brooklyn.
"We are prepared for everything we can think of all the time," Mayor Michael Bloomberg told reporters. "Our tactics are something that we don't talk about in advance for obvious reasons."
Occupiers say they hope their dispersal will prevent the city from shutting them down or containing them, as it has in Lower Manhattan in the past.
"We have so many targets, and there's all these autonomous actions that will be going on. It'll be very different from N17, where the entire day, or the entire first action at least, revolved around shutting down Wall Street," said Patrick Bruner, a member of the original OWS press team who has been "taking time off" until recently. "N17" refers to November 17th, a "day of action" the protesters staged two days after their eviction from Zuccotti Park. Its main attraction was a large-scale rally and march across the Brooklyn Bridge.
But numbers will still be essential to the success of the day, even with the pickets (a picket of five people isn't much of a picket). And especially with the handful of large planned marches. The weather forecast predicts rain, something that occupiers are worried about.
"If it rains, we're fucked," said Bruner. "If we don't get people out on the streets, it's going to be pretty much impossible to judge numbers."
If they can't turn out massive numbers, protesters hope to at least impact the city in some tangible way, like shutting down the Times Square subway station. It's unlikely, though Occupy Wall Street protesters take credit for shutting down the Union Square subway station last month.
"If we do enough that we get a reaction, that's probably good enough," said Bruner.