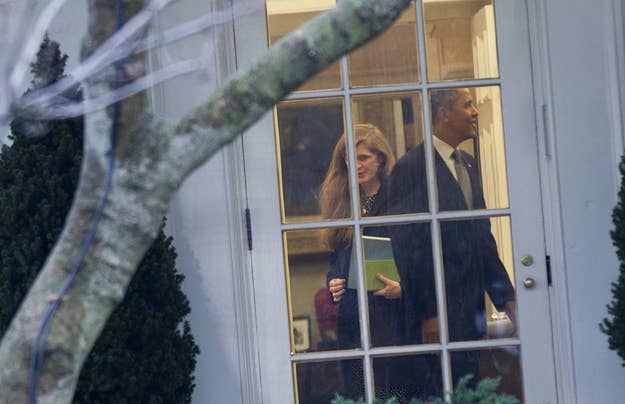 The planned departure of Samantha Power from the Obama White House was met with little surprise — and only a little disappointment — by her friends and allies who had hoped the administration would press harder for international human rights.
Power, the writer and thinker who wrote the book, literally, on genocide, and an advisor to Obama on foreign policy since his days in the Senate, saw her influence wane in the past four years in government. People who know her say that she grew frustrated in an administration that she saw as more political and less substantively engaged in foreign policy than she'd expected, and that she never fully penetrated the culture of Obama's tight inner circle. Power is, in fact, one of a cadre of accomplished and well-known figures of Obama's first term being replaced, in his second, by a lower-profile professional political class.
"There's a type in Washington that spends their career figuring out how to advance, and they make some difference at the margin, but their success is measured by how long they manage to be in government," said Peter Galbraith, a former senior American diplomat and friend of Power's from their days together in the Balkans in the 1990s, when Galbraith was the ambassador to Croatia and Power was a journalist. Power, 42, is one of the "people who are rarer, and their success is measured not by what position they achieved but by what difference they made," he said.
Galbraith also said he "expected" her departure after the only logical path up in the administration was blocked.
"I think she had hoped that Susan Rice would be secretary of state and she would be ambassador to the U.N.," he said.
Power serves as a special assistant to the president and is the National Security Council's senior director for multilateral affairs and human rights. As a star journalist and academic, Power wrote 2003's A Problem from Hell: America and the Age of Genocide, a book that helped define the liberal interventionist ideology championed by figures like General Wesley Clark (whose 2004 presidential campaign she backed). George W. Bush appropriated elements of it to make the case for war in Iraq. And Power was seen as one of Obama's closest advisors during his time in the Senate.
But her rise in foreign policy circles was inadvertently blocked when, during Obama's 2008 campaign, she referred to Hillary Clinton as a "monster" and resigned amid the subsequent controversy. She joined the administration at a staff level that struck some of her allies as unexpectedly obscure; but there was no space for her in the Clinton State Department. Meanwhile, operatives formed in Washington's foreign policy politics ascended to the upper echelon. It was, to some, a familiar story: An academic goes to Washington and can't play the necessary bloodless games.
Though Galbraith argues that Power was "very influential behind the scenes," others say she arrived in the administration to find her efforts to put genocide prevention front and center quashed by more pragmatic, political figures like National Security Adviser Tom Donilon, new chief-of-staff Denis McDonough and others.
Power leaves associated, in particular, with one liberal interventionist policy, a vocal role in pushing the U.S. to intervene in Libya last year. Other initiatives of hers, though, had less obvious impact. The Atrocities Prevention Board, in particular, was received as an almost-Orwellian bureaucratic palliative, it being formed during the conflict between the Syrian government and its people that has left over 60,000 dead.
"Samantha was never going to be the run-the-show kind of person," Galbraith said. "She doesn't have the sharp elbows, she doesn't have the bureaucratic mind-set of the Washington types — the people who have spent their life on Capitol Hill and in the White House, like Donilon or McDonough."
Power didn't return a request for an interview. Her husband, Cass Sunstein, left his government post last year to take a teaching position at Harvard Law School; the couple has two young children. Power is still considered a leading candidate for the U.N. post, should it open up at some point.
"While she is likely to return to the administration, no decisions have been made on her next steps," White House spokesman Tommy Vietor told The Cable last week. "Samantha has been a powerful voice in this administration and a long-time friend and adviser to the President."
Galbraith, a longtime friend and ally of the late Richard Holbrooke — who was himself something of a mentor to Power — argued that Power's relatively lesser position was no reflection of her abilities or influence.
"You can compare her to Richard Holbrooke," Galbraith said. "He never made it to secretary of state, but his impact on U.S. foreign policy far exceeded that of the secretary of state."