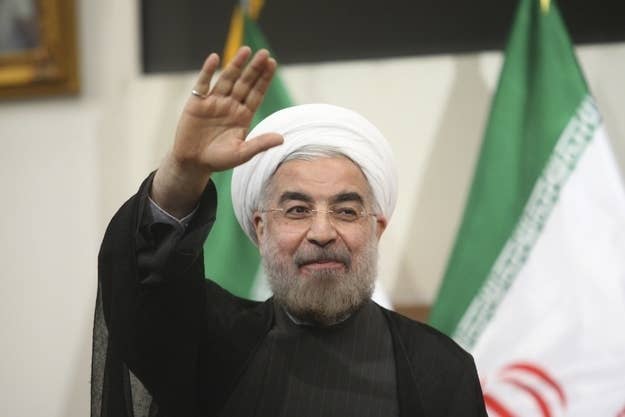 WASHINGTON — The White House pushed back on a report from Sunday that President Obama had tentative plans to meet with Iranian President Hassan Rouhani at the United Nations General Assembly, saying that the president had no plans for such a meeting.
"There are currently no plans for the president and President Rouhani to meet at UNGA," said Bernadette Meehan, National Security Council spokesperson.
"As we have said, we hope that this new Iranian government will engage substantively in order to reach a diplomatic solution that will fully address the international community's concerns about Iran's nuclear program," Meehan said. "We remain ready to engage with the Rouhani government on the basis of mutual respect to achieve a peaceful resolution to the nuclear issue."
A Guardian story from Sunday said that Obama and Rouhani might meet at the UNGA in an informal setting in a hallway, which would constitute the first meeting between the leaders of Iran and the United States since President Jimmy Carter met with the shah in 1977. The story based this assertion off an interview with Trita Parsi, the president of the National Iranian American Council, a D.C.-based nonprofit.
Parsi walked back his comments to Guardian reporter Julian Borger in an email to BuzzFeed.
"I think the story exaggerated it a bit," Parsi said. "He asked me if i think its possible, and i said yes, it is possible. Didn't say that it will happen or that it is being planned. And I clarified that if it happens it will likely be a run-in in the hall, not a real meeting."
Obama said on a Sunday show appearance that he and Rouhani, who is perceived as more moderate than his predecessor Mahmoud Ahmadinejad, had reached out to each other via letters since the Iranian leader's election in June. The new government in Tehran has made some seemingly conciliatory gestures recently, with both Rouhani and the Iranian Foreign Minister tweeting Rosh Hashanah greetings. On Monday, a report in Der Speigel said that Rouhani was considering shutting down the Fordo nuclear facility.