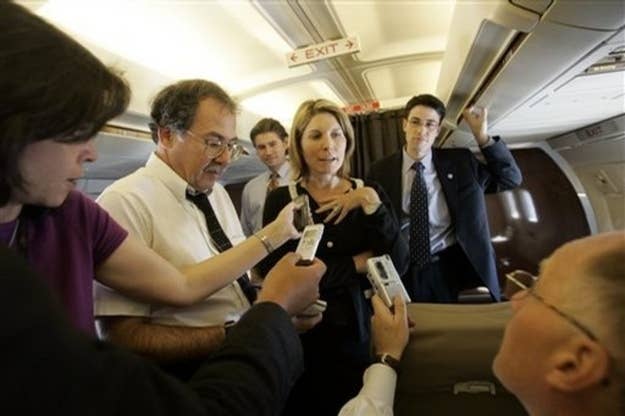 Nicolle Wallace, the former McCain adviser who handled — and clashed with — Sarah Palin during the 2008 presidential campaign, told BuzzFeed on Wednesday that the Palin debacle will play into female politicians' shot at getting picked for the vice presidential slot this year.
"I think it'll affect it because I think in the post-Palin era you can't go back. That happened," said Wallace, who is portrayed as a hero in the recent film about the race, Game Change.
Wallace said thinks it "cuts both ways."
"There will be pressure to elevate a woman but there will be an equal amount of pressure to pick someone who is prepared," Wallace said. "I think preparedness is the kind of undercurrent of the critics of Palin's candidacy."
Wallace, who spoke to BuzzFeed after appearing with Chelsea Clinton on a panel held at the 92nd Street Y in Manhattan, also suggested that the fallout from what many former McCain aides see as a disastrous pick lingers in the conversation about Romney's decision.
"Might he or might not he pick a woman? That is so far behind where we were four years ago," she said.
Wallace flagged one female official in particular who she thinks would be a good choice this year.
"Nikki Haley — she's great," she aid. "She's the most effective surrogate Romney has."
"Nikki should be picked for a broader purpose, a messaging purpose. Maybe that's just a message person's bias," Wallace said. "But I certainly hope that she's on the list."
She cited other female political figures like Carly Fiorina as potentially good choices for the Romney campaign.
"There are women that are pretty well seasoned in tough business and politics campaigns, and I would hope that some of those women would be on his short list."