Newt Gingrich's Poignant Last Hurrah In New York
Newt — plus embeds (!) and Secret Service — appears in New York City. Strikes a more conciliatory note than ever with Romney.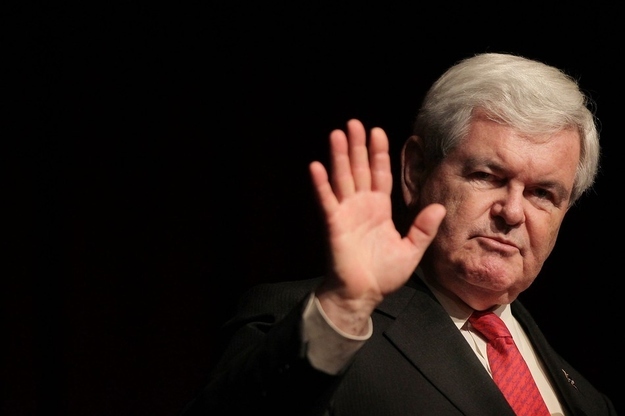 Newt Gingrich appeared on stage Thursday in front of a New York Republican Party that, though its chairman has endorsed presumptive nominee Mitt Romney, welcomed him politely. He barely mentioned Mitt Romney at all, but when he did, it was on a conciliatory note; the candidate whose run has done so much to divide Republicans during the primaries says he's ready for a united Republican party, one way or another.
Gingrich was not even the keynote at the state party's annual dinner, but opened for Bobby Jindal, the Louisiana governor — another Southern politician but one whose career is taking off just as Gingrich's winds down. The Gingrich campaign has reached a point where the candidate can propose that, say, Darfur would benefit from a universal right to bear arms (which he did) and the comment flies under the radar apart from a few tweets.
And Gingrich's tone was anything but incendiary. Instead, the reality of his failed run seems to have truly set in — and he appeared at times to be hinting that he'd call off his planned long march to the convention.
He admitted that he is "clearly a huge underdog in this race" (and that "Romney and I have discussed this") and defended Mitt Romney against David Axelrod, telling the audience more than 15 minutes into his speech that "I don't care how many junky things Axelrod does to attack Mitt Romney."
"If I were to become the nominee, he would work it all out because it's our grandchildren's future at stake," Gingrich said at the end of his speech. "If he becomes the nominee, Callista and I will work out, because it's our grandchildren at stake. The fact is, we are dedicated to a unified Republican Party winning the presidency."
The big ideas candidate only spoke for about 20 minutes before being spirited away by his still-extant Secret Service detail, which is costing the government more than $40,000 a day. (And which he'll have until the moment he quits the race, according to campaign rules.)
A crew of reporters followed Gingrich outside, mostly local press, but also his three remaining embeds. They haven't had a press bus since Louisiana and press secretary R.C. Hammond mostly stays in Washington now, but NBC, ABC, and CBS reporters still hit the trail with Gingrich every day (though one said that she can now "cherry pick" which events to cover). They say they're not sure how long they'll be with him.
The Secret Service blocked the street as agents brought Gingrich out through the kitchen to avoid the press. A local Republican told BuzzFeed he'd seen the candidate check into the hotel where the event was being held at 4 p.m. Thursday afternoon. Later the Gingriches were spotted at the Del Frisco Grill in Rockefeller Center, according to a lone Twitter posting, drawing little attention in Midtown Manhattan.