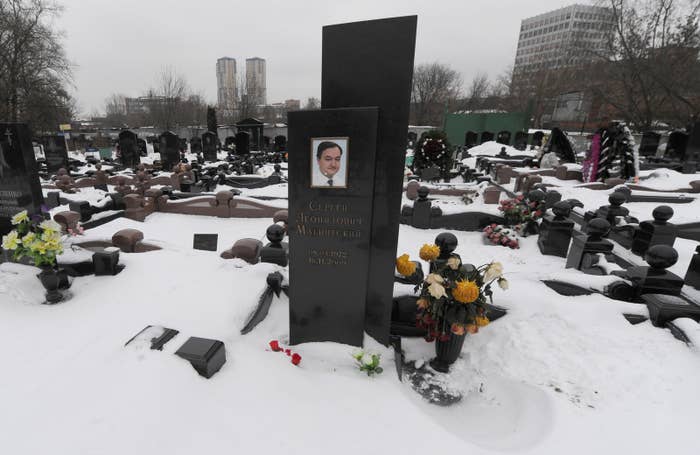 WASHINGTON — The Newseum says it will not cancel a screening of a controversial documentary about Russian whistleblower Sergei Magnitsky despite concerns from Magnitsky's family.
The film, The Magnitsky Act – Behind the Scenes, is scheduled to be shown at the Newseum's Knight Center on June 13. Magnitsky's widow and mother are arguing that the film defames him and are asking that it not be shown.
"As you may know, Sergei Magnitsky was killed in Russian custody in 2009 at the age of 37," reads the letter from Natalia Zharikova, Magnitsky's widow, and Natalia Magnitskaya, his mother, which was obtained by BuzzFeed News on Thursday. The letter was sent to trustees of the Knight Foundation, which is a founding partner of the Newseum. "Those who are scared of the truth that Sergei had uncovered when he testified against corrupt Russian officials and are facing trial in New York in the lawsuit brought by the US Department of Justice for laundering corrupt proceeds, have hired Knight Conference Center at Newseum in Washington to desecrate Sergei Magnitsky's memory and his heroic sacrifice."
"They intend to show a fallacious film which makes a mockery of Sergei's life and death, and is false and highly defamatory," the women wrote. "Unfortunately, we had an opportunity to preview this film. The intent of those behind this film is to create doubt about Sergei among people who have not had an opportunity to study the case and review the real documents, and to attack the US Magnitsky Act which created some measure of consequences for those responsible for Sergei's persecution in Russia."
The Newseum said it had received a letter from lawyers for Hermitage Capital CEO Bill Browder, for whom Magnitsky worked, in addition to the letter from Magnitsky's mother and widow, but that it will not cancel the event. The letter from Magnitsky's relatives was forwarded to the Knight Foundation trustees by a Hermitage executive.
"The Potomac Square Group has rented facilities at the Newseum for a private screening and panel discussion of the film The Magnitsky Act – Behind the Scenes for June 13," said Scott Williams, a spokesman for the Newseum. "We rent our facilities for many purposes, from showings of films and discussions of significant political and press freedom issues, to television productions and press conferences, to weddings and other celebrations."
"We have now received a letter from the UK law firm Carter-Ruck, representing Natalia Magnitskaya and William Browder, demanding that the Newseum cancel the program," Williams said. "The Newseum has a strong commitment to free speech and free expression and we have let Carter-Ruck know that we will not cancel the Potomac Square Group's screening."
"We believe that free expression is the only approach possible to understanding the complex issues we all face in the world today. That's also why public and private discussions and screenings of films on all sides of important issues take place at the Newseum, even when some may disagree with the content," Williams said.
The documentary was made by Russian filmmaker Andrei Nekrasov and has set off controversy in Europe, where a showing at the European Parliament was cancelled at the last minute after complaints from lawyers for Magnitsky's widow and Browder. The film reportedly alleges that Magnitsky was not mistreated in the Russian prison where he died, and that he did not actually uncover wide-scale corruption among Russian officials.
Magnitsky died in prison in 2009 after investigating and exposing the alleged $230 million tax fraud. Both Magnitsky and Browder were later convicted of tax fraud in Russia, posthumously in Magnitsky's case. Browder went on to become an activist who worked to pass the Magnitsky Act, which passed in 2012 and sanctioned Russian officials allegedly involved in Magnitsky's death.
Legislation that would create a global Magnitsky Act is currently moving through Congress, and was approved by a House panel last month. Meanwhile, there are legal proceedings underway in the U.S. against a Russian man named Denis Katsyv whom prosecutors allege received some of the laundered money from the tax fraud scheme first uncovered by Magnitsky.
"This film is a crude attempt to cover up the responsibility of the Russian government for the torture and murder of Sergei Magnitsky," Browder told BuzzFeed News. "Considering what the Russians have already done to Sergei's family, it's an abomination that they are now spitting on his grave and trying to defame him posthumously. I very much hope the Newseum won't lend their good name to this."
According to RFE/RL, journalist Seymour Hersh is moderating a discussion at the screening and Rinat Akhmetshin, the head of a think tank called the International Eurasian Institute (about which there's very little public information), is also involved. Akhmetshin did not immediately respond to a request for comment.
The event is being organized by the Potomac Square Group, a firm run by Christopher Cooper, a former journalist.
"It's the director's event and the movie people," Cooper said. "I'm not gonna talk about who's paying for what and all that."
This is the full letter from Magnitsky's widow and mother:
Dear Mr Palfrey, Mr Ibarguen, Members of the Board of Trustees,

We are urgently writing to you to seek your intervention to stop an evil and vindictive attack on our deceased husband and son – Sergei Magnitsky – being planned in Washington on 13 June 2016 in the name of the Knight Conference Center at the Newseum.

As you may know, Sergei Magnitsky was killed in Russian custody in 2009 at the age of 37. Those who are scared of the truth that Sergei had uncovered when he testified against corrupt Russian officials and are facing trial in New York in the lawsuit brought by the US Department of Justice for laundering corrupt proceeds, have hired Knight Conference Center at Newseum in Washington to desecrate Sergei Magnitsky's memory and his heroic sacrifice.

They intend to show a fallacious film which makes a mockery of Sergei's life and death, and is false and highly defamatory. Unfortunately, we had an opportunity to preview this film. The intent of those behind this film is to create doubt about Sergei among people who have not had an opportunity to study the case and review the real documents, and to attack the US Magnitsky Act which created some measure of consequences for those responsible for Sergei's persecution in Russia.

Those affected by the US Magnitsky Act have hired agents in the US who plan to show this film at a private event on 13 June 2016 at 6:30 pm at Newseum's Knight Conference Center.

In the last two months, several organisations in Europe have disassociated themselves from this film, having learned about its defamatory content, and have cancelled its screening.

We understand that the goal of your foundation is to support quality journalism. Shameless lies about dead people have nothing to do with that.

We implore on you to do everything in your power and do so without delay so that your foundation is not lending its name to this despicable event.

Natalia Zharikova, Widow of Sergei Magnitsky

Natalia Magnitskaya, Mother of Sergei Magnitsky