Mike Huckabee "Incensed" By Criticism Of Chick-Fil-A
Also trying to make August 1 "Chick-Fil-A Appreciation Day."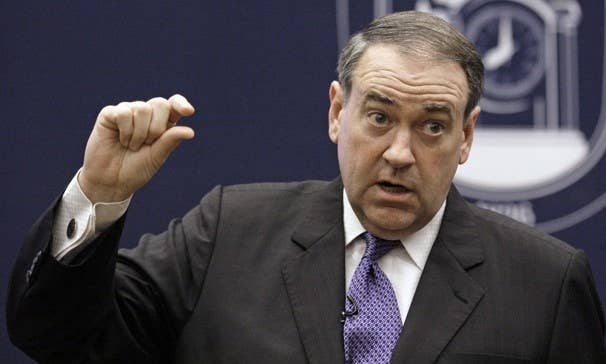 Former Arkansas governor and current Fox News host Mike Huckabee is "incensed" by attacks on fast-food company Chick-Fil-A after its founder made comments critical of gay marriage, according to a note on his Facebook page.
Huckabee writes:
I have been incensed at the vitriolic assaults on the Chick Fil-A company because the CEO, Dan Cathy, made comments recently in which he affirmed his view that the Biblical view of marriage should be upheld. The Cathy family, let by Chick Fil-A founder Truett Cathy, are a wonderful Christian family who are committed to operating the company with Biblical principles and whose story is the true American success story. Starting at age 46 Truett Cathy built Chick Fil-A into a $4 billion a year enterprise with over 1600 stores. At 91, he is still active in the company, but his son Dan runs it day to day as CEO.It's a great American story that is being smeared by vicious hate speech and intolerant bigotry from the left.
Huckabee also proposes the creation of an August 1 "Chick Fil-A Appreciation Day." He's already made an event page where people can RSVP to take part.
In an interview with the last week, Chick-Fil-A president Dan Cathy said that the company was "guilty as charged" about its opposition to gay marriage. His comment has raised the ire of gay marriage advocates and drawn praise from some conservatives. It's also led to boycotts, notably by the actor Ed Helms. The company that produces the Muppets also announced it would no longer partner with Chick-Fil-A, and Boston mayor Thomas Menino has vowed to keep the chain out of the city.