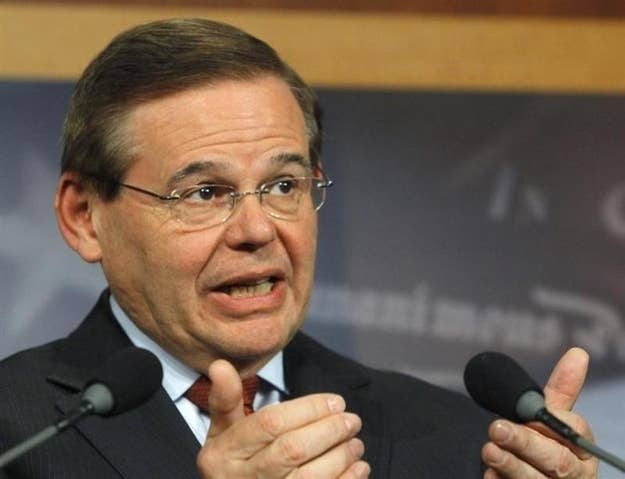 WASHINGTON — A spokesperson for Sen. Bob Menendez said on Thursday that reports of a FBI and Justice Department investigation into his helping a pair of fugitive Ecuadorian bankers consists of "outlandish allegations" and that the senator's office is not aware of an investigation.
"A year after a false smear campaign was launched against Sen. Menendez, once again we see anonymous sources making outlandish allegations," said Menendez's press secretary Tricia Enright. A Daily Caller story that came out around this time last year accused Menendez of seeing Dominican prostitutes. "Our office works each year with literally hundreds of individuals and families from across the country who are seeking help with the immigration process. We review each and every request we receive, and if we feel any inquiry is appropriate, we make it. In this particular case, Sen. Menendez believed the Isaias family had been politically persecuted in Ecuador, including through the confiscation of media outlets they owned which were critical of the government."
"We are not aware of any inquiry into the senator's actions on this matter," Enright said.
WNBC reported on Thursday that Menendez is the target of a federal investigation because of his help to the Isaias brothers, bankers who are wanted in Ecuador for embezzlement. Ecuador has been seeking their extradition from the U.S.
Investigators are reportedly looking at whether Menendez may have broken laws trying to help the brothers stay in the country in exchange for campaign contributions. According to WNBC, Menendez wrote letters to the State Department and the Department of Homeland Security asking for the brothers' residency process to be expedited.
Neither of the brothers reportedly donated to Menendez directly, but their families gave money to his 2012 reelection campaign, NBC reported.
Representatives for the FBI and Department of Justice did not immediately return requests for comment. Neither did a spokesperson for the Ecuadorian Embassy in Washington.